Bay-Area SID Jan 2014 Technical Seminar

Wednesday, January 15, 2014 from 6:00 PM to 7:00 PM (PST)
Who's Going
Loading your connections...
Event Details
Bay-Area SID Jan 2014 Technical Seminar
Meeting Time & Date:  6:00 PM, Wednesday, Jan 15th, 2014
Meeting Location:  QUALCOMM, Building B, 3165 Kifer Road, Santa Clara, CA  95051 (see map below)
The presentation starts sharp at 6:00 PM.  The doors are sometimes locked and unattended after 6 PM, so please try to arrive between 5:30 and 6:00 PM. Park on the available parking areas. Everyone is welcome, SID member or not.
Webinar Information:  This meeting will be webcasted audio and synchronized slides) using GoToWebinar. 
Please register via the link on the webinar ticket.

When you register via this link for the webinar you will receive the webcast link and meeting ID# via return email. 

 

Please verify that your system works with GoToWebinar in advance.
Presentation: 3-D displays using Liquid Crystal Lenses: Can we solve the accommodation/convergence problem?                       
Speaker: 
Dr. Philip Bos, Ph.D., Professor & Associate Director of the Liquid Crystal Institute, Kent State University. 
Abstract: 
For desktop 3D displays:  the cues of relative motion, stereopsis , and focus are all significant.  While the first two have ready solutions for single viewer systems, the focus cue is generally  lacking.     Electronic lenses, based on liquid crystals, can be considered to solve this problem.  This talk with briefly review the accommodation / convergence problem,  and provide an overview of  liquid crystal lens technology for solving it.  Detailed results on liquid crystal lens performance will also be discussed.
Speaker Biography: 
Dr. Philip Bos is a Professor of Chemical Physics & Associate Director of the Liquid Crystal Institute at Kent State University.  Before joining Kent State in 1994,  he was a principle scientist in the Display Research Laboratory of Tektronix Inc. He received his Ph.D in Physics from Kent State in 1978.  He has authored over 100 papers in the field of liquid crystals and liquid crystal displays,  and has over 25 issued patents.  His field of interest include applications of liquid crystals, with contributions to fast liquid crystal electro-optical effects including the invention of the pi-cell.  He is active in the field of displays and was twice the general chair of the International Display Research Conference.  He is a Fellow of the SID,  and has received the Distinguished Scholar Award from Kent State University.  At Tektronix,  his focus was optical components for 3D field sequential stereoscopic displays.    His current research focus is liquid crystal optical devices.
Meeting Location:  QUALCOMM, Building B, 3165 Kifer Road, Santa Clara, CA  95051 (see map below)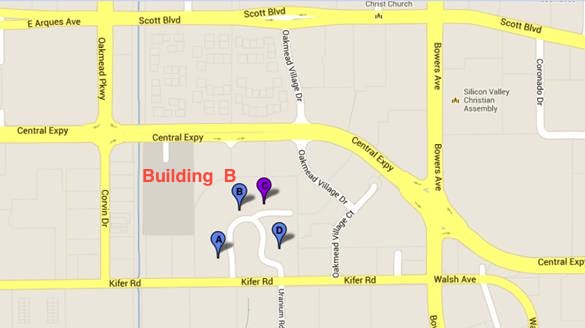 After-Meeting Pizza/ Beer Networking:  This month we will host the Pizza/ Beer networking at new location below.
Great American Round Table
1220 Oakmead Pkwy, Sunnyvale, CA 94085
Please register for the Networking event ticket also if you intend to attend the post event pizza/beer networking. All are welcome SID members or not. 
Please feel free to connect with me incase you have any queries.
Best regards,
Rashmi Rao Chair, BA-SID
rao.rashmi@gmail.com 
When & Where


QUALCOMM
Building B, 3165 Kifer Road, Santa Clara, CA 95051

Wednesday, January 15, 2014 from 6:00 PM to 7:00 PM (PST)
Add to my calendar
Organizer
[BA-SID] Rashmi Rao
The members of the Society for Information Display (SID) are professionals in all of the technical and business disciplines that relate to display research, design, manufacturing, applications, marketing and sales.  SID members are developing and manufacturing displays for the 21st century, and applying them in information, telecommunications, medical, commercial, government, entertainment and consumer products.