Bay Area Retreats - Continuity & Transformation, Residential & Non-Resident

Weekly Event - Every Monday Tuesday Wednesday Thursday Friday Saturday & Sunday: 7:00 AM to 9:30 PM (PDT)
Event Details
For forty years the Nyingma Institute has offered a gentle path of self-knowledge and altruistic service based on the Buddha's teachings. This summer we continue to deepen this tradition by offering summer retreats for a range of interests and ages. 
We offer retreats all year long, the following retreats are the rest of the summer's offerings. Visit our website or call for more details.
Meditators who wish to break through to the next stage of development will be interested in "Stages of Meditation" (July 22-27). "Finding Freedom" (July 29-August 3) presents basic teachings of the Buddha along with meditations to foster discernment. "Lightening Mind" (August 5-10) joins powerful Kum Nye practices with insight meditations and dream yoga practice to bring about a transformation of consciousness. Finally, a Skillful Means retreat, "Transitions" (August 12-17) show how to utilize change, even difficult transitions, to deepen well-being.
Join us for some or all of the series of retreats for an unparalleled journey into understanding in which we glimpse the immense goodness at the heart of our human being. 

Residential costs for retreats include either a shared or private room. Both residential and non-residential retreats include meals.  A private tour of retreat facilities available by appointment.  See our photo albums on Facebook for a virtual tour. Or stop by, we are open to the public 9-8 Mon-Fri, 9-5 Sat and 9-7 on Sundays.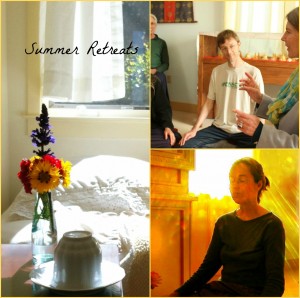 Where

Nyingma Institute
1815 Highland Pl
Berkeley, CA 94709


Weekly Event - Every Monday Tuesday Wednesday Thursday Friday Saturday & Sunday: 7:00 AM to 9:30 PM (PDT)
Add to my calendar
Organizer
The Nyingma Institute was founded by Tibetan Lama Tarthang Tulku in 1972. For over forty years, the Institute has been a gateway to Buddhist teachings. 
We offer seven fields of study: Kum Nye Tibetan Yoga; Nyingma Meditation; Buddhist Studies; Nyingma Psychology; Time, Space, & Knowledge; Skillful Means; and Tibetan Language. 
Bay Area Retreats - Continuity & Transformation, Residential & Non-Resident