Bay Area Regional Prosperity Plan - Capstone Conference

Monday, April 13, 2015 at 12:30 PM

-

Tuesday, April 14, 2015 at 8:00 AM (PDT)
Event Details
Bay Area Regional Prosperity Plan
C a p s t o n e  C o n f e r e n c e    A p r i l  1 3  &  1 4 ,  2 0 1 5
O a k l a n d  A s i a n  C u l t u r a l  C e n t e r
The Regional Prosperity Plan (RPP) is about making sure that everyone in the Bay Area can thrive.  It's a plan for addressing barriers that continue to lead to an hour glass economy with a large number of extraordinarily wealthy residents and a base of people living in poverty with very few living comfortably on middle-wage salaries. The Capstone Conference will explore the solutions in: 
Workforce Development 
Economic Development 
Public transportation 
Preserving and building affordable housing in transit-served communities. 
Join local residents, elected leaders, community-based organizations, labor unions, regional planning agencies, community colleges, workforce development boards, training providers, economic development professionals, grant making foundations, transportation and housing advocates and experts in plenary sessions, workshops and poster exhibits.  
Learn about pilot projects and best practices.  Explore funding options for the next steps. Be a part of implementing the Regional Prosperity Plan--expanding, scaling pilot projects and continuing to work collaboratively towards prosperity for everyone.
(The RPP and the Capstone Conference are funded by a grant from the US Department of Housing and Urban Development.)
FAQs
What is the conference schedule?
The Capstone Conference is a 2 day event with the following schedule:
Monday, April 13th – Registration 12:30pm-1:30pm
Monday, April 13th – Opening Plenary 1:30pm-3pm
Monday, April 13th – Towards a Just and Equitable Sharing Economy 3:30-5pm
Monday, April 13th – Positioning Industrial Land for Middle Wage Job Growth 3:30-5pm
Monday, April 13th – Youth Engagement and Leadership Development 3:30-5pm
Monday, April 13th – Protecting Tenant Rights - A Low-Cost High-Impact Strategy
                                        to Preserve Affordable Housing 3:30-5pm
Monday, April 13th – Local Jurisdiction Partnerships to Grow the Economy 3:30-5pm
Monday, April 13th – Reception 5pm-6pm
 * Please note lunch will not be provided on Monday, April 13th, 2015

Tuesday, April 14th – Registration and Breakfast 8am-9am
Tuesday, April 14th – Opening Plenary 9am-10:15am
Tuesday, April 14th – Regional Strategy to Develop Career Pathways for
                                   Day Laborers 10:30am-12pm
Tuesday, April 14th – Growing the Economy and Improving Job Standards
                                   for Workers 10:30am-12pm
Tuesday, April 14th – Preventing Displacement & Racially Concentrated Areas
                                   of Poverty 10:30am-12pm
Tuesday, April 14th – Putting Worker Housing Close to the Worker's Job 10:30am-12pm
Tuesday, April 14th – Boxed Lunch provided during conference 11am-1pm
Tuesday, April 14th – Finding Land and Financing for Affordable Housing 12:15pm-1:15pm
Tuesday, April 14th – Funding Sources to Implement the RPP 12:15pm-1:15pm
Tuesday, April 14th – Closing Plenary 1:30pm-3pm
A detailed description of the events can be viewed at this link:
https://drive.google.com/file/d/0B2cUyB1-2Vs5cFA0MjYwNVJLOGc/view
What are my transport/parking options getting to the event?
Public Transportation is available to the Oakland Asian Cultural Center via BART. The nearest BART station to the event venue is the 12 Street Oakland BART station, located 4 blocks away at the corner of Broadway and 12th Street.
If you are driving to the event venue, there is an underground parking garage in the Pacific Renaissance Plaza where the Oakland Asian Cultural Center is located. We do not validate for parking. The parking fee is $2 per hour with a maximum daily rate of $24. Metered street parking is also available at $2 per hour (8am-6pm) with a 2 hour limit.
For more information on getting to the event venue, see http://oacc.cc/directions/
Is there financial assistance to attend the event?
Scholarships are available on a first-come, first-serve basis for attending the conference. There is a limit of 1 scholarship per organization. Please email a request to receive scholarship funds to chang_marie@yahoo.com. In your request you must provide the following information: Name of Conference Participant, Organization, Position in the Organization, and Statement of Need (please limit your statement to 5 sentences).
Is the event wheelchair accessible?
Yes. The Pacific Renaissance Plaza has an elevator from the underground parking garage to the second floor where the event is located. If you need a disability-related accommodation or wheelchair access information, please contact Marie Chang at chang_marie@yahoo.com
Is there wi-fi available?
Yes. The Oakland Asian Cultural Center has wi-fi available throughout their facility at no additional charge.
Where can I contact the organizer with any questions?
For additional questions, you can send an email to Marie Chang at chang_marie@yahoo.com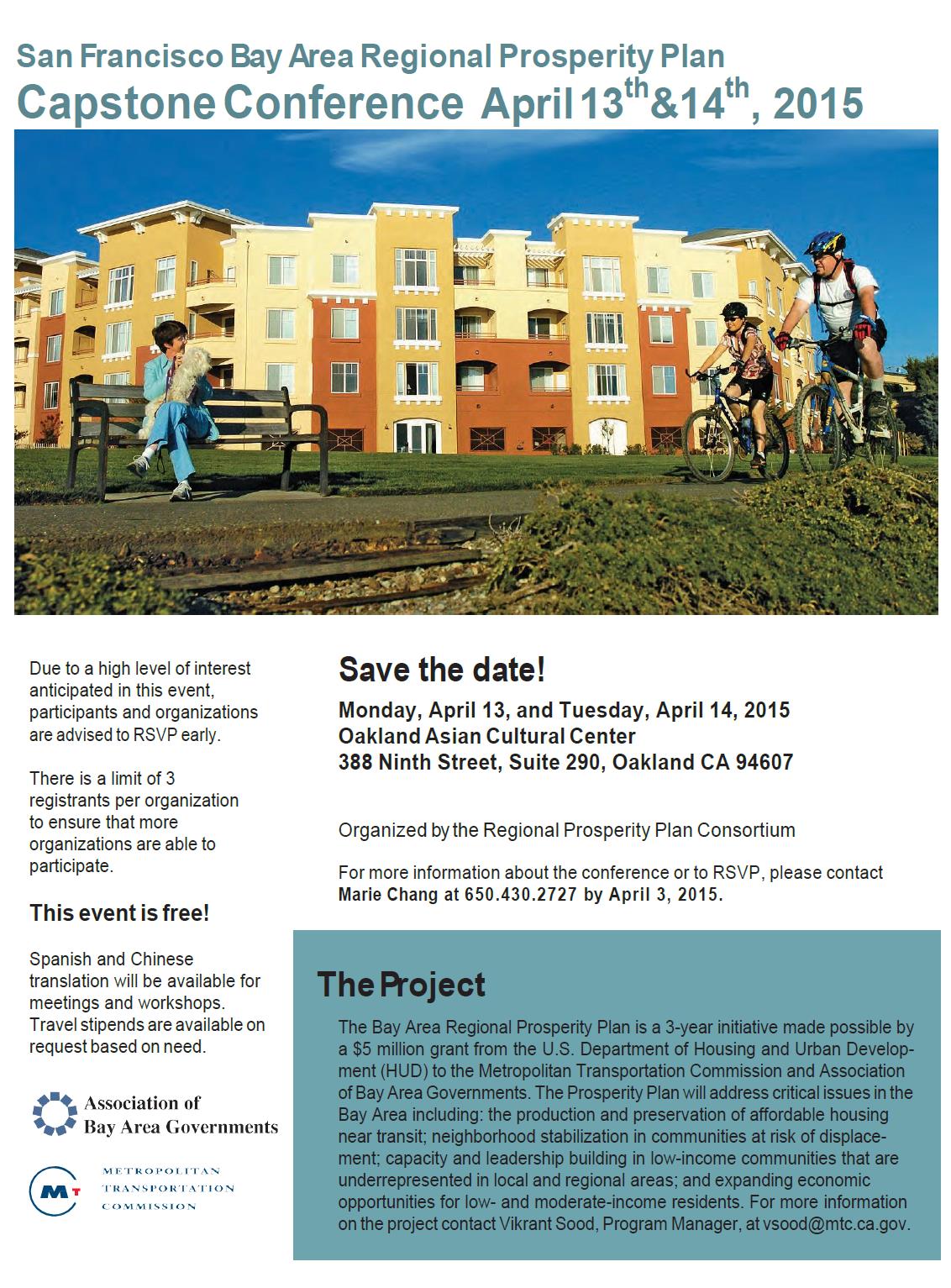 When & Where
Monday, April 13, 2015 at 12:30 PM

-

Tuesday, April 14, 2015 at 8:00 AM (PDT)
Add to my calendar