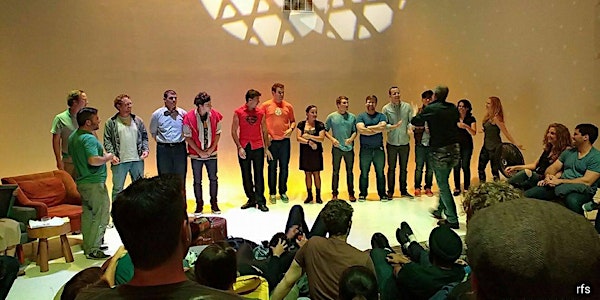 Bay Area Pun-Off, Holiday Show 2022: Wednesday, December 14th, 7pm
The Bay Area Pun-Off - a comedy staple since 2016 , proudly re-opunning for your face-palms, eye rolls, & groans at Rickshaw Stop in SF
When and where
Location
Rickshaw Stop 155 Fell Street San Francisco, CA 94102
About this event
Some say it's an affliction; we call it "comedy..."
The Bay Area Pun-Off is a bi-monthly sold-out San Francisco comedy staple: holding together a diverse community of wordplayers and countless unfortunate bystanders (and sitters). Bolstered by groans, eye rolls, and the ever-sought-after double-handed facepalm, we enter our 7th year with equal parts ironic triumph and gleeful apology.
At the Pun-Off, we are proud to invite you to celebrate the contagious power of the pun, the lowest form of comedy, the highest form of intellect; a prized tool of parents, kindergarten teachers, Facebook trolls, and Witzelsucht patients everywhere!
Doors open at 6:30 pm // Main events start promptly at 7:00pm
AUDIENCE: please get a General Admission ticket.
PERFORMERS/COMPETITORS: Performer tickets come with a free drink and a chance to win other unique prizes and titles!
Prepared Puntificators will open the evening with a non-competitive showcase of original punning on a topic of their choosing - Please keep it under 2 minutes, and do not plan to bring your phone on stage to read from. Please purchase a Prepared Puns (Puntificator) ticket.
Punslingers will battle fellow punsters in lightning rounds of freestyle punning on a given category*, following a full audience warm-up. Last punster standing could win an official hand-mei-made trophy, in addition to bragging rights (if you really want to call 'em that...)
Please enter the Punslinger competitor ticket lottery. The lottery will be open for approximately two weeks. Competitors will be drawn from this pool. You'll then have a window of time to purchase your ticket. Those names not drawn will have the option to purchase an audience ticket. In the case of no-shows on PunOff night, the emcee will draw names from alternates to fill the empty spots.
We'll send out an email to let you when all the names have been chosen - you'll get notified either way - so you can buy your ticket. 
First timers very welcome - you will be well prepped at the event**.
Please grab a First Timer Only Punslinger competitor ticket. There are 3 spots reserved for first timers. Once they're gone you may enter the Punslinger competitor lottery pool. (If the 3 spots are not filled by first timers, they will go to the general pool).
Finally, remember: At the Pun-Off, jokes don't have to be funny, they just have to be puns.
~
The Pun-Off warmly encourages punsters of all backgrounds, identities, persuasions, and inclinations to attend.
People with alternative modes of personal transportation can and will be accommodated, and we encourage a scent free event - please be mindful with your dryer sheets, detergent scents, colognes, and perfumes.
If the price is a serious obstacle, please contact the organizer to inquire about options. We aim to turn away no-buddies and we enjoy the company and labor of volunteers.
Please don't contact the organizer for refunds or exchanges - our Facebook event page is a good place for such endeavors.
*All categories and rules subject to change.
**Seriously, this is the warmest crowd in town.
***This is a very silly event and the judge's decisions are final.