Bay Area Girl Geek Dinner #18: Sponsored by Citrix

Thursday, April 26, 2012 from 5:30 PM to 8:30 PM (PDT)
Event Details
Join us for  the Citrix Bay Area Girl Geek Dinner #18 on Thursday, April 26 at the Citrix Executive Briefing Center in Santa Clara, CA!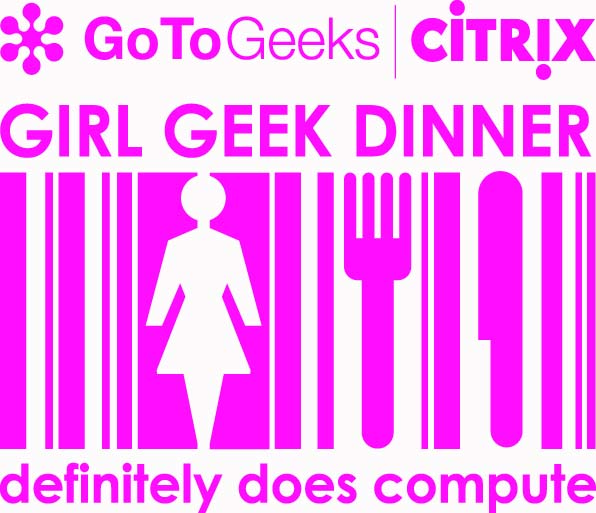 Find out how Citrix Girl Geeks are designing and developing new technology, working in the cloud, providing remote IT services, and growing strategic partnerships!
This event is FREE for all girl geeks. Girl geeks can register a guy geek as her "plus one". Our line-up of distinguished women techies will give lightning talks about the technology they are working on, what's hot in tech and what's next on the horizon!! Enjoy state-of-the-art technology in our brand new conference center, and enter our raffle to win exciting prizes!
Schedule of events:
5:30-6:30pm: Registration, appetizers, drinks, fun activities, demos and networking!
6:30-6:40pm: Welcome!
6:40-7:40pm: Lightning talks
7:40-8:30pm: Networking, more demos and fun activities
8:30pm: Raffle drawing and closing remarks
About our featured girl geek speakers:
Diane Gonzalez (VP Engineering, Online Services Division)

Talk Topic: Dealing with transitions and change in Engineering
Diane will talk about prioritization during transitions with respect to teams and prodcuts in Engineering
About the speaker: Diane is the Vice President of Engineering for the Online Services Division. She has worked as an Executive Consultant with several start-ups where she functioned as the Vice President of Engineering. Diane is an active member in various women and minority  forums.  Most recently, Diane was a Plenary Panelist at the 2010 Anita Borg Women in Computing Conference.  Follow her on twitter at @DianeGonzalez
Minoo Gupta (Sr. Director of Engineering, Cloud and Networking Division)

Talk Topic: Small Business vs Large Business and Cloud Computing
 Minoo will talk about what Cloud Computing is all about and what it is like to work in a large business vs a startup
About the speaker: Minoo is Sr. Director of Engineering, in Cloud and Networking Division. Prior to Citrix, she has held various engineering and management positions over the last twenty-five years in systems software engineering. She is currently, chair for TiE Women Forum and TiECon 2012. Follow her on twitter at @maziki.
Kathy Chill (VP Business Development, Online Services Division)

Talk Topic: Product integration and strategic partnerships
Kathy will talk about what it is like getting internal and external teams in place to integrate products, and how to develop an effective roadmap. 
About the speaker: Kathy is Vice President, Business Development at the Online Services Division. She has contributed to a variety of business publications including SmallBizTechnology, Chief Learning Officer, and an online training publication from Franklin Covey. Follow her on twitter at @chill_kathy
Jannie Lai (Director, Product Design)

Talk Topic: Design is no longer an afterthought
 Jannie will talk about how Citrix makes design a strategic focus. She will shed light on how her team brought design and simplicity to be the focus of products
About the speaker: Jannie grew up in Hong Kong and has lived in California since 1990. She studied Industrial Design and Human-Factors and has worked in design ever since, in both the consumer and enterprise space such as eBay, Citrix, LiveOps and Oracle. Follow her on twitter at @0_0imj
Sarah Pavlick (Sr. IT Support Specialist, Online Services Division)

Talk Topic: Growing in the IT field, and Telecommuting
Sarah will talk about her growth in IT, and how she transitioned into working remote full-time. She will discuss the benefits and drawbacks of telecommuting.
About the speaker: Sarah is a Sr. IT Support Generalist for the Online Services Division. She got her start in IT while living in Phoenix, Arizona before returning to Santa Barbara and joining Citrix in 2004. A self-professed gadget-geek, Sarah has been able to pursue her passion by taking on the role of administering mobile devices for Citrix. 
Ashi Sareen (Sr. Manager Networking, Policy, UI)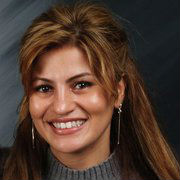 Talk Topic: Citrix Cloud Gateway line and team dynamics
 Ashi will talk about her experiences in Citrix, her role as a Sr Manager in the Cloud Gateway line, and how employees are encouraged to bring out the best in themselves.
About the speaker: Ashi is a Sr. Manager of Product Development in the Receiver & Gateways Division at Citrix. She has held various engineering leadership positions in the areas of networking, security and virtualization software over the last 15+ years.
Liza Cuevas (Sr. Director, Human Resources)
Moderator
Liza Cuevas is Sr Director of Human Resources at Citrix. She has over twenty years of Human Resources experience in a variety of HR disciplines. She has been working in Citrix since March 2009.
About Citrix
The workplace of the 21st century is undergoing a remarkable transformation, driven in part by innovation in consumer technology. People are increasingly bringing the smartphones, tablets and other devices they use ubiquitously in their personal lives into the workplace and expecting the same kind of rich, self-service experience they have at home. This "consumerization" is driving rapid change in business and IT, dissolving the lines between work and play, the office, home or somewhere in between. Today's "workplace" is no longer a building you go to; it's wherever you find inspiration.
For people
Citrix technology offers the flexibility to balance work and life — the freedom to work anywhere, anytime, on a schedule that fits the employee's life.
For the IT organization
Citrix technology enables a more people-centric, on-demand computing model that provides people the flexibility and freedom they want and IT the control it requires.
For the business
Citrix technology gives business the agility needed to seize new opportunities, deliver exceptional customer service and create a more efficient organization.
Citrix gives businesses the ability to embrace consumerization using virtualization, networking, collaboration and cloud technologies. With these technologies, we're transforming the way business is done. More than 230,000 enterprises rely on Citrix virtualization, networking and cloud solutions to deliver over 100 million corporate desktops and touch 75 percent of internet users each day. Citrix partners with over 10,000 companies in 100 countries. Annual revenue in 2010 was over $1.87 billion
Attendee List
Sort by:

Date

|

First Name

|

Last Name
When & Where
4980 Great America Pkwy
Santa Clara, 95054


Thursday, April 26, 2012 from 5:30 PM to 8:30 PM (PDT)
Add to my calendar