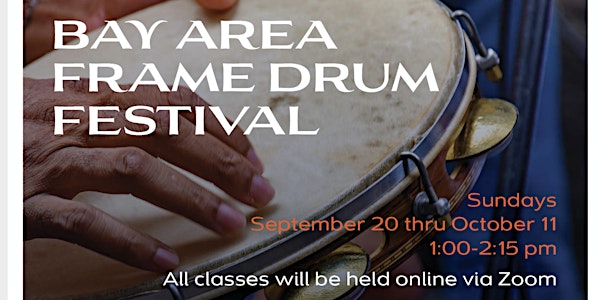 Bay Area Frame Drum Festival 2020: 4 workshops over the course of 4 weeks!
Bay Area Frame Drum Festival 2020 (online!) Featuring clinics and performances representing musical cultures from across the globe.
Refund Policy
Refunds up to 1 day before event
Eventbrite's fee is nonrefundable.
About this event
Bay Area percussionists Ami Molinelli and Jeremy Steinkoler present the first annual Bay Area Frame Drum Festival, featuring workshops from some of the top frame drum players in California, representing musical genres from across the world. Choose to attend one or more of four different frame drum clinics, representing four different musical cultures. Clinics will be in Zoom format and after ticket registration is confirmed, participants will receive a zoom link for the day of each workshop. All levels welcome!
Frame Drum Festival Clinic Descriptions:
9/20 Bodhran (Irish) with Jeremy Steinkoler 1 -2:15 pm
In this workshop we'll explore the role of the the bodhran in traditional Irish music, and cover basic tipping patterns, ornamentations, and variations for reels, jigs and slip jigs. We'll also take a brief dive into left-hand voicing techniques­ while we learn a couple of traditional Irish session tunes to play along with. No experience or familiarity with traditional Irish music is required.
9/27 Gospel Tambourine (American) with Rhonda Crane 1- 2:15 pm
Come learn easy and basic strike and wrist techniques for playing the tambourine!
Study various rhythmic patterns to play with different musical genres, including Gospel and New Orleans styles. If you bring your own tambournine, a 10" size drumhead is best, but 8" size will suffice. Be sure it has metal jingles, not tin!
10/4 Pandeiro (Brazilian tambourine and frame drum! ) with Ami Molinelli 1-2:15 pm
This class will explain various Brazilian rhythms, styles, techniques, and yes… how to do the "roll!" We'll explore the history of Brazilian popular music from the first Brazilian national music of maxixe, how it evolved into choro and then samba. We will touch on other styles, as well such as the relatable Baião which has some similar roots to early American jazz, Bo Diddley beat and the hambone. You can use a tambourine (with a natural skin head) if you don't have a pandeiro and a pie tin too!
10/11 Kanjira and Tabla (Indian) with Jim Santi Owen 1 -2:15 pm
This workshop offers an introduction to Indian rhythmic concepts, compositions, skills and techniques. We will explore the rich traditions of North and South Indian classical percussion, specifically the South Indian kanjira and North Indian tabla. Participants will learn the basic rhythmic languages of these traditions as well as compositional structures, cross-cultural rhythmic skill building exercises, and split-hand techniques applicable to any tambourine or frame drum. Bring the drum of your choice or learn in the traditional style of rhythmic recitation and hand-clapping.  Beginners to professional musicians are welcome.