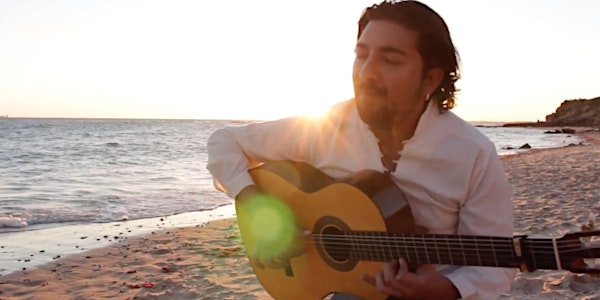 Bay Area Flamenco presents Antonio Rey, direct from Spain (See changes below)
When and where
Location
Live Stream link tbd El Cerrito, CA 94530
Description
Bay Area Flamenco presents, direct from Spain

Flamenco guitarist, ANTONIO REY
CD Release celebration: "Flamenco Sin Fronteras"
ANTONIO REY is one of today's most virtuosic flamenco guitarists. Antonio will be accompanied by renowned flamenco dancer and singer Mara Rey from Jerez de la Frontera, Spain and other guests. Bay Area Flamenco is pleased to celebrate the release of his latest CD, "Jerez sin Fronteras," hot off the presses!
Antonio Rey is now in the Bay Area from Spain and is looking forward to celebrating the release of his brand new CD "Flamenco sin Fronteras"and sharing his new music with you.
In lieu of cancelling the event in response to COVID-19,we are excited to inform you that we have found a creative way to present Antonio Rey's concert. We will be presenting the concert on Weds. March 25th at 8pm as an exclusive live-streamed event, featuring Antonio Rey playing live. Only ticket-holders for the March 18th concert will be provided access to this special live-streamed private concert and the Q&A with Antonio that will take place after the concert.
We will be providing all the informationby email for you to easily access the live stream on a private YouTube channel. Telephone support will be availabe earlier in the day on Weds. 3/25 if you have questions or concerns.
As a volunteer-based arts organization, Bay Area Flamenco relies heavily on the support of donors and ticket buyers. This support is crucial to the organization's existence, and Bay Area Flamenco, like other arts organizations, will see significant losses due to the impact of COVID-19.
We hope that you will consider making a donation at the link under "Buy Tickets." Your generosity will support Bay Area Flamenco's commitment to covering the artists' fee. Please contact us at bayareaflamenco@gmail.com if you would like to make other arrangements.
Thank you for your ongoing support of flamenco in the Bay Area. We wish you all the best of health and all the flamenco you can get!
The City of Berkeley and the Alameda County Public Health Department issued a recommendation that all large gatherings and community events be cancelled or postponed in order to protect residents from COVID-19. And Governor Gavin Newsom announced that, in an effort to mitigate the spread of COVID-19 and protect our public health, the state's public health experts have determined that non-essential gatherings should be postponed or canceled across the state until at least the end of March.
"Though his level of technical mastery mesmerized, it was his sheer musicality that that entranced the audience – a musicality that transcended his technique. [...] Carrying on the flamenco tradition with an eye towards the future, his compositions captured the essence of the form while incorporating other types of harmonic movement. Clearly having absorbed the works of flamenco masters Paco De Lucia, Vicente Amigo, Tomatito, Gerardo Núñez and others, Rey has distinctly cut his own niche. Although Rey did not study classical music per se, he has certainly absorbed a wide harmonic pallette that he utilizes in his compositions. In this regard he is carrying on the tradition of his recent predecessors: he respects the art of flamenco by reflecting their artistry while simultaneously incorporating other styles within the form and establishing an important new voice. And all the while, Rey's relaxed demeanor and natural smile made the concert even more enjoyable." (The Hollywood Times, review of concert at Guitar Salon, Santa Monica, California, April, 2019)
Antonio Rey Navas was born in Madrid in 1981 and began his artistic career at the age of ten when he accompanied his father Tony Rey in various tablaos (flamenco venues) in Mexico. He was soon performing on international stages and winning prestigious awards for his incredible virtuosity, such as the Premio Nacional de Guitarra (also won by Paco de Lucia and Vicente Amigo), National Competition of the Art of Flamenco of Córdoba, Niño Ricardo National Competition of Flamenco Guitar, International Flamenco Guitar Competition of Jerez and others. He has performed with many of the most important flamenco artists, such as Farruquito, Manuela Carrasco, Diego El Cigala, Antonio Canales, Diego del Morao, Richard Bona, Estrella Morente, Joaquín Cortés, Miguel Poveda, among others. Rey has performed in prestigious concert halls around the world including Tokyo, Moscow and across Latin America, Europe and Iran.