Bay Area Conscious Capitalism Business Series: Learn about Holacracy®

Thursday, October 24, 2013 from 9:00 AM to 1:00 PM (PDT)
Event Details
Welcome to our Business Series hosted by the Bay Area Conscious Capitalism Chapter.
In October, our series begins with a Holacracy® Introductory Workshop in San Francisco by Anna McGrath, Founder of WonderWorks and the first Holacracy® licensee in the USA. It's a must, especially if you're interested in how governance & infrastructure can help you scale your organization and build a conscious culture.
Learn about Holacracy®  
Is your organization agile and adaptive to its environment - even as it scales? Are the roles within your organization clear, yet also continually evolving, and driven by those doing the work? Is the work aligned with your organization's purpose, without a culture of nice or egos getting in the way?
Holacracy®  is a way to embed conscious practices into all aspects of your organization.
This half day workshop introduces Holacracy® : a real-world tested "social technology" for structuring, governing, and running a purpose-driven, agile company.  Holacracy® fundamentally changes how decisions are made and how power is distributed.
This experiential introduction to  Holacracy® includes meeting practices and time to ask questions as we explore the fundamentals of this Governance Structure and Operating system.
Learning Objectives
In this training, participants will:
Experience a transformative governance process that creates crystal clear roles and accountabilities even while dynamically evolving as-needed

Experience Holacracy's

action-focused Tactical Meetings

  

Connect the dots to see Holacracy's end-to-end approach to move from aim to action, and how it grounds an abstract purpose in concrete next-actions

Interactively explore Holacracy's self-organizing structure and double-linking paradigm, and learn how it scales across organizations small and large

Cancellation Policy
Cancellations are non-refundable, however substitutions are welcomed.
Public Transportation

Bart - exit at Montgomery Station, San Francisco.
Presenter:
Anna McGrath, Founder of WonderWorks Consulting
First and only Holacracy® USA Based Licensee, since 2012
Short Presenter Bio:
Anna McGrath Founder and President of WonderWorks Consulting has been a pioneer in bringing transformational business practices to leaders and organizations for over two decades. Her mission is to support leaders and their organizations to love living and fulfilling their purpose, through conscious behavior practices and the Holacracy® Operating System and Governance Structure.
When & Where

Hanson & Bridgett
425 Market Street
San Francisco, CA 94105


Thursday, October 24, 2013 from 9:00 AM to 1:00 PM (PDT)
Add to my calendar
Organizer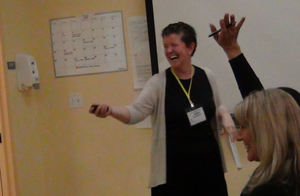 In a nutshell, WonderWorkers love what we do and love the people we partner with.
In order to succeed, 21st century organizations that want to thrive must embrace innovation and purpose. They need an operation system and governance structure that responds quickly to input while supporting agile decision making, and facilitates a network of stakeholders who are motivated by a shared purpose.  
That's where WonderWorks comes in. With a track record of Operationalizing Transformation, WonderWorks supports organizations in producing results that are profitable, scalable, and sustainable, while supporting the people who make it all happen.