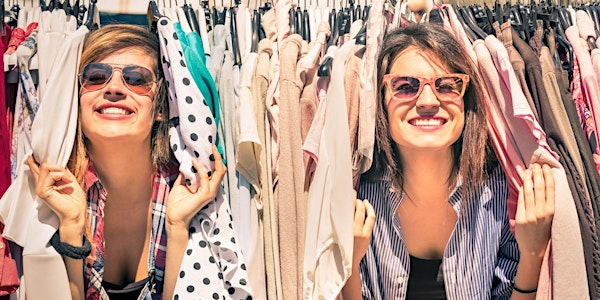 Bay Area Babes Public Clothing Swap
By Co-hosted by: Amanda Saeed, Native Twins Coffee and POYMeetsWorld Events
Date and time
Friday, February 15, 2019 · 6 - 8pm PST
Location
Native Twins Coffee 262 Divisadero Street San Francisco, CA 94117
Refund Policy
Contact the organizer to request a refund.
Description
I HAVE NOTHING TO WEAR!!!

Hi I'm PoOn (@poymeetsworld) and we (Amanda and I) know what it's like to be FRUSTRATED with our closets, so we're creating a fun, low-cost event for you to swap clothes!!

Bring the clothes that no longer bring you joy (#KonMari method anyone?)

Meet other eco-conscious, fashion-forward women in a friendly, neighborhood environment and score new clothes, while recycling yours.

DETAILS AND RULES TO PARTICIPATE:

1) Bring 1 full bag of clothes to donate, and 1 empty bag to fill. Tickets are $10 at the door, or $5 prepaid via Eventbrite
2) Please only bring clothes in good condition - no holes, stains, rips. Think about what you would want to wear!
3) No entry without clothes, this is key as we want to help you clean our your closet and ensure quality inventory for others
4) Jewelry and other fashion accessories welcome
5) We will take care of hanging clothes and categorizing, please help to keep things organized!
6) Amanda Saeed will be your on hand stylist and will be working at no extra cost to you!
7) Photographs will be on taken by organizers, to capture your new looks!
8) Hosted at Native Twins Coffee, local women-owned business that will remain open for you to purchase beverages and snacks
9) Bring your positive attitude! Cattiness will not be tolerated.
10) All clothes left behind will be donated to goodwill and/or saved for future swaps!

WHY THIS EVENT?

We believe that fashion can be fun and empowering, and want to help other women dress their best, in a cost-effective, environmentally friendly way

Rather than let our clothes sit in the closet, unworn and unloved taking up valuable space, we can let someone else love them more! Perhaps we no longer fit an item, or we bought something on impulse. Now, we can have an evening to bring those clothes to share with someone else, while finding new items for ourselves!
HOSTED BY:

Amanda Saeed, Fasion Stylist IG: @_styledbyamandasaeed
Native Twins Coffee, IG: @nativetwinscoffee
PoOn Yeung, Health+Wellness advocate, Lifestyle/Personal Development Blogger IG: @poymeetsworld


(PoOn and Amanda pictured below at Fashion Community Event Soiree!)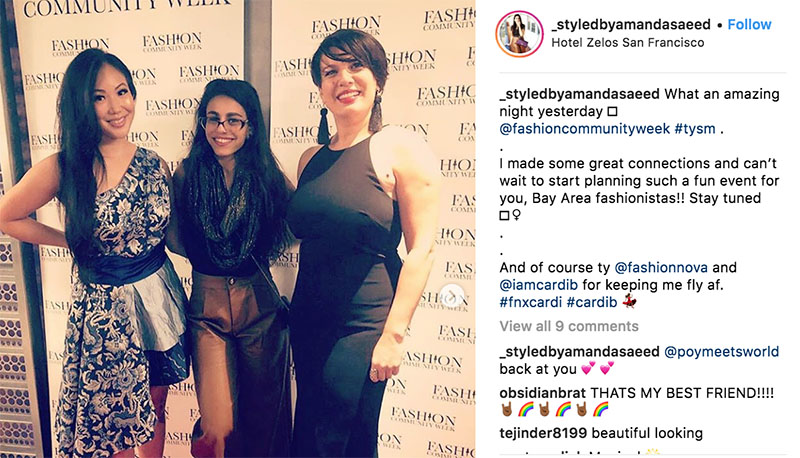 Amanda Saeed is a local Fashion Stylist and Personal Shopper and helps with revamping your wardrobe! She will be on hand for personal assistance.
Check out her IG: @_styledbyamandasaeed for more information about her services and also, future events!
She also offered Boutique discounts for followers :)


PoOn Yeung is a Competitive Athlete and Health + Wellness advocate who knows that living your best life starts with feeling good about yourself, and hey, a great outfit can help with confidence! A recent transplant to SF from Canada, she has been volunteering with various Canadians in Tech orgs along with SF Fashion Community Week and the FemTech Collective. She previously founded a Personal Development Event Series, Fashion start-up and loves blogging about fitness tips and life/business lessons over at www.poymeetsworld.com


IG: @poymeetsworld


Native Twins Coffee





IG: @nativetwinscoffee

TICKETS $10 at door or $5 pre-paid



FAQs

*Please make sure you've read the Details to particpate above! This is meant to be an inclusive-event, with positive, good-natured people. NO CATTINESS. You will be asked to leave if we perceive this*


How can I contact the organizer with any questions?
Please contact Amanda Saeed via DM on Instagram @_styledbyamandasaeed or by text at: 415-317-5723.

Feel free to interact with @nativetwinscoffee and @poymeetsworld leading up to, and at the event!
What's the refund policy?
NO refunds.