Description
~ Bay Area Artists Stand With Standing Rock ~
Join us Sunday December 11th at The New Parish in Oakland for a full concert of Bay Area artists and speakers in support of our people at Standing Rock. #NoDAPL
Hosted by Gina Madrid & Broke Ass Stuart
Performances by:
Rupa & The April Fishes ft Boots Riley :: LoCura :: Dirtwire DJ set (Beats Antique side project) :: Equipto (Frisco5) :: Dan The Automator DJ Set :: Raw-G (Gina Madrid) :: Audiopharmacy :: :: Flipsyde ::
Grow Theory (A-Plus x Knobody) of Hiero Imperium :: Davey D :: Bang Data :: Aima The Dreamer :: :: Tyson Amir :: Jahi (PE 2.0) :: YGB -Young Gifted & Black :: : Backwordz Medicine
:: Opening prayer by Dr. Maria Michael (Lakota/Navajo Elder) ::
Thanks to all our partners and suppoerters!
:: Gina Madrid/Steelo Entertainment :: Do No Harm Coalition :: Broke-Ass Stuart :: John O'malley :: Love/Speaks Production :: Audiopharmacy Prescriptions :: Kin Folkz :: Spectrum Media :: Hip Hop TV :: Earshot Entertainment :: Kings of Kings :: Oaktown Indi Mayhem ::
Be here early so you don't miss anyone on this amazing line up!
If you can't attend and would like to donate pls follow this link https://crowdfund.ucsf.edu/project/2913
Anyone attending this event is free to stay for teh late show for Kings of Kings Reggae Dance party after the show !
This event is 14+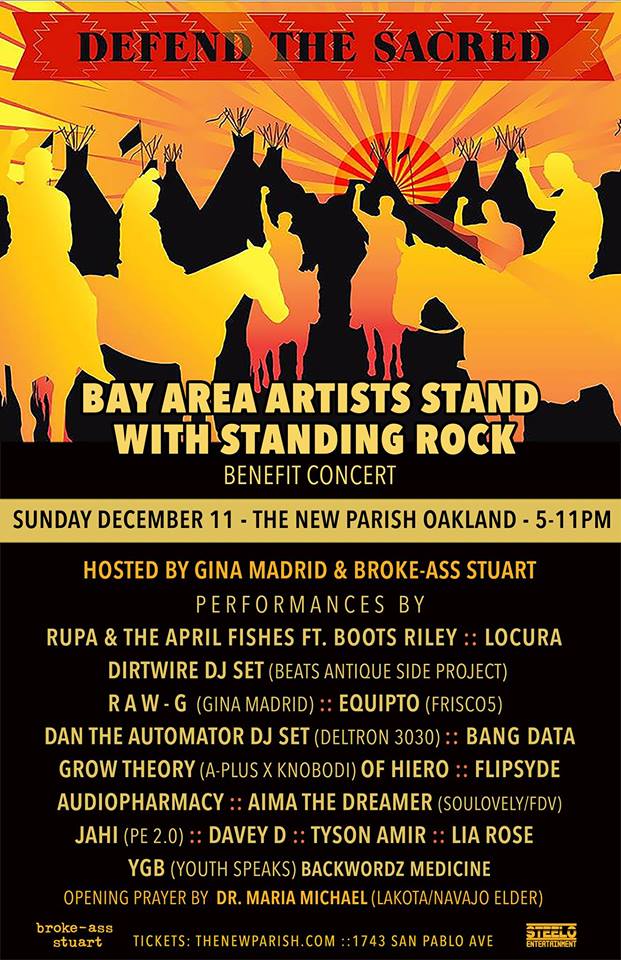 ---------------Water Is Life-------------Stop The Black Snake----------
In early September 2016, the Do No Harm Coalition was invited to help create a free clinic at the camp of the Standing Rock Lakota Dakota and their supporters who are gathering to protect access to clean water and dignity of their ancestral lands.
The Mni Wiconi (Water is Life) Health Clinic is a free integrative clinic proposed as a partnership with Standing Rock Sioux Tribe traditional healers, National Nurses United, Herbal Medics, Changing Woman Initiative (indigenous midwifery group) and Global Health Care Alternative Project to provide free care to all people in the Standing Rock Sioux reservation. At the invitation of the tribe, our consortium's goal is to create a space for the imagining and practice of decolonized medicine in order to further the health of the community in the short-term with the expanded population due to pipeline resistance and in the longterm after the encampments have dissolved.
We are currently raising funds to get the clinic doors open, to cover general liability and the necessary equipment and medications to practice responsibly. This clinic will be staffed by 100% volunteer work, with faculty covering during vacation time.
Currently there is no local healthcare access for all of the 2,000-5,000 people who are assembled at Standing Rock. The local 12 bed IHS hospital cannot care for nonnative people or native people from tribes that are not federally recognized Your gift will be used to get the clinic doors open! Winter is coming and we are doing our best to get care out there in an expeditious manner.
- We Appreciate Your Support -