"Recipes for Creation Over 30 Years" includes family and personal recipes for foods and drinks, and artistic recipes for performance and art
About this event
With a $30 order you will receive your own copy of the recipe book, filled with dozens of recipes from BAX artists and students.
The community recipe book, Recipes for Creation Over 30 Years, continues the celebration 30 years of creativity and artistic exchange. The book includes recipes ranging from creative and artistic prompts and scores for movement and being together to family recipes for breads, sides, drinks, cakes, meals, and more.
You will be asked to provide a mailing address upon checkout and we will send your copy of the recipe book to that address as soon as the book is printed.*
*We are currently experiencing some printing delays. Feel free to email recipes@bax.org for more information.
Recipes for Creation Over 30 Years: A BAX Community Recipe Book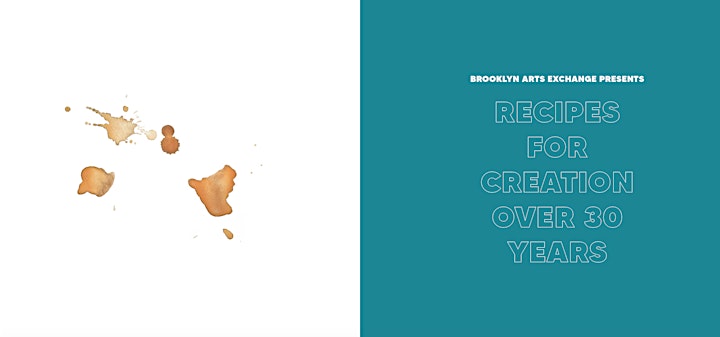 Image Description: two images rest side-by-side. On the left is a coffee stain across a square, white page. On the right is a blue square with block text in white reading: "Brooklyn Arts Exchange presents: Recipes for Creation Over 30 Years."
Recipes for Creation Over 30 Years features contributions from BAX artists and students, including:
Setting the Stage: Scores, Instructions, and Prompts
Mise-en-Scent: Recipes for Scents and Smells
Sustains and Refrains: Breads, Buns, and Grains
Musical Accompaniment: Snacks and Sides
Marvelous Medleys: Soups and Salads
Showstoppers: Entrees and 11 O'Clock Numbers
The Sweetest Sounds: Desserts and Sugary Things
Ensemble: Recipes for Being Together
Flowing Ballads: Drinks and Beverages
Coda: Ritual, Mythos, and Magic
Each section contains gorgeous instructions and recipes blurring the lines between culinary and performing arts.
Printed in May 2021, Recipes for Creation Over 30 Years indexes BAX communities amidst the celebration of 30 years and the connective reflections of upheaval over the past year. We hope this project at once honors the special ingredients that made the past 30 years possible and the beautiful tenacity BAX communities exercise to continue moving together.