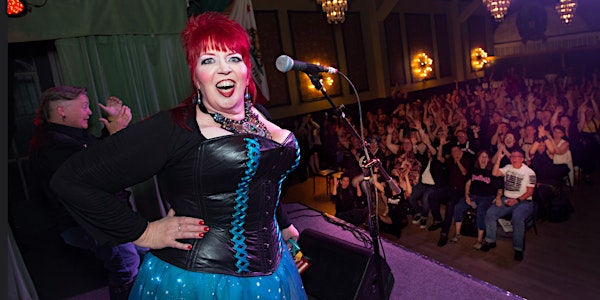 Bawdy Storytelling's 'Wicked' (10/25, SF)
When and where
Location
Verdi Club 2424 Mariposa Street San Francisco, CA 94110
Description
Friday, October 25th, 2019
at the Verdi Club
2424 Mariposa, San Francisco, CA
Remember: Bang-O at 7:00 PM, Stories at 8:00 PM
Want a sample of Bawdy?
Listen to the Bawdy Storytelling podcast at
http://bit.ly/bawdypodcast
•••••••••••••••••••••••••••••••••••••••••••••••••••••••••••
This Evening of Stories, Songs & Sex Toys features:
❤ Hosted by Sexual Folklorist Dixie De La Tour
❤ Physician & Biophysicist Spottacus Cheetah
❤ Sex positive photographer Auey Santos
❤ Math teacher & Hip Hop enthusiast Sarah Nadler
❤ One more Storyteller to be announced; will it be YOU?
❤ Songs by Brilliantly Bawdy songwriter Jefferson Bergey
❤ Play Bang-O & WIN Prizes, just for making new friends
❤ Reserved Seating puts you right up front #OnlineSoldOnline
❤ Custom Bawdy Cocktails to help you get your flirt on #CBT #SingleTailSting #CagedHeatCocktailSyrups
•••••••••••••••••••••••••••••••••••••••••••••••••••••••••••
"The Moth for Pervs" – LA Weekly
••••••••••••••••••••••••••••••••••••••••••••••••••••••••••
About Bawdy Storytelling:
Bawdy Storytelling - the Original Sex + Storytelling series - features Real People & Rockstars sharing their Bona Fide Sexual Exploits Live Onstage; think of us as a One Night Stand with the Moth & Savage Love. Storytellers are an eclectic mix of Authors, Porn Stars, Sex Educators, Comics & More, along with Regular Joes just like you who submitted their stories online and were chosen for their panache and sense of (Mis)Adventure.
Bawdy Storytelling features tales of Carnal Wins & Epic Fails with No Scripts, No Nets, and No Holds Barred. These folks aren't reading from cue cards: this is honest-to-badness story time with true sexcapades and poignant, transformational tales at each and every show. Join Sexual Folklorist Dixie De La Tour & hand-picked Rockstars as they share their own stories of Love, Lust, and making you feel funny in your bathing suit area. Hey, you may even go home with a few new tricks for your boudoir arsenal!
A REVIEW of Bawdy Storytelling : "Stories are powerful. No other medium has the ability to move, inspire, or change us quite like a well-crafted narrative. Never has this been more true than the world of sex, where fear, shame, and misinformation abound. This is all a high-minded and roundabout way of telling you to check out Thursday's edition of Bawdy Storytelling, a rousing and arousing night of true sex stories that promises to make you laugh, make you think, and make you hard ... pressed to find a more interesting thing to do on a Thursday night." - SF Weekly
••••••••••••••••••••••••••••••••••••••••••••••••••••••••••
The Original Sex + Storytelling series, featuring Real People & Rockstars sharing their Bona Fide Sexual Exploits, Live Onstage
••••••••••••••••••••••••••••••••••••••••••••••••••••••••••
Performer Bios:
❤ Dixie De La Tour is a sexual folklorist, professional storyteller, podcaster, teacher, coach, community builder and most of all, a facilitator. She is also the Founder, Curator & Host of the Award-winning and NSFW storytelling series, Bawdy Storytelling ("The Moth for Pervs" - LA Weekly, "The Original Sex and Storytelling series" - Playgirl) that's been lauded for its transformational, relatable, empowering performances. This live stage series is currently headed into its 13th year, the groundbreaking Bawdy Storytelling podcast has had over 1.5 million downloads, plus it's been acknowledged as a 'Best Of' Sex podcast from Forbes, GQ Magazine, Marie Claire, Uproxx, Daily Mail UK, Bustle and (twice!) by Esquire Magazine.
In addition to story and public speaking coaching for her own series, Dixie coaches for TEDx, Women in Technology, offers custom Brand Storytelling coaching, has led storytelling events in Libraries, teaches Storytelling for the Classroom and has been a featured teller for the National Storytelling Conference. Ultimately, this story-loving southerner is passionate about storytelling's ability to keep people safe, reduce social anxiety and connect us with strangers. Stories help you find your people!
Dixie has been Sainted by the Sisters of Perpetual Indulgence ("Saint Kiss & Make You Tell") for her work to reduce stigma and eliminate shame, and she recently became a Muppet. Discover more about Dixie De La Tour and Bawdy Storytelling at Facebook.com/BawdyStorytelling, on Instagram at https://www.instagram.com/bawdystorytelling/ on Twitter at @Bawdy and always at www.BawdyStorytelling.com
❤ Spottacus Cheetah is an inventor, entrepreneur, physician, biophysicist, and incurable romantic when in human form, and a cheetah or other felid when in true furry form. Best known mononymously as Spottacus, or even just Spotti. He lives in the San Francisco Bay Area, and is not happy when forced to appear without ears, tail, or when asked not to purr, growl, hiss, bite, pounce, waggle, or lick (inevitably, that leads to some drama.
❤ Auey's day job is doing marketing and communications for a non-profit. But her evening and weekends are filled working as a portrait and event photographer. She's most comfortable behind the camera and love to use photography as a way to connect to people. In past lives, Auey has worked in radio and children's documentary television. Last year, she co- produced an erotic film festival and made sock puppet porn.
Auey believe sex-positivity starts with self-positivity.
In her vanilla life, she's also a devoted mom, a yogi, and Lindy hop dancer, teacher and organizer.
❤ Sarah Nadler is a Bay Area native and middle school math teacher. Her interests include 90s hip hop, denim overalls, and documentaries about medial tourism. She discovered Bawdy Storytelling last year during a road trip to Seattle. She's a first-time storyteller (wait, this will be her second time!) but a longtime socially awkward sexual misfit.
❤ Straddling the line between sentimental and sleazy, Jefferson Bergey blends gritty, soulful pop with elements of folk, blues, and country with a penchant for the ridiculous in his original compositions.
The Oakland based singer-songwriter performs his family-unfriendly music all over the Bay Area. He's a frequent contributor, writing custom songs for the award-winning, San Francisco based, Bawdy Storytelling. As a solo acoustic act, Bergey's sound is akin to folky musical theater in a coffee shop...if the coffee shop also sold sex toys and sativa gummy bears. His polite vulgarity may not be for the very young and impressionable or the very old and conservative but he won't tell you how to raise your kids or upset your grandparents.
He can be seen and heckled every Monday night at his Risqué residency at Scopo Divino in San Francisco. For well over two years straight, he's put on a unique and interactive show where he plays original music and cover songs suggested by those in attendance who haven't already left in disgust.
Bergey's music can be heard on the RISK! and Bawdy Storytelling podcasts. He has performed at The Independent, Sweetwater, Great American Music Hall, Jewish Community Center in SF, John Steinbeck Association, Special Olympics in Long Beach, Punchline SF, and SF Sketchfest.
His newest EP titled 'Always Up (To Go Down)' was originally written for Bawdy Storytelling and is flanked by a few of his 'inter-lewds', now fleshed out with piano, bass, and pedal steel. It also features the talents of Natalie Smith (Cape Weather) on vocals.
www.jeffersonbergey.com
https://www.patreon.com/jeffersonbergey
https://www.facebook.com/jefferson.bergey
https://www.instagram.com/jeffersonbergey/
• No Refunds or Exchanges
• Lineup Subject to Change
• ASL Interpretation available at shows by special request only. Please submit your written request to BawdyStorytelling@gmail.com (14 days prior notice required)
• General Admission seating is first come, first served. We recommend you arrive when doors open for best seating (Reserved Seating guarantees you a seat right up front)
•••••••••••••••••••••••••••••••••••••••••••••••••••••••••••
Winner of SFist's Best Storytelling Show, the SF Weekly's Best of San Francisco & the LA Weekly's Best Of Los Angeles (for Best Storytelling) & 2 Time Winner of the SF Bay Guardian's Best of the Bay Award (Best Literary Event)
•••••••••••••••••••••••••••••••••••••••••••••••••••••••••••
"The Moth for Pervs" – LA Weekly
•••••••••••••••••••••••••••••••••••••••••••••••••••••••••••
"Dixie De La Tour's scandalous, over-the-top Bawdy Storytelling series" – SF Weekly
•••••••••••••••••••••••••••••••••••••••••••••••••••••••••••
Want more Bawdy?
www.BawdyStorytelling.com
Twitter: @Bawdy
& at Facebook.com/BawdyStorytelling