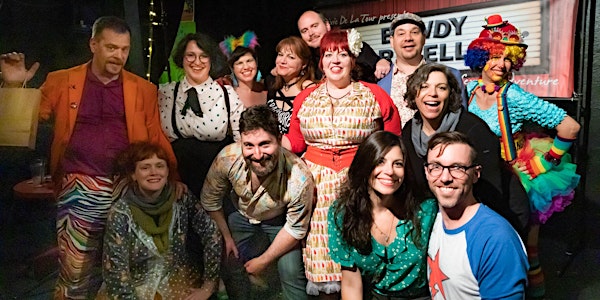 Bawdy Storytelling's 'UnicornFest' (5/17, SF)
When and where
Location
Verdi Club 2424 Mariposa Street San Francisco, CA 94110
Description
Friday, May 17th, 2019
at the Verdi Club
2424 Mariposa, San Francisco, CA
Remember: Bang-O at 7:00 PM, Stories at 8:00 PM
Want a sample? Listen to the Bawdy Storytelling podcast at
http://bit.ly/bawdypodcast
•••••••••••••••••••••••••••••••••••••••••••••••••••••••••••
The Evening includes:
❤ A Unicorn Story from Birthday Grrl Dixie De La Tour
❤ Pervy Performance by Snatch Adams
❤ Ex-Exotic Dancer & Devout Unicorn Ginger Cox
❤ Professional RPG-er/Ex Jizzmopper Jeffrey Allen Hayes
❤ 'I, Nomi ' writer, producer and star April Kidwell
❤ Brilliantly Bawdy songwriter Rachel Lark
❤ Our newly available Commemorative Unicorn Buttholes
❤ Try out our Sybian Photo Booth - & WIN a Sybian
❤ Sexy Prizes from our friends at Good Vibrations
❤ On its 10 Year Anniversary, the Unicorn Raffle is BACK!
❤ Reserved Seating puts you right up in the action
❤ Play Bang-O & WIN Prizes, just for making new friends
❤ Custom Caged Heat Cocktails like the Unicorn's Butthole, The Torrid Threesome & more!
•••••••••••••••••••••••••••••••••••••••••••••••••••••••••••
This month, Bawdy Storytelling - the water-based lube for the silicone toy that is your mind - celebrates the mysterious, wildly-hunted, and much sought after Unicorn, aka the final cog in you and your partner's filthy plan. These savory morsels of eye candy will help your evening fit like a three-fingered glove and let you add 50% more MORE to your Friday night (who knows, maybe even your weekend!). Featuring true stories of the Wobbly-H, the Devil's Triangle, and the A-Frame, we have real people telling real stories of being the Unicorn, of hunting the Unicorn, and of shaking the glitter out of your bed in the morning and wiping that rainbow wet spot off the wall.
It's also everyone's favorite filthy aunt, Dixie De La Tour's birthday, so this is not just storytelling, Lucky Pierre! Dixie invites you to take a prance through the Unicorn paddock with hot Unicorns parading by in the wild, to channel your inner Unicorn with the Sybian photo booth, and sip on a tasty Unicorn's Butthole (yum, cherry bomb/cherry cacao!) and other specially crafted cocktails designed just for Dixie by Caged Heat Cocktail Syrups.
Speaking of a Unicorn's butthole, the makers of the Vajankle have crafted Bawdy's first ever official merch, the Bawdy Butthole! Come show your love for Bawdy, your love for Dixie, and your love for Unicorns by showing the world that you are indeed on Team Sparkly Rosebud!
Are you not entertained?! OK then: If you think you're up for the challenge, we're bringing back the too-hot for PayPal "Win a Date with a Unicorn," an event that got Dixie in a little hot water 10 years ago. Join us for a wild stallion of a Friday night: If we've ever needed some erotic vagrancy, now is that time.
BONUS: Bawdy favorite Rachel Lark will be performing the Unicorn Song (which she magically wrote for Dixie's birthday show last year) and for the first time, Burlesque Babe of Buffoonery Snatch Adams will grace our stage. We're SO excited!
Performer Bios:
❤ Sexual Folklorist Dixie De La Tour founded Bawdy Storytelling - the Nation's original sex and storytelling series - over 12 years ago, despite being told repeatedly that nobody would get onstage to tell their stories of sex, kink and gender (Wrong!).This multi-city live storytelling event welcomes true stories from any and all communities (LGBTQIA, kink, polyamory, swingers, vanilla, and many more) and is bringing sex-positive storytelling to new cities all the time. Dixie and Bawdy Storytelling have been praised by press both big and small; She has been lauded as a "masterful emcee, and her show is everything that works for storytelling—she creates a warm, safe space in which stories can bloom with dark hilarity, salacious textures, and moments of deep connection." Dixie has hosted and curated Bawdy Storytelling events at Yale Sex Week, the Bondage Awards, the Jewish Community Center of San Francisco, CatalystCon Sexuality Conference, Dark Odyssey, FetFest, and more, as well as her home turf of the Bawdy Mainstage and BawdySlam shows. She can be found at @Bawdy on Twitter, Bawdy Storytelling on Facebook and always, always at www.BawdyStorytelling.com
❤ A childhood spent traveling with the circus has produced the burlesque babe of buffoonery! Combining classic skills such as knife-juggling and unicycling with the art of the tease, internationally known Snatch Adams brings clowning to the realm of the risqué. Catch this clown college graduate throughout the Bay Area and beyond as she tickles your funny bone and tantalizes your other one.
❤ April Kidwell is the writer, producer and star of I, Nomi - the one woman musical comedy about the life of Nomi Malone before and after Showgirls. Off B'way: Showgirls! The Musical! (Nomi Malone), Bayside! The Musical! (Jessie Spano); San Francisco: Drag Becomes Her (Anna Nicole Smith), Legally Black (Anna Nicole Smith), Trixie & Katya's High School Reunion (Christy), Buffy the Vampire Slayer Live! (Willow); Film: The Bride of Death (dir. Michael Phillis), You Don't Nomi (dir. Jeffrey McHale) and Eat the Rainbow (dir. Brian Benson). She is a proud student and volunteer of the Earthship Academy and Foxhole homes - building off the grid, self sustainable houses made of natural and recycled materials for homeless veterans. More info at www.aprilkidwell.com.
❤ Jeffrey Allen Hayes is a Bawdy regular and (how many times now?) Best of Bawdy winner. He holds an MA in drama therapy and is no stranger to the healing power of performance. He also plans LGBT events and programs at a senior center, (formerly) worked at a gay sex club, and facilitates roleplaying games professionally. You can follow him on twitter @JeffreyJeffrawr where he tweets pictures of buttholes with googly eyes.
❤ Ginger Cox is originally from Kansas City, MO and has worked as an erotic dancer all over the United States. She settled in New Orleans and opened my own private party planning company, lived there for 10 years and then decided to change careers and become a nurse. She came to the Bay area on a travel nurse assignment and has been here for 2 years. Her sexual orientation is open minded and she definitely identifies as a Unicorn.
❤ Rachel Lark is a San Francisco based singer/songwriter and multi-instrumentalist. Her music has been featured on The Savage Lovecast and Salon.com and she tours regularly throughout the U.S. and Europe. Her new video, National Emergency, is blowing up on YouTube right now, watch it! She's well known for the songs she's written for Bawdy Storytelling (Warm, Bloody, & Tender, F*ck 69, The Unicorn Song, Didn't See It Comin', and too many to list) and you can learn more at
HOME PAGE: www.rachellark.com
FACEBOOK: www.facebook.com/larksongs
TWITTER: @rachellarkmusic
We love Rachel Lark, support her on Patreon!
https://www.patreon.com/rachellark