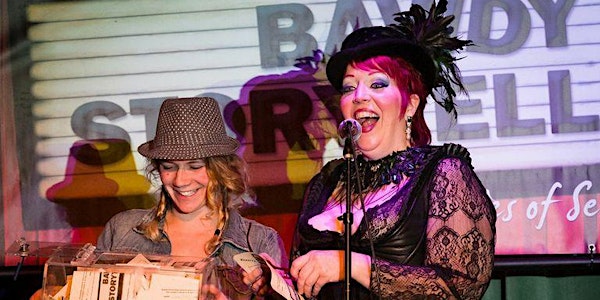 Bawdy Storytelling's 'Trigger Warning' (Folsom Street Fair Kickoff Event, 8 PM, SF)
When and where
Location
Verdi Club 2424 Mariposa Street San Francisco, CA 94110
Refund Policy
Contact the organizer to request a refund.
Description
Folsom Street Fair *is* the World's Largest Kink Event, so let's get WEIRD.
Expect some of the dirtiest, best, most never told before stories of the year for this Bawdy...
Bawdy Storytelling's 'Trigger Warning'
Party at 7 PM, Dirty Stories at 8 PM
at the Verdi Club, 2424 Mariposa, San Francisco CA 94110
•••••••••••••••••••••••••••••••••••••••••••••••••••••••••••••••••••••••••••••••••
"The Moth for Pervs" – LA Weekly
•••••••••••••••••••••••••••••••••••••••••••••••••••••••••••••••••••••••••••••••••
This Evening of 'You can't say we didn't warn you!' Stories includes:
❤ Sexual Folklorist
Dixie De La Tour
❤ EdgePlayer-from-Hell Jeffrey Hayes
❤ Casual Encounters Adventurer Katherine Thomas
❤ IMsL supporter & KinkyCrafter Shilo McCabe

❤ A final Surprise Storyteller
(
we can't tell you who they are
- show up & find out)
❤ Music by
Rachel Lark
(including her new song, Didn't See It Comin'!)
❤ VIP or Reserved Seating puts you in the Splash Zone
❤ Play Bang-O, Bawdy's unique audience participation game
❤ Strong is Sexy Cocktails (Schlong Island Iced Tea, anyone?)
❤ WIN our Grand Prize package just for making new friends
❤ Hosted by Sexual Folklorist Dixie De La Tour
•••••••••••••••••••••••••••••••••••••••••••••••••••••••••••••••••••••••••••••••••
The Nation's Original Sex + Storytelling series featuring Real People & Rockstars sharing their Bona Fide Sexual Exploits, Live Onstage
••••••••••••••••••••••••••••••••••••••••••••••••••••••••••••••••••••••••••••••••
What's your "thing?" Are you into belly buttons? Public sex? Guys in eye patches? Spanish accents? Dirty talk? Kick off Folsom Street weekend in style with Sexual Folklorist Dixie De La Tour & Bawdy Storytelling's exploration of the wide and wonderful world of WHOA. It doesn't matter if you are a weekend warrior with a latex Little Bo Peep outfit or live the lifestyle 24/7 & have your master's name tattooed right next to that "All Deliveries in the Rear" tramp stamp, you're sure to find something to tighten your trousers, dampen your jockstrap (if you're wearing one), & quicken your pulse.
Join us this month as Bawdy Storytelling – the high gloss to your latex brain – presents an evening of ballsy-as-fuck oversharers who will tell their honest to badness true stories that range from mild to mindf*ck, & go beyond the green door to explore a wide range of paraphilias, firsthand style. Ring in Folsom with a bang by unlocking your gimp and heading down to the Verdi Club for special fetish-themed performances, games and more. As always, Dixie invites her A-list of self-proclaimed freaks, geeks, sex nerds, & perverts to share their personal, very true, spare-us-no-details stories.Don't say we didn't warn you - it says Trigger Warning right there on the door, y'all!
About Bawdy Storytelling:
Bawdy Storytelling - the Original Sex + Storytelling Series - features Real People & Rockstars sharing their Bona Fide Sexual Exploits Live Onstage; think of us as a One Night Stand with the Moth & Savage Love. Storytellers are an eclectic mix of Authors, Porn Stars, Sex Educators, Comics & More, along with Regular Joes just like you who submitted their stories online and were chosen for their panache and sense of (Mis)Adventure.
Bawdy Storytelling features tales of Carnal Wins & Epic Fails with No Scripts, No Nets, and No Holds Barred. These folks aren't reading from cue cards: this is honest-to-badness story time with true sexcapades and poignant, transformational tales at each and every show. Join Sexual Folklorist Dixie De La Tour & hand-picked Rockstars as they share their own stories of Love, Lust, and making you feel funny in your bathing suit area. Hey, you may even go home with a few new tricks for your boudoir arsenal!
* Line-up subject to change
❤ Jeffrey Hayes is a drama therapist and MFT-Trainee at Liberation Institute. His areas of special interest include directing therapeutic theatre performances and harnessing the healing power of tabletop roleplaying games. He collects life experiences the same way some people collect comic books (which, coincidentally, he also collects) and believes creating and sharing stories is one of the most beautiful things humans can do
❤ Shilo McCabe is a queer, sex-positive feminist photographer and crafter. She works in her own unique style of documentary photography and is honored to serve as the Photo Team Lead for International Ms. Leather/International Ms. Bootblack. She has served on the board of LVA: Lesbians in the Visual Arts and was a Project Photographer for the Bay Area Women of Color Photo Project. Her art has been shown at many exhibitions across the country, and has been included in The Kinsey Institute Gallery's permanent collection as well as many print publications. A fierce advocate for visibility and community building, Shilo combines her DIY aesthetic with clever functionality to design creative accessories – most notably her femme flagging flowers – through her KinkyCraft studio. Her work can be viewed at ShiloMcCabe.com and TheSexPositivePhotoProject.com
❤ Katherine Thomas grew up with an innate interest in kink that started at the age of 4, when she wasn't quite sure why tying up my barbie dolls would make her feel really tingly. She moved to the Bay Area after growing up in an oppressively conservative Midwest city. But if she's completely honest with herself, a huge deciding factor of moving to the Bay Area was that Kink.com was based here. After a particularly horrible breakup with yet another vanilla guy, she finally decided to start acting on realizing some of the kink fantasies she'd had her whole life...Her first adventure was a naive foray into Craigslist Casual Encounters, and like everything in her life, found herself in the deep end right off the bat, and is lucky to have gotten out of it unscathed.
❤ Sexual Folklorist Dixie De La Tour founded Bawdy Storytelling, the Nation's original sex and storytelling series almost 10 years ago (Bawdy is a multi-city live storytelling event welcomes true stories from any and all communities - LGBTQIA, kink, polyamory, swingers, vanilla, and many more) and now, she's created her brand new storytelling series, Bona Fide Storytelling. Dixie has been lauded by Master Storyteller Mike Daisey as a "masterful emcee, and her show is everything that works for storytelling—she creates a warm, safe space in which stories can bloom with dark hilarity, salacious textures, and moments of deep connection." Dixie has hosted and curated Bawdy Storytelling events in many US cities, and she works with each storyteller, crafting and curating, to make sure that each evening of storytelling is a cohesive whole. She also leads storytelling workshops where would be storytellers can hone their craft. Dixie is really excited to create something new in the world of story - it's her passion. Is there anything more inspirational than watching someone live their passion?! More info on Dixie & Bawdy at www.BawdyStorytelling.com
❤ Rachel Lark is a singer/songwriter who sings about Sex, Drugs, heartbreak, and Messy Apartments. An up-and-coming San Francisco artist with a die-hard cult following, Rachel Lark has quickly become the musical muse of the sex-positive revolution. Her music has been featured on The Savage Lovecast, and she performs frequently San Francisco counterculture haunts like Bawdy Storytelling and Tourette's Without Regrets.Her music is always lyrically based with a strong foundation of passionate songwriting, while the timbres vary depending on the performance. Sometimes she's bantering with the crowd over some ukulele plucking, and at other times she'll be behind her laptop and synthesizers creating dance beats to accompany her layered vocal harmonies. In 2014 she released her debut EP, "I Wouldn't Worry" followed by her first full-length album, "Lark After Dark," and her Christmas album "Hung For The Holidays." In 2015 she successfully funded a music video and new album through a Kickstarter campaign and has just released both her new album, "Vagenius" and her new music video for the song Warm, Bloody, and Tender. Find her music (and videos) at RachelLark.com
•••••••••••••••••••••••••••••••••••••••••••••••••••••••••••••••••••••••••••
Winner of the SF Weekly's Best of San Francisco & the LA Weekly's Best Of Los Angeles (for Best Storytelling) & 2 Time Winner of the SF Bay Guardian's Best of the Bay Award (Best Literary Event)
•••••••••••••••••••••••••••••••••••••••••••••••••••••••••••••••••••••••••••
"Dixie De La Tour's scandalous, over-the-top Bawdy Storytelling series" – SF Weekly
••••••••••••••••••••••••••••••••••••••••••••••••••••••••••••••••••••••••••
www.BawdyStorytelling.com
at Facebook.com/BawdyStorytelling