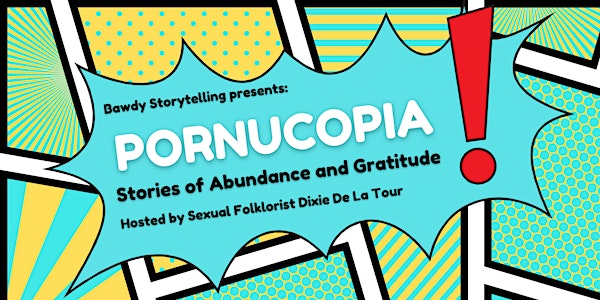 Bawdy Storytelling's 'Pornucopia: Stories of Abundance and Gratitude'
This will be our very last In-Person Bawdy Storytelling until February 2023, so Please: JOIN US!
When and where
Location
Verdi Club 2424 Mariposa Street San Francisco, CA 94110
About this event
Friday, November 18th, 2022
at the Verdi Club
2424 Mariposa, San Francisco, CA
Bang-O at 7:00 PM, Show starts at 8:00 PM
••••••••••••••••••••••••••••••••••••••••••••••••••••••••••
We ask that all In-Person Attendees be Vaxxed and Booster'ed
••••••••••••••••••••••••••••••••••••••••••••••••••••••••••
This Evening of 'More than you Ever Dreamed' Stories and Songs includes:
❤ Hosted by Sexual Folklorist Dixie De La Tour
❤ I ❤ Radio's (of The Positively Sex Podcast) Lila Donnolo
❤ Trans public speaker & writer Cassie Brighter
❤ Podcast Favorite and Cabaret Sensation Alotta Boutte´
❤ OneWheel Enthusiast & Moth GrandSlam competitor Michael Noel
❤ Music by our Beloved Jefferson Bergey
❤ Reserved Seating is held for you all night - and it's right up front!
❤ Play Bang-O & WIN Pervy Prizes, just for making new friends
❤ Custom Bawdy Cocktails to help you get your flirt on
•••••••••••••••••••••••••••••••••••••••••••••••••••••••••••
Bawdy Storytelling is the original sex and storytelling series; we're a live stage performance series, an award-winning Podcast and a Livestream. We use true stories of sex, kink, gender and body image to reduce stigma and eliminate shame, and to build open-minded community. The Bawdy Storytelling series is almost 16 years strong, the Bawdy Storytelling podcast has over 600 5 star reviews, our livestreams are viewed around the world - plus we've won 'Best Of's from Oprah Magazine, Buzzfeed, Forbes, Mashable, GQ Magazine, Marie Claire, Uproxx, Women's Health, Bustle, Cosmopolitan, Esquire Magazine and more. You can learn more at Instagram.com/BawdyStorytellling, at Twitter.com/Bawdy or at BawdyStorytelling.com
This is not just Dirty Storytelling, this is the real deal - a night of open hearts gathered together to celebrate this unique 'this is me, take it or leave it' life we've created together. Dixie invites you to bring your true self to the Verdi Club, or tune in to the Livestream. Whomever you are, whomever you love, you are welcome here. #OneOfUs
••••••••••••••••••••••••••••••••••••••••••••••••••••••••••
"The Moth for Pervs" – LA Weekly
••••••••••••••••••••••••••••••••••••••••••••••••••••••••••
Performer Bios:
❤ Bawdy's Host & Creator Dixie De La Tour is a sexual folklorist, professional storyteller, podcaster, teacher, coach, community builder and most of all, a facilitator. She is also the Founder, Curator & Host of the Award-winning and NSFW storytelling series, Bawdy Storytelling ("The Moth for Pervs" - LA Weekly, "The Original Sex and Storytelling series" - Playgirl) that's been lauded for its transformational, relatable, empowering performances. This live stage series is currently headed into its 16th year, the groundbreaking Bawdy Storytelling podcast has had millions of downloads, plus it's been acknowledged as a 'Best Of' Sex podcast from Oprah Magazine, Mashable, Buzzfeed, Forbes, GQ Magazine, Marie Claire, Uproxx, Daily Mail UK, Bustle and (twice!) by Esquire Magazine.
In addition to Story / Public Speaking Coaching for her own series, Dixie offers 'How to Be Fascinating: Dixie's Secret System for Brilliant Storytelling', does coaches for TEDx, for Women in Technology and other stage speakers, has been a featured teller for the National Storytelling Conference and is currently developing her newest workshop 'Storytelling for Sexuality and Gender'. Discover more about Dixie De La Tour and Bawdy Storytelling at
https://www.instagram.com/bawdystorytelling/
https://www.facebook.com/BawdyStorytelling/
on Twitter at @Bawdy and always at
https://bawdystorytelling.com/
❤ Alotta Boutte' is an international cabaret and burlesque sensation. Hailing from the nightclubs of San Francisco, she serves up sweet lyrical somethings that titillate your eyes and tantalize your ears.
She starred as the Chanteuse in the Mugler Follies in Paris and spent 11 years with Beach Blanket Babylon. She has shared the stage with the biggest and brightest in burlesque and cabaret.
❤ Lila Donnolo is an Intimacy Specialist, a Public Speaker, Writer, Actress, & Curator of Immersive events. As the daughter of an American psychologist & a Brazilian social worker, she's been a student of human relationships for about as long as she's been a human.
She's had pillow talk with thousands of people (most of whom were not her lovers!), and 127 of those conversations are broadcast for the world to hear on her indie podcast horizontal with lila. She's presented her intimacy frameworks as a TED Idea Search Latin America 2021 finalist, a Business of Fashion VOICES conference speaker, and a SXSW 2022 presenter. Putting her NYU Tisch Drama (Experimental Theatre Wing) BFA to use!
Positively Sex! her new podcast for iHeart Media (the #1 Podcast Network in All the Land!) began as a live interactive audio show & winner of Clubhouse's Creator First Program. As a public speaker and creator of immersive events, she hosts happenings such as horizontal storytelling pajama parties, Femme Domme Kink Tasters, connection games, hot love talks & a sensual, intimate Valentine's experience for everyone, regardless of relationship status, called 14 Rooms. Friends who met at one of these events are still dating, 5 years later!
Her pronouns are she/her; she's a bisexual 1 on the Kinsey scale, and really really likes dresses. Among her favorite things are community, lipstick, the podcast Ear Hustle, closets organized by color, tiny folding bicycles, & her Vespa.
❤ Cassie Brighter is a Latina woman of Trans experience, as well as a writer and public speaker focusing on intersectionality and social justice. She's the founder and editor of EmpoweredTransWoman.com, a web publication with a large following. Cassie is also the founder of OurSensualSelves - a new online sex-positive community for ALL women - you can learn more about it at OurSensualSelves.org. Cassie is a frequent guest speaker at conferences and panels like ClexaCon, and the SumOfUs Festival. You can find her writing at CassieBrighter.com
❤ Michael Noel is a Boston Massachusetts native who currently lives in San Francisco California. He currently works as a full time game show host for an online team building company and began storytelling about 7 years ago at Bawdy in Boston. He lived in London for a year on a mid-life gap year where he did stand-up comedy and storytelling. This is his first time back on stage since the pandemic.
❤ Jefferson Bergey is an Oakland based singer, songwriter, educator, and entertainer who takes pride in being musically promiscuous. As a resident songwriter for Bawdy Storytelling for over 7 years, his sex-positive songs celebrate sex, drugs, and ridiculousness at house concerts, comedy, and variety shows all over the greater Bay Area.
His last (and 250th!) performance at Scopo Divino will be on Monday, December 5th. Join the Bawdy family to celebrate him, and thank him for all the negotiated covers.
Support him on Patreon where he creates custom songs and exclusive content for weirdos like you/us, and Stalk him online here:
http://www.jeffersonbergey.com
https://www.patreon.com/jeffersonbergey
SPOTIFY: Jefferson Bergey
Jefferson Bergey - YouTube
https://m.facebook.com/JeffersonBergeyMusic/
•••••••••••••••••••••••••••••••••••••••••••••••••••••••••••
• No Refunds, but you can Transfer your Ticket if you're not feeling well
• Lineup Subject to Change
• General Admission seating is first come, first served. We recommend that you arrive by 7:15/when doors open for best seating (Pro Tip: Reserved Seating guarantees your seat up front, so you can even grab a meal or meander before the show)
•••••••••••••••••••••••••••••••••••••••••••••••••••••••••••
Winner of SFist's Best Storytelling Show, the SF Weekly's Best of San Francisco & the LA Weekly's Best Of Los Angeles (for Best Storytelling) & 2 Time Winner of the SF Bay Guardian's Best of the Bay Award (Best Literary Event)
•••••••••••••••••••••••••••••••••••••••••••••••••••••••••••
"Dixie De La Tour's scandalous, over-the-top Bawdy Storytelling series" – SF Weekly
•••••••••••••••••••••••••••••••••••••••••••••••••••••••••••
Want more Bawdy?
www.BawdyStorytelling.com
Instagram: https://www.instagram.com/bawdystorytelling/
Twitter: @Bawdy
& at Facebook.com/BawdyStorytelling
••••••••••••••••••••••••••••••••••••••••••••••••••••••••••
Forbes Magazine calls Bawdy Storytelling the Best:
http://bit.ly/BawdyForbes-
••••••••••••••••••••••••••••••••••••••••••••••••••••••••••
1 of Esquire's 10 Best Sex Podcasts, no matter your taste:
http://bit.ly/BawdyBestOfEsquire (for both 2018 and 2019)
••••••••••••••••••••••••••••••••••••••••••••••••••••••••••
1 of GQ Magazine's Best Sex Podcasts (to make you Better in Bed):
https://www.gq.com/story/best-sex-podcasts
••••••••••••••••••••••••••••••••••••••••••••••••••••••••••
#1 on Marie Claire's 14 Best Sex Podcasts:
https://www.marieclaire.com/sex-love/news/a21284/best-sex-podcasts/
••••••••••••••••••••••••••••••••••••••••••••••••••••••••••
1 of Uproxx's 10 Best Sex Podcasts to listen to right now:
https://uproxx.com/life/best-sex-podcasts-right-now/
••••••••••••••••••••••••••••••••••••••••••••••••••••••••••
Buzzfeed says Bawdy Storytelling is a Sex & Relationship podcast you should be listening to:
http://bit.ly/BawdyBuzzfeed
••••••••••••••••••••••••••••••••••••••••••••••••••••••••••
Bustle says Bawdy Storytelling is a "Sexy Date Idea for a Long Term Relationship"
https://www.bustle.com/p/9-sexy-date-ideas-for-long-term-relationships-8624566
••••••••••••••••••••••••••••••••••••••••••••••••••••••••••
Winner of Best Storytelling Show (SFist.com), Best Storytelling Show (SF Weekly), Best Storytelling Show (LA Weekly) & 2-Time Best Literary Event (SF Bay Guardian)
••••••••••••••••••••••••••••••••••••••••••••••••••••••••••
"Dixie De La Tour's scandalous, over-the-top Bawdy Storytelling series" - SF Weekly
••••••••••••••••••••••••••••••••••••••••••••••••••••••••••