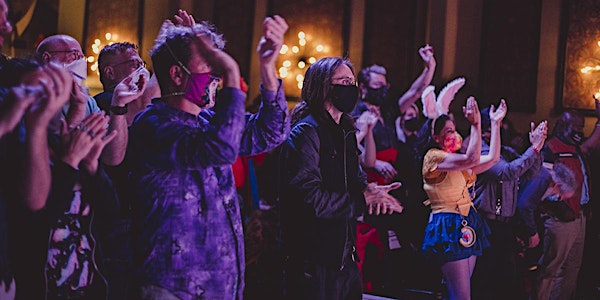 Bawdy Storytelling's 'One of Us!' #LiveEvent #Livestreamed
Join us as we celebrate S3x-Positive Community with the Bonobo Network!
When and where
Location
Verdi Club 2424 Mariposa Street San Francisco, CA 94110
Refund Policy
Refunds up to 30 days before event
Eventbrite's fee is nonrefundable.
About this event
This Friday, July 22nd
at the Verdi Club (2424 Mariposa, San Francisco, CA)
Remember: Doors / Bang-O at 7:00 PM, Bawdy starts at 8:00 PM PDT
Join us in person, or tune in via the Livestream!
••••••••••••••••••••••••••••••••••••••••
This Evening of 'I'm an Enthusiastic Hell YES!' Stories and Songs includes:
❤ Hosted by Sexual Folklorist Dixie De La Tour
❤ Bonobo Network co-producer & Communication Coach Misha Bonaventura
❤ Cuddle Party facilitator & emotional fermentation starter Scoby
❤ Podcaster & vibrant S3xual Deviant Trish Wright
❤ Queer Romance Novelist & Educator R.A.Frick
❤ Music by 'Coming Soon: The Musical's Michael Martinez
❤ Play Bang-O & Make new friends
❤ Reserved Seating means you're up front #WeSaveYourSeat
❤ WIN Sexy Prizes from Good Vibes!
❤ Custom Bawdy Cocktails like the C.B.T. and Ethical Slut - perfect for your Friday night!
•••••••••••••••••••••••••••••••••••••
"The Moth for Pervs" - LA Weekly
•••••••••••••••••••••••••••••••••••••
COVID-19 Policy for this show:
We ask you to be Vaccinated, Booster'ed and Masked Indoors
Get your Scannable proof of vaccine at https://myvaccinerecord.cdph.ca.gov/
for easy check-in!
•••••••••••••••••••••••••••••••••••••
"Best Erotic Podcast" - O, the Oprah Magazine
https://bit.ly/BawdyOprahBestOf2020
•••••••••••••••••••••••••••••••••••••
This month's theme:
Have you ever wondered what it would be like to try your fantasies on for size, surrounded by friends and lovers who just wanna help you make your sexual and kinky dreams come true? This Friday night, come hear 4 stories of wild exploration in collaboration with the Bonobo Network, a High Possibility, Low Expectation Sex Positive community that leads play parties, social gatherings and epic private retreats.
Ever wondered how to grow your own Cock Garden?
Or been curious about how a Gloryhole works?
Maybe you just wanna be cheered on by a battalion of enthusiastic cheerleaders as you win a bet and 'claim your prize'.
Anything is possible when you feel safe and connected to the people around you, and we guarantee to send you home with a little inspiration for your post-COVID life.
•••••••••••••••••••••••••••••••••••••
About Bawdy Storytelling:
Bawdy Storytelling - the Original Sex + Storytelling series - features Real People & Rockstars sharing their Bona Fide Sexual Exploits Live Onstage; think of us as a One Night Stand with the Moth & Savage Love. For over 15 years, Storytellers are an eclectic mix of Authors, Porn Stars, Sex Educators, Comedians & More, along with Regular Joes just like you who submitted their stories online and were chosen for their panache and sense of (Mis)Adventure.
Bawdy Storytelling features tales of Carnal Wins & Epic Fails with No Scripts, No Nets, and No Holds Barred. These folks aren't reading from cue cards: this is honest-to-badness story time with true sexcapades and poignant, transformational tales at each and every show. Join Sexual Folklorist Dixie De La Tour & her hand-picked Rockstars as they share their own stories of Love, Lust, and making you feel funny in your bathing suit area. Hey, you may even go home with a few new tricks for your boudoir arsenal!
Performers include:
❤ Dixie De La Tour is a Sexual Folklorist, storytelling coach, professional storyteller, podcaster, teacher, impresario, community builder but most of all, a facilitator. She is also the Founder, Curator & Host of the Award-winning storytelling series, Bawdy Storytelling ("The Moth for Pervs" - LA Weekly, "The Original Sex and Storytelling series" - Playgirl) that's been lauded for its transformational, relatable, empowering performances for over 15 years. Dixie has been a featured storyteller for the National Storytelling Conference, and in addition to story and public speaking coaching for her own Bawdy series, she coaches for events such as TEDx, Women in Technology, and offers How to be Fascinating: Dixie's Secret System for Brilliant Storytelling, Sex and Story workshops, and Storytelling for Self-Discovery, her unique personal and professional coaching system.
Bawdy Storytelling is the original sex and storytelling series; we're a live stage performance series, an award-winning Podcast and a Livestream. This Bawdy Storytelling series is almost 15 years strong, the Bawdy Storytelling podcast has over 500 5 star reviews - plus it's won 'Best Of's from Oprah Magazine, Forbes, Mashable, GQ Magazine, Marie Claire, Uproxx, Women's Health, Bustle, Cosmopolitan, Esquire Magazine and more. You can learn more at Instagram.com/BawdyStorytellling, at Twitter.com/Bawdy or at BawdyStorytelling.com
Ultimately, this story-loving southerner is passionate about storytelling's ability to keep people safe, reduce social anxiety and connect us with strangers. Dixie has also been Sainted by the Sisters of Perpetual Indulgence ("Saint Kiss & Make You Tell") for her work to reduce stigma and eliminate shame, and in her free time, she enjoys being a Muppet. Discover more about Dixie De La Tour and Bawdy Storytelling at Facebook.com/BawdyStorytelling, on Instagram at https://www.instagram.com/bawdystorytelling/ on Twitter at @Bawdy and always at www.BawdyStorytelling.com Remember, Stories help you find your people!
❤ Misha Bonaventura co-produces the Bonobo Network, an adult sex community based in the San Francisco Bay Area. Bonobo supports consent-focused, sex-positive, and power-aware exploration of sexuality and relationships by creating spaces that facilitate well-informed, emotionally intelligent, inclusive, and curated conversation about sex and intimacy. She teaches Sexual Adulting 101 for women and consults other communities to develop their consent culture with a harm reduction and transformative justice lens.  Her private practice focuses on conflict resolution and communication coaching and she loves supporting the sex positive community of the Bay Area and beyond in creating sustainable, longterm relationship building. Learn more at https://www.bonobonetwork.com/
❤ Trish Wright is a vibrant sexual deviant with 10 years of experience in high protocol BDSM and sacred sexuality spaces.  She is a Certified Sex and Relationship Coach and co-host of the podcasts: The Self Love Show and The Awakening World. She believes Eros is cultivated through being in the full embodiment of the present moment, honoring your personal F*CK YES, and the vulnerability of trust AND Sex Positive spaces like Bonobo are a safe place to explore your authentic sexual expression. 
❤ Author R.A. Frick was born and raised all over Northern California and has moved over 30 times. They started telling stories to make friends as a child, and never stopped. Their favorite things are romance novels, champagne, and dark chocolate, preferably at the same time. When not teaching, reading, or raising two children, they are visiting friends for orgies and playing with her corgi on the lake.
❤ Scoby dove into the worlds of kink and polyamory after attending a Bawdy show in 2014. She now hosts communication and consent workshops, also known as Cuddle Parties, as a certified facilitator. While she can make kombucha (like her namesake the Symbiotic Colony Of Bacteria and Yeast), she's more of an emotional fermentation process starter and also offers intimacy coaching. She can sing you any song from Crazy Ex Girlfriend.
❤ Michael Martinez is a Bay Area born, raised and based singer-songwriter, pianist, actor and performer. He make music to process emotions, to feel them more deeply, and to share and exchange that energy through performance. Michael just want to connect with others, and to hopefully make some friends along the way. If you hope that enjoy Michael and his music, please connect and come along with me for the ride.
• Transfer your ticket if you can't make it, but no Refunds (unless the event is canceled)
• Lineup Subject to Change
•••••••••••••••••••••••••••••••••••••
"Best sex, erotica, dating, & relationship podcast" - Mashable
http://bit.ly/BawdyMashable2020
•••••••••••••••••••••••••••••••••••••
Forbes Magazine calls Bawdy Storytelling the Best:
http://bit.ly/BawdyForbes
•••••••••••••••••••••••••••••••••••••
"Best Audio Porn that will Change Your Sex Life"- Men's Health
•••••••••••••••••••••••••••••••••••••
"The Original Sex + Storytelling series, featuring Real People & Rockstars sharing their Bona Fide Sexual Exploits, Live Onstage" - Playgirl
•••••••••••••••••••••••••••••••••••••
1 of Esquire's 10 Best Sex Podcasts, no matter your taste:
http://bit.ly/BawdyBestOfEsquire (for 2018, 2019 - & 2020!)
•••••••••••••••••••••••••••••••••••••
1 of GQ Magazine's Best Sex Podcasts (to make you Better in Bed):
https://www.gq.com/story/best-sex-podcasts
•••••••••••••••••••••••••••••••••••••
"Best Audio Porn that will Change Your Sex Life"- Men's Health
••••••••••••••••••••••••••••••••••••
#1 on Marie Claire's 14 Best Sex Podcasts:
https://www.marieclaire.com/sex-love/news/a21284/best-sex-podcasts/
•••••••••••••••••••••••••••••••••••••
1 of Uproxx's 10 Best Sex Podcasts to listen to right now:
https://uproxx.com/life/best-sex-podcasts-right-now/
•••••••••••••••••••••••••••••••••••••
Buzzfeed says Bawdy Storytelling is a Sex & Relationship podcast you should be listening to:
http://bit.ly/BawdyBuzzfeed
•••••••••••••••••••••••••••••••••••••
Hustler Magazine says "Dixie De La Tour is elevating
dirty talk to an art form…" ow.ly/Laab50wC0KH
•••••••••••••••••••••••••••••••••••••
Bustle says Bawdy Storytelling is a "Sexy Date Idea for a Long Term Relationship"
https://www.bustle.com/p/9-sexy-date-ideas-for-long-term-relationships-8624566
•••••••••••••••••••••••••••••••••••••
Winner of Best Storytelling Show (SFist.com), Best Storytelling Show (SF Weekly), Best Storytelling Show (LA Weekly) & 2-Time Best Literary Event (SF Bay Guardian)
•••••••••••••••••••••••••••••••••••••
"Dixie De La Tour's scandalous, over-the-top Bawdy Storytelling series" - SF Weekly
••••••••••••••••••••••••••••••••••••
Want more Bawdy?
www.BawdyStorytelling.com
Listen to the Bawdy Storytelling podcast at http://bit.ly/bawdypodcast
On Twitter: @Bawdy
On Instagram: https://www.instagram.com/bawdystorytelling/
On Facebook at www.Facebook.com/BawdyStorytelling
Become a Member on Patreon at https://www.patreon.com/Bawdy
Subscribe to our YouTube Channel at http://bit.ly/BawdyTV
•••••••••••••••••••••••••••••••••••