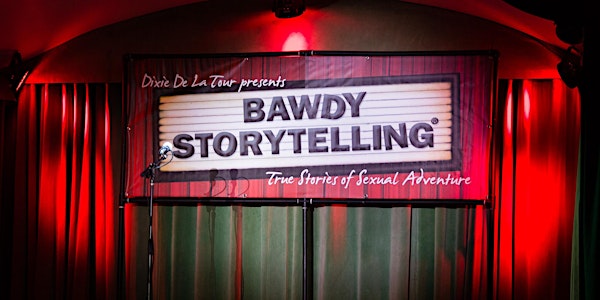 Bawdy Storytelling's 'Libertine' (5/9, Seattle)
When and where
Location
Re-bar Seattle 1114 Howell Street Seattle, WA 98101
Description
Thursday May 9th, 2019
at the Re-bar Seattle
1114 Howell Street, Seattle WA
Remember: Bang-O at 7:00 PM, Stories at 8:00 PM
Want a sample? Listen to the Bawdy Storytelling podcast at
http://bit.ly/bawdypodcast
•••••••••••••••••••••••••••••••••••••••••••••••••••••••••••
Performers include:
❤ Hosted by Sexual Folklorist Dixie De La Tour
❤ SafeWord host /Moth storyteller Claire Webber
❤ Burning Man superfan Soren Berg
❤ Queer Kinkster Pepper la'Rouge
❤ Improv/Sketch/Stand-up comedian Angie Craig
❤ Sexy Songs by Jesse Calixto
❤ WIN Sexy Prizes from Babeland
❤ Reserved Seating puts you right up in the action (available Online only)
❤ Play Bang-O & WIN Prizes, just for making new friends
❤ Sexy cocktails to help you get your flirt on #AlsoStories
•••••••••••••••••••••••••••••••••••••••••••••••••••••••••••
For the past dozen years, Sexual Folklorist Dixie De La Tour has brought the Nation's Perverrati together on the Bawdy Storytelling stage to tell their own infamously true tales of lust, love, kinky collisions, gender redefinition, sexual identity, life-changing hook-ups, educational one-night stands & everything in between.


P.S. We're always the best date in town but this one - this one is mega-date material! This evening of stories features brand new bawdiness, and our Reserved package put you right up in the action (they're sold only in advance, so get yours before they're gone cause our Seattle Bawdy SELLS OUT).
•••••••••••••••••••••••••••••••••••••••••••••••••••••••••••
About Bawdy Storytelling:


Bawdy Storytelling - the Original Sex + Storytelling series - features Real People & Rockstars sharing their Bona Fide Sexual Exploits Live Onstage; think of us as a One Night Stand with the Moth & Savage Love. Storytellers are an eclectic mix of Authors, Porn Stars, Sex Educators, Comics & More, along with Regular Joes just like you who submitted their stories online and were chosen for their panache and sense of (Mis)Adventure.


Bawdy Storytelling features tales of Carnal Wins & Epic Fails with No Scripts, No Nets, and No Holds Barred. These folks aren't reading from cue cards: this is honest-to-badness story time with true sexcapades and poignant, transformational tales at each and every show. Join Sexual Folklorist Dixie De La Tour & hand-picked Rockstars as they share their own stories of Love, Lust, and making you feel funny in your bathing suit area. Hey, you may even go home with a few new tricks for your boudoir arsenal!


Performer Bios:


❤ Sexual Folklorist Dixie De La Tour founded Bawdy Storytelling - the Nation's Original Sex and Storytelling series - more than a dozen years ago, despite being told repeatedly that nobody would get onstage to tell their stories of sex, kink and gender (Wrong!).This multi-city live storytelling event welcomes true stories from any and all communities (LGBTQIA, kink, polyamory, swingers, vanilla, and many more) and is bringing sex-positive storytelling to new cities all the time. Dixie and Bawdy Storytelling have been praised by press both big and small; She has been lauded as a "masterful emcee, and her show is everything that works for storytelling—she creates a warm, safe space in which stories can bloom with dark hilarity, salacious textures, and moments of deep connection." Dixie has hosted and curated Bawdy Storytelling events at Yale Sex Week, the Bondage Awards, the Jewish Community Center of San Francicso, CatalystCon Sexuality Conference, Dark Odyssey, FetFest, and more, as well as her home turf of the Bawdy Mainstage and BawdySlam shows. She can be found at @Bawdy on Twitter, Bawdy Storytelling on Facebook and always, always at www.BawdyStorytelling.com


❤ Claire Webber started performing in dramatic theater, but was gently guided into other creative endeavors with director's' notes such as, "You make people intensely uncomfortable" and "This production was meant to be seen by families." Stand-up comedy was a natural fit. Claire's dedication to her odd little Id taints every aspect of her comedy and leaves an audience whimpering for more. Claire has performed at Bumbershoot and The Moth Seattle Grand Slam.

❤ Part adventurous outdoorsman, part board game nerd, Soren Berg is thrilled to make Seattle his new home.
❤ Pepper la'Rouge is a queer kinkster born and raised in Seattle. They have a passion for breaking taboos and bringing to light all the nitty gritty things that general society doesn't like to talk about. Pepper spends their time running a small business, cuddling with their partners, and most importantly parenting their awesome little kiddo.


❤ In addition to finding excuses to attend as many classes and workshops on kinky sex, making porn with friends, and seeing how far silly will get her, Angie Craig has been performing improv, sketch and stand up comedy in Seattle for years. She grew up in the northern suburbs of the emerald city, and can currently be found performing a one-woman-show, while going up and down stairs, and doing crowd control, at Bill Speidel's Underground Tours in Pioneer Square. Angie also helps produce Super Amazing Magic Fun Time with her partner & hair stylist Aaron Wheeler, with their next show on June 7th at The Pocket Theater in Greenwood.


❤ Jesse Calixto is an actor and musician who graduated with a BFA in theatre performance from the University of Idaho. He spent the last spring touring Washington state with the Seattle Shakespeare Company's Educational Tour of Romeo & Juliet and Twelfth Night. He played Bear/Human in last year's People's Choice Gregory Award-winning cast of DEERS. He can be seen playing music with his band Smoking Bill at music venues around the Puget Sound.


• No Refunds or Exchanges
• Lineup Subject to Change


• General Admission seating is first come, first served. We recommend you arrive by 6:30 for best seating (Reserved Seating guarantees you a seat right up front)
•••••••••••••••••••••••••••••••••••••••••••••••••••••••••••
Winner of SFist's Best Storytelling Show, the SF Weekly's Best of San Francisco & the LA Weekly's Best Of Los Angeles (for Best Storytelling) & 2 Time Winner of the SF Bay Guardian's Best of the Bay Award (Best Literary Event)
•••••••••••••••••••••••••••••••••••••••••••••••••••••••••••
"The Moth for Pervs" – LA Weekly
•••••••••••••••••••••••••••••••••••••••••••••••••••••••••••
"Dixie De La Tour's scandalous, over-the-top Bawdy Storytelling series" – SF Weekly
•••••••••••••••••••••••••••••••••••••••••••••••••••••••••••
Want more Bawdy?
www.BawdyStorytelling.com
Twitter: @Bawdy
& at Facebook.com/BawdyStorytelling