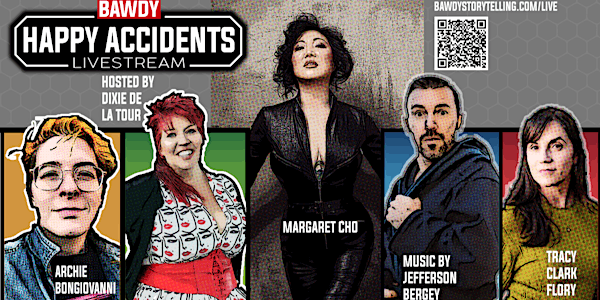 Bawdy Storytelling's 'Happy Accidents' 3/13/21 @ 7PM PST
Bawdy Storytelling's 'Happy Accidents' 3/13/21 @ 7PM PST
Refund Policy
Contact the organizer to request a refund.
Eventbrite's fee is nonrefundable.
About this event
Saturday March 13th, 2021
7 PM - 9 PM PST (10 PM - 12 Midnight EST)
Want to sample Bawdy Storytelling? Listen to our Award-winning podcast at
http://bit.ly/bawdypodcast
••••••••••••••••••••••••••••••••••••••
This Evening of Serendipitous Stories & Songs includes:
❤ Bawdy's Creator, Sexual Folklorist Dixie De La Tour
❤ Award-winning Comedian/Actress/Musician/Feminist Margaret Cho
❤ 'Want Me' Author Tracy Clark-Flory
❤ Genderqueer Cartoonist/Zinester Archie Bongiovanni
❤ Custom Bawdy Songs by resident songwriter Jefferson Bergey
❤ A mini-Bawdy Dance Party!
❤ WIN Prizes while you come together in community
❤ It's Virtual, so join us from wherever you are in the world
••••••••••••••••••••••••••••••••••••••
"Best Erotic Podcast for 2020" - Oprah Magazine
https://bit.ly/BawdyOprahBestOf2020
••••••••••••••••••••••••••••••••••••••
About Bawdy Storytelling:
Bawdy Storytelling - the Original Sex + Storytelling series - features Real People & Rockstars sharing their Bona Fide Sexual Exploits Live Onstage; think of us as a One Night Stand with the Moth & Savage Love. Storytellers are an eclectic mix of Authors, Porn Stars, Sex Educators, Comics & More, along with Regular Joes just like you who submitted their stories online and were chosen for their panache and sense of (Mis)Adventure.
Bawdy Storytelling is a live performance series, a Podcast and a Livestream. This Bawdy Storytelling live stage series is over 14 years strong, the Bawdy Storytelling podcast has over 500 5 star reviews - plus it's won 'Best Of's from Oprah Magazine, Forbes, Mashable, GQ Magazine, Marie Claire, Uproxx (twice), Women's Health, Bustle, Cosmo and (three times!) by Esquire Magazine.
Bawdy Storytelling features tales of Carnal Wins & Epic Fails with No Scripts, No Nets, and No Holds Barred. These folks aren't reading from cue cards: this is honest-to-badness story time with true sexcapades and poignant, transformational tales at each and every show. Join Sexual Folklorist Dixie De La Tour & hand-picked Rockstars as they share their own stories of Love, Lust, and making you feel funny in your bathing suit area. Hey, you may even go home with a few new tricks for your boudoir arsenal!
•••••••••••••••••••••••••••••••••••••
Performer Bios:
❤ Sexual Folklorist Dixie De La Tour founded Bawdy Storytelling - the Nation's original sex and storytelling series. This multi-city live storytelling event welcomes true stories from any and all communities (LGBTQIA, kink, polyamory, swingers, vanilla, and many more) and is bringing sex-positive storytelling to new cities all the time. Dixie and Bawdy Storytelling have been praised by press both big and small; She has been lauded as a "masterful emcee, and her show is everything that works for storytelling—she creates a warm, safe space in which stories can bloom with dark hilarity, salacious textures, and moments of deep connection." Dixie has hosted and curated Bawdy Storytelling events at Yale Sex Week, the Bondage Awards, the Jewish Community Center of San Francisco, CatalystCon Sexuality Conference, Dark Odyssey, FetFest, and more, as well as her home turf of the Bawdy Mainstage and BawdySlam shows. She can be found at @Bawdy on Twitter, Bawdy Storytelling on Facebook and always, always at www.BawdyStorytelling.com
❤ Award-winning Comedian/Actress/Musician/Performer (& more) Margaret Cho was born Dec. 5, 1968 and raised in San Francisco. Her grandfather was a Methodist minister who ran an orphanage in Seoul during the Korean War. Ignoring the traditions of her patriarchal culture, her mother bravely resisted an arranged marriage in Korea and married Margaret's father who writes joke books - in Korean.
What Margaret did know is that she didn't love being a kid. Racing toward adulthood to escape bullying, she began writing jokes for stand up at 14 and professionally performing at age 16. Getting picked on, and feeling disenfranchised, is a subject that's very near to Margaret's heart. She has become a sort of "Patron Saint" for Outsiders, speaking for them when they are not able to speak for themselves.
Soon after starting her Stand Up career, Margaret won a comedy contest where first prize was opening for Jerry Seinfeld. She moved to Los Angeles in the early '90s and, still in her early twenties, hit the college circuit, where she immediately became the most booked act in the market and garnered a nomination for "Campus Comedian of The Year." She performed over 300 concerts within two years. Arsenio Hall introduced her to late night audiences, Bob Hope put her on a prime time special and, seemingly overnight, Margaret Cho became a national celebrity.
Her groundbreaking, controversial, and short-lived ABC sitcom, All-American Girl (1994) soon followed. Oddly, while chosen because of who she was-a non-conformist Korean American woman with liberal views-the powers-that-be then decided they wanted her to "tone it down" for the show. Challenging Margaret's feelings for both who she was and how she looked, she soon realized that though she was an Executive Producer, it was a battle she would not win.
The experience was a traumatic one, bringing up unresolved feelings left over from childhood, and Margaret developed an eating disorder as a response to criticism about her body. She was so obsessive in her goal to try to be what she thought others wanted, she landed in the hospital with kidney failure. Through out a period of self-abuse, Margaret continued performing to sold-out audiences across the country in comedy clubs, theaters, and on college campuses, working to channel her anger in to something more positive.
In 1999, her groundbreaking, off Broadway one-woman show, I'm The One That I Want, toured the country to national acclaim and was made into a best-selling book and feature film of the same name. After her experience with All-American Girl, Margaret wanted to make sure she would only have to answer to herself, making sure she was responsible for the distribution and sales of her film, taking a page from what music artist Ani DiFranco did with her Righteous Babe Records. The concert film, which garnered incredible reviews, broke records for most money grossed per print in movie history. In 2001, after the success of her first tour, Cho launched Notorious C.H.O., a smash-hit 37-city national tour that culminated in a sold-out concert at Carnegie Hall. Notorious C.H.O. was recorded and released as a feature film, hailed by the New York Times as "Brilliant!" Both films were acquired by Showtime Cable Networks, and produced by Margaret's production company, a testament to the success of Margaret's bold business model.
In March of 2003, Margaret embarked on her third sold-out national tour, Revolution. It was heralded by the Chicago Sun Times as "Her strongest show yet!" and the CD recording was nominated for a Grammy for Comedy Album of the Year. In 2005, Cho released Assassin, which The Chicago Tribune crowed "Packs passion in to each punch." The concert film premiered in select theaters and on the gay and lesbian premium channel Here! TV in late 2005.
In 2007, Margaret hit the road with Cyndi Lauper, Debbie Harry and Erasure, along with indie faves The Dresden Dolls and The Cliks, to host the True Colors Tour, benefiting the Human Rights Campaign. A true entertainment pioneer, Margaret also created and starred in The Sensuous Woman, a live variety show featuring vaudevillian burlesque and comedy, which she took for an extended off-Broadway run in the fall.
Margaret returned to TV in 2008 on the VH1 series, The Cho Show. The Cho Show followed Margaret, her real parents, and her eccentric entourage through a series of irreverent and outrageous experiences, shaped by Margaret's 'anything goes' brand of stand-up. It was beloved for the audience it was intended for, the ones who maybe don't quite fit in, who knew Margaret is one of them.
The aptly titled Beautiful came next, exploring the good, bad and ugly in beauty, and the unattractive politicians and marketers who shape our world. The concert premiered in Australia at The Sydney Theater, marking the first time Margaret debuted a tour abroad. While touring through the US, the concert was filmed at the Long Beach theatre, aired as a special on Showtime in 2009, and then released as both a DVD and a book.
In 2009 Margaret nabbed a starring role in the comedy/drama series Drop Dead Diva, airing on Lifetime. Margaret enjoys being part of a team, and not necessarily having the sole responsibility for keeping things afloat.
Never one to shy away from a challenge, Margaret stepped right up to the proverbial plate when asked to do Season 11 of the #1 rated Dancing with the Stars. Paired with pro Louie Van Amstel, Margaret was on one of the show's most controversial seasons, dancing alongside Mike "The Situation" Sorrentino, David Hasselhoff, Jennifer Grey and Bristol Palin among others.
Margaret got a very strong reaction to her Rainbow Dancing Dress during a time when the issue of bullying, especially among gay teens, was all over the media.
2010 culminated with another high honor, a second Grammy Award nomination for Comedy Album of the Year for Cho Dependent, her incredibly funny collection of music featuring collaborations with Fiona Apple, Andrew Bird, Grant Lee Phillips, Tegan & Sara, Ben Lee and more. The album received critical acclaim.
Margaret self released Cho Dependent on her own Clownery Records, and was encouraged by the acclaim, as there are only a handful of people putting out albums of comedy music - "Weird" Al Yankovic, Flight of the Conchords, The Lonely Island, to name a few - but no women. While thrilled that her hard work was rewarded with the nomination, Margaret isn't finished with musical comedy yet, claiming to have more music in her.
In 2011, Margaret released the live concert film of Cho Dependent, which also had its cable network debut on Showtime. Audiences who caught these performances live can attest that Cho hasn't lost any of her edge on Cho Dependent, her sixth live concert DVD. Shot at the Tabernacle in Atlanta, GA, Cho remains uncensored, but never unhinged, taking aim at the Palin family, her stint on Dancing With the Stars, smoking pot and living in a world with 'sexting.' The DVD is characteristically no-holds-barred Margaret and instantly a classic.
Margaret is currently filming the sixth and final season on Drop Dead Diva. Cho returns as "Teri" Girl Friday to Brooke Elliott's "Jane Bingham," whose body is inhabited by the soul of a vapid model sent back to earth after Heaven judges her as a "zero-zero" for having committed no good and no bad deeds. Drop Dead Diva is not only beloved on Lifetime, but by the many stars who have queued up to guest on the show, including Paula Abdul, Wanda Sykes, Rosie O'Donnell, Vivica Fox and Kim Kardashian.
Not one to rest on her laurels, Margaret spent whatever free time she had crafting her all new stand-up show, the uproariously and aptly named Mother, which kicked off in September, 2012, including both a US and European tour.
Paradox not lost, Margaret had to re-schedule some of the shows she had booked mid-September so she could attend the Emmy Awards with her mother. Nominated for a Primetime Emmy for Outstanding Guest Actress in a Comedy Series for her hilarious stint on 30 Rock as gender-bending North Korean leader Kim Jong Il.
In 2014, Margaret filmed a pilot for FOX and was thrilled to be working with Tina Fey and the producing team from 30 Rock. The multi-camera comedy takes place at a women's college that has just opened its doors to men for the first time.
While thrilled with her two Grammy and recent Emmy nod, Margaret has never turned away from the causes that are important to her. She is incredibly active in anti-racism, anti-bullying and gay rights campaigns, and has been recognized for her unwavering dedication. She was the recipient of the Victory Fund's 2008 Leadership Award and the first ever Best Comedy Performance Award at the 2007 Asian Excellence Awards. She also received the First Amendment Award from the ACLU of Southern California, and the Intrepid Award from the National Organization for Women (NOW). Throughout her career, she has been honored by GLAAD, American Women in Radio and Television, the Lambda Legal Defense and Education Fund, the National Gay and Lesbian Task Force (NGLTF), the Asian American Legal Defense and Education Fund (AALDEF), and PFLAG for making a significant difference in promoting equal rights for all, regardless of race, sexual orientation or gender identity. In June of 2011, Margaret was honored by LA Pride, receiving a Lifetime Achievement Award, recognizing an individual whose lifetime body of work has left a lasting major imprint on the LGBT community.
Through her hard work, Margaret has had the opportunity to be heard, to extend her point of view and become regarded as a true pioneer in her field. She takes none of it for granted.
❤ Tracy Clark-Flory is a senior staff writer at Jezebel. Her work has been published in Cosmopolitan, Elle, Esquire, Marie Claire, Salon, The Guardian, Women's Health, and the yearly Best Sex Writing anthology. Prior to Jezebel, she was a senior staff writer at Salon. She lives in the San Francisco Bay Area with her family.
You can purchase her new book, Want Me: A Sex Writer's Journey Into the Heart of Desire, at
https://bookshop.org/books/want-me-a-sex-writer-s-journey-into-the-heart-of-desire/9780143134619
❤ Archie Bongiovanni is a cartoonist, zinester and illustrator living in Minneapolis. Archie has been featured in The New Yorker, The Nib, Vice and Autostraddle. They're the co-creator of A Quick And Easy Guide To They/Them Pronouns published by Limerence Press and their graphic novel, Grease Bats is an ongoing monthly comic on Autostraddle.com and was released as a collection by BOOM! Studios in 2019. Archie's newest graphic novel, Mimosa is slated for publication in 2022 along with History Comics: Stonewall, their collaboration with A. Andrews. While their sex toy review podcast is dead (RIP), they've worked in the sex industry as a trained sexual health educator for five years through Minneapolis' favorite sex shop, The Smitten Kitten.
❤ Straddling the line between sentimental and sleazy, singer-songwriter Jefferson Bergey blends elements of folk, blues, pop, jazz, and country with a penchant for the ridiculous in his cartoonish compositions about sex, drugs, and soft rock n' roll. Bergey's clever, yet juvenile, music can be filed under "immature-adult contemporary."
The Oakland based singer-songwriter performs his family-unfriendly, smut-with-a-smile, adult comedy music all over the Bay Area. For the past five years he's been writing custom songs for the award-winning, San Francisco based, Bawdy Storytelling. As a solo acoustic act, Bergey's sound is akin to folky musical theater in a coffee shop...if the coffee shop also sold sex toys and sativa gummy bears. His polite vulgarity may not be for the very young and impressionable or the very old and conservative, but he won't tell you how to raise your kids or upset your grandparents.
Bergey can be seen and heckled every Monday night at his Risqué residency at Scopo Divino in San Francisco. For three years running he's put on a unique and interactive show where he plays his original music, complete with sound drops, bells, and whistles. Every week he engages those in attendance to play a round of "Let's Negotiate A Cover," a game show in which he must adhere to the audience's suggestions and mash up some truly awful combinations. The restaurant even named a sandwich after him, The Bergey Burger, which makes his Jewish mother very proud.
Bergey's music can be heard on the RISK! and Bawdy Storytelling podcasts. He has performed at The Independent, Sweetwater, Great American Music Hall, Jewish Community Center in SF, John Steinbeck Association, Special Olympics in Long Beach, San Jose Improv, Punchline SF, and SF Sketchfest.
Follow him on facebook and Instagram and tune in for one of his Risqué Monday night shows while we're all still sheltering in place. Or you could hire him to kick off your next WFH meeting! He's recently performed for Facebook and The Internet Archive from home in private Zoom meetings, while still in his pajamas. And of course, you can support him on Patreon.
• No Refunds or Exchanges
• Lineup Subject to Change
•••••••••••••••••••••••••••••••••••••
"Best sex, erotica, dating, & relationship podcast" - Mashable
http://bit.ly/BawdyMashable2020
•••••••••••••••••••••••••••••••••••••
Forbes Magazine calls Bawdy Storytelling the Best:
http://bit.ly/BawdyForbes
•••••••••••••••••••••••••••••••••••••
"Best Audio Porn that will Change Your Sex Life"- Men's Health
•••••••••••••••••••••••••••••••••••••
"The Original Sex + Storytelling series, featuring Real People & Rockstars sharing their Bona Fide Sexual Exploits, Live Onstage
" - Playgirl
•••••••••••••••••••••••••••••••••••••
"The Moth for Pervs" - LA Weekly

•••••••••••••••••••••••••••••••••••••
1 of Esquire's 10 Best Sex Podcasts, no matter your taste:
http://bit.ly/BawdyBestOfEsquire (for 2018, 2019 - & 2020!)
•••••••••••••••••••••••••••••••••••••
1 of GQ Magazine's Best Sex Podcasts (to make you Better in Bed):
https://www.gq.com/story/best-sex-podcasts
•••••••••••••••••••••••••••••••••••••
"Best Audio Porn that will Change Your Sex Life"- Men's Health
••••••••••••••••••••••••••••••••••••
#1 on Marie Claire's 14 Best Sex Podcasts:
https://www.marieclaire.com/sex-love/news/a21284/best-sex-podcasts/
•••••••••••••••••••••••••••••••••••••
1 of Uproxx's 10 Best Sex Podcasts to listen to right now:
https://uproxx.com/life/best-sex-podcasts-right-now/
•••••••••••••••••••••••••••••••••••••
Buzzfeed says Bawdy Storytelling is a Sex & Relationship podcast you should be listening to:
http://bit.ly/BawdyBuzzfeed
•••••••••••••••••••••••••••••••••••••
Hustler Magazine says "Dixie De La Tour is elevating
dirty talk to an art form…" ow.ly/Laab50wC0KH
•••••••••••••••••••••••••••••••••••••
Bustle says Bawdy Storytelling is a "Sexy Date Idea for a Long Term Relationship"
https://www.bustle.com/p/9-sexy-date-ideas-for-long-term-relationships-8624566
•••••••••••••••••••••••••••••••••••••
Winner of Best Storytelling Show (SFist.com), Best Storytelling Show (SF Weekly), Best Storytelling Show (LA Weekly) & 2-Time Best Literary Event (SF Bay Guardian)
••••••••••••••••••••••••••••••••••••••
"Dixie De La Tour's scandalous, over-the-top Bawdy Storytelling series" - SF Weekly
••••••••••••••••••••••••••••••••••••
Want more Bawdy?
www.BawdyStorytelling.com

Listen to the Bawdy Storytelling podcast at http://bit.ly/bawdypodcast
On Twitter: @Bawdy
On Instagram: https://www.instagram.com/bawdystorytelling/
On Facebook at www.Facebook.com/BawdyStorytelling
Support us on Patreon at https://www.patreon.com/Bawdy
Subscribe to our YouTube Channel at http://bit.ly/BawdyTV
•••••••••••••••••••••••••••••••••••••