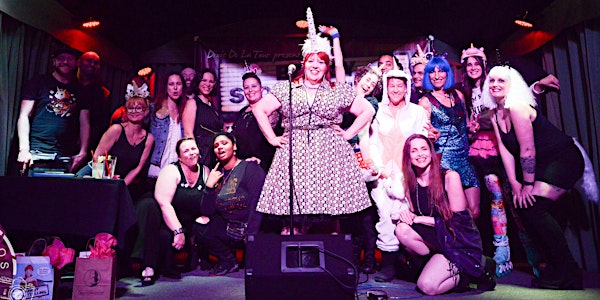 Bawdy Storytelling's 'Bottoms Up' 7/11, Seattle)
When and where
Location
Re-bar Seattle 1114 Howell Street Seattle, WA 98101
Description
Get your tickets before we go on hiatus for over 2 months...
THIS IS OUR LAST SHOW TILL LATE SEPTEMBER!
Bawdy's 'Bottoms up!: True Stories of Anal, Drinking and/or Submission'
(Pick One or All)
Thursday, July 11th, 2019
at the Rebar Seattle
1114 Howell Street, Seattle WA
Remember: Bang-O at 7:00 PM, Stories at 8:00 PM
Want a sample? Listen to the Bawdy Storytelling podcast at
http://bit.ly/bawdypodcast
••••••••••••••••••••••••••••••••••••••••••••••••••••••••••
"The Moth for Pervs" – LA Weekly
•••••••••••••••••••••••••••••••••••••••••••••••••••••••••
The Evening includes:
❤ Hosted by Sexual Folklorist Dixie De La Tour
❤ Transgender/Gender Non-conforming Activist Mac McGregor
❤ Lavender Menace & Podcast favorite Amy Melin
❤ Swinger/Kinkster/Clownlover Samantha Dresden
❤ YOU on the Bawdy Storytelling stage! #YourBigChanceIsNow
❤ Music by Bawdy BFF's Creature Hole
❤ Sexy Prizes from our friends at Crystal Delights!
❤ Reserved Seating puts you right up in the action (it's only sold online/in advance)
❤ Play Bang-O & WIN Prizes, just for making new friends
❤ Sexy cocktails to help you get your flirt on #AlsoStories
••••••••••••••••••••••••••••••••••••••••••••••••••••••••••
On Thursday, July 11th, come to Bawdy - to hear wild tales when things go Bottoms Up!
For the last half-decade in Seattle (and 12 1/2 years in San Francisco), Sexual Folklorist Dixie De La Tour has brought the Nation's Perverrati together on the Bawdy Storytelling stage to tell their own infamously true tales of lust, love, kinky collisions, gender redefinition, sexual identity, life-changing hook-ups, educational one-night stands & everything in between.
Bawdy Storytelling - the Original Sex + Storytelling series - features Real People & Rockstars sharing their Bona Fide Sexual Exploits Live Onstage; think of us as a One Night Stand with the Moth & Savage Love. Storytellers are an eclectic mix of Authors, Porn Stars, Sex Educators, Comics & More, along with Regular Joes just like you who submitted their stories online and were chosen for their panache and sense of (Mis)Adventure.
Bawdy Storytelling features tales of Carnal Wins & Epic Fails with No Scripts, No Nets, and No Holds Barred. These folks aren't reading from cue cards: this is honest-to-badness story time with true sexcapades and poignant, transformational tales at each and every show. Join Sexual Folklorist Dixie De La Tour & hand-picked Rockstars as they share their own stories of Love, Lust, and making you feel funny in your bathing suit area. Hey, you may even go home with a few new tricks for your boudoir arsenal!
P.S. We're always the best date in town but this one - this one is mega-date material! Reserved Seating gives you up front bawdiness - but these choice seats are sold only in advance, so get yours before they're gone – our Anniversary shows typically SELL OUT.
•••••••••••••••••••••••••••••••••••••••••••••••••••••••••
The Original Sex + Storytelling series, featuring Real People & Rockstars sharing their Bona Fide Sexual Exploits, Live onstage
••••••••••••••••••••••••••••••••••••••••••••••••••••••••••
Performer Bios:
❤ Sexual Folklorist Dixie De La Tour founded Bawdy Storytelling - the Nation's original sex and storytelling series - over 12 years ago, despite being told repeatedly that nobody would get onstage to tell their stories of sex, kink and gender (Wrong!).This multi-city live storytelling event welcomes true stories from any and all communities (LGBTQIA, kink, polyamory, swingers, vanilla, and many more) and is bringing sex-positive storytelling to new cities all the time. Dixie and Bawdy Storytelling have been praised by press both big and small; She has been lauded as a "masterful emcee, and her show is everything that works for storytelling—she creates a warm, safe space in which stories can bloom with dark hilarity, salacious textures, and moments of deep connection." Dixie has hosted and curated Bawdy Storytelling events at Yale Sex Week, the Bondage Awards, the Jewish Community Center of San Francisco, CatalystCon Sexuality Conference, Dark Odyssey, FetFest, and more, as well as her home turf of the Bawdy Mainstage and BawdySlam shows. She can be found at @Bawdy on Twitter, Bawdy Storytelling on Facebook and always, always at www.BawdyStorytelling.com
❤ Mac McGregor is known as The Gender Sensei and is a diversity educator and transgender activist. He is on the Seattle Police Department LGBT advisory board, the PFLAG Washington State Council and the board of LGBTQ Allyship. Mac is a former US Karate team member, world champion martial artist and has been inducted into the World Martial Arts Hall of Fame. He and has appeared on Ripley's Believe it or Not, The Learning Channel, The Discovery Channel, the 700 Club, on UniVision, and been featured in People Magazine. Most of all, Mac is a dedicated, heartfelt activist and educator who focuses every part of his existence on creating a world where people can feel free to be true to themselves.
❤ Amy Melin is a mild mannered non-profit working by day and a lavender menace by night. She enjoys queering just about anything, getting herself in to complicated situations and cross stitch! (and you've heard her on the Bawdy Storytelling podcast - her story there is a fan favorite)
❤ Samantha Dresden is a bisexual switch who may or may not own more than 2 clown suits. She has been a part of the BDSM and swinger communities for almost two decades, so will happily help you out with your Bang-o card.
❤ Creature Hole is a queer-dirty-pop duo from the PNW trying to sell out. will play your corporate event or `bat mitzvah. That sounds like savage garden on molly. Check em out at https://creaturehole.com/
• No Refunds or Exchanges
• Lineup Subject to Change
• General Admission seating is first come, first served. We recommend you arrive by 7:15 for best seating (Reserved Seating guarantees you a seat right up front)
Want more Bawdy?
www.BawdyStorytelling.com
Instagram: https://www.instagram.com/bawdystorytelling/
Twitter: @Bawdy
& at Facebook.com/BawdyStorytelling
••••••••••••••••••••••••••••••••••••••••••••••••••••••••••
GQ's Best Sex Podcasts (that make you Better in Bed):
https://www.gq.com/story/best-sex-podcasts
••••••••••••••••••••••••••••••••••••••••••••••••••••••••••
Buzzfeed's Sex Podcasts You Should Be Listening To
https://www.buzzfeed.com/alivelez/13-sex-and-relationship-podcasts-you-should-be-listening-to
••••••••••••••••••••••••••••••••••••••••••••••••••••••••••
Named #1 on Marie Claire's 14 Best Sex Podcasts:
https://www.marieclaire.com/sex-love/news/a21284/best-sex-podcasts/
••••••••••••••••••••••••••••••••••••••••••••••••••••••••••
Esquire's 10 Best Sex Podcasts, no matter your taste: https://www.esquire.com/lifestyle/sex/a46389/best-sex-podcasts . (for the second year in a row!)
••••••••••••••••••••••••••••••••••••••••••••••••••••••••••
Uproxx's 10 Best Sex Podcasts to listen to right now:
https://uproxx.com/life/best-sex-podcasts-right-now/
••••••••••••••••••••••••••••••••••••••••••••••••••••••••••