Join us for our premier gallery opening— Bauhaus Typography at 100—curated by Rob Saunders and Henry Cole Smith.
About this event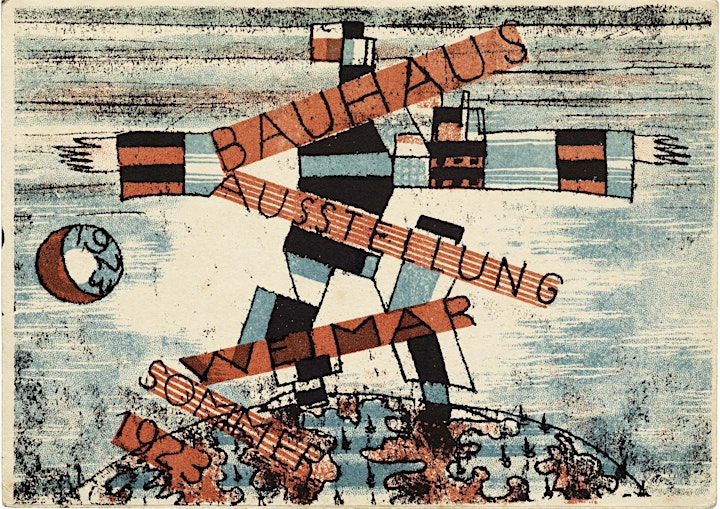 We invite you to join us in celebration of our premier gallery opening, Bauhaus Typography at 100, featuring more than 150 pieces from our permanent collection, exploring the school's unique legacy in graphic design.
Be among the first to enjoy this highly anticipated exhibit, with an exclusive opportunity to chat with its curators and other members of Letterform Archive's staff.
Please arrive early (5:00 pm) to see a live painting by calligraphy expert Carl Rohrs. The exhibit's curators, Rob Saunders and Henry Cole Smith, will lead a curator talk and toast at 6:30 pm. All along, there'll be refreshments to enjoy and the opportunity to converse with others in Letterform Archive's growing community of graphic design and typography enthusiasts.
Please note: Before entering the Archive, you will need to present valid vaccination documentation. Proof of vaccination may include your California digital COVID-19 vaccine record, a CLEAR digital vaccine card, your original (or a photo of) your CDC Vaccination Card, or an official immunization record from outside the US. Also, don't forget to bring a valid photo ID.

Rob Saunders, Executive Director, Curator, and Publisher (he/him), is a designer, teacher, publisher, and management consultant, who has collected graphic design and letterforms for over 40 years. Rob began his career teaching at The School of the Museum of Fine Arts Boston and Tufts University, while serving freelance clients and agencies, before founding a book publishing enterprise that included Alphabet Press (graphic design), Picture Book Studio (children's books), and Rabbit Ears Books (book/audio packages), which was eventually acquired by Simon & Schuster. Prior to founding Letterform Archive he served as a creative and marketing consultant with clients in the hospitality, technology, and financial industries.

Hank Smith, Collections Assistant (he/him), found his passion for book arts while studying at Reed College (BA in English) and working with fellow writers, collectors, and literary archivists, including David Abel of Passages Bookshop. As a writer of poetry and a bookmaker himself, Hank's love of language is simultaneously bound in meaning and aesthetics. That's evident not only in his care for the material at the Archive, but also his own poetry. When not spending time with the written word he's projecting it from the stage at a reading.
Organizer of Bauhaus Typography at 100 Opening Celebration
Based in San Francisco, Letterform Archive is a nonprofit center for inspiration, education, and community, with a collection of over 75,000 items related to lettering, typography, calligraphy, and graphic design. The Archive hosts and presents a variety of events related to letterforms, including public lectures and workshops as part of its Type West education program.