About this Event
A Weeknights at the Wagner online lecture by David G. Robinson, Ph.D.
Snails and slugs might sound easy to outstrip, but they can be aggressive and dangeorus pests. David Robinson has served as National Malacologist for the United States Department of Agriculture since 1995. Among his primary responsibilities is the identification of snails and slugs being intercepted on commodities entering the country at airports, seaports and land borders. In his Weeknights at the Wagner online talk, he will explain the role of the US Department of Agriculture, Animal & Plant Health Inspection, Plant Protection & Quarantine. Among the most high-profile snails intercepted by the agency is the giant African snail. As well as being an extremely aggressive plant pest everywhere it has been introduced all over the world, the snail is a primary vector of Rat lungworm disease that is a potentially lethal and incurable disease affecting humans and livestock.
Since the 1960s, the giant African snail has been introduced several times to the United States, and each time its populations has been eradicated. It is also part of a popular but illegal the pet trade. However, in September of 2011, large numbers of live snails were detected in Miami-Dade, apparently smuggled into the area for religious rituals by a fringe cult. Since then, the agency in cooperation with the Florida Department of Agriculture & Consumer Services, has been collecting and destroying tens of thousands of snails at immense cost. David will share the highlights of the program over the last nine years, which is expected to finally eradicate the giant African snail in 2021.
This talk will take place on Zoom. A link and instructions will be in the post-registration online event page and sent out by email.
About David G. Robinson, Ph.D.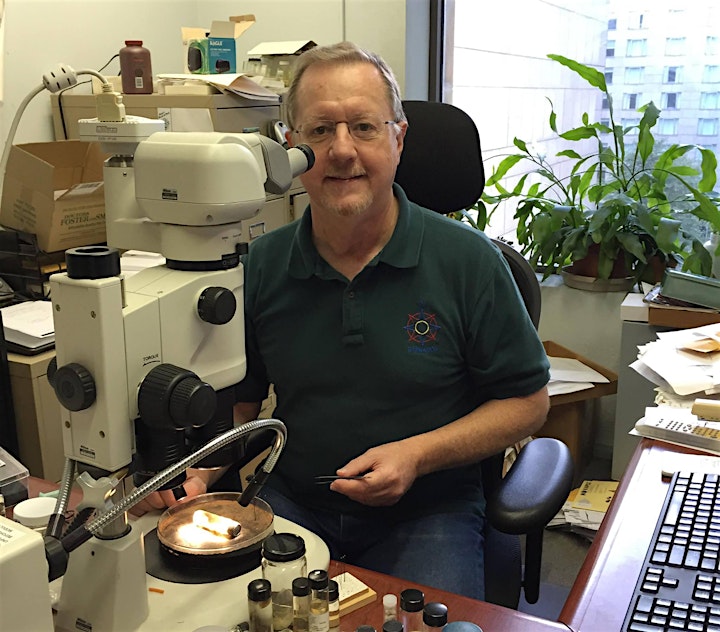 David G. Robinson received his BSc. (Honours) degree in Zoology from Queen Mary College, London University in 1977. From 1978 to the end of 1981, he served as a Volunteer in the U.S. Peace Corps in the Dominican Republic, working in environmental education throughout the country and as Curator of Mollusks at the National Natural History Museum in Santo Domingo. He completed his Ph.D. in Paleomalacology from Tulane University in 1991. He began working at the Academy of Natural Sciences at the end of 1991 and became Malacology Collection Manager from 1993 towards the end of 1995.
In November 1995, David was appointed the National Malacologist for the United States Department of Agriculture. David's identifications of intercepted snails and slugs determine whether the commodity is fumigated, incinerated, returned to the port of origin or allowed into the country unimpeded. David has conducted mollusk surveys, workshops and agricultural officer training programs throughout Latin America and the West Indies, as well as Samoa, Micronesia, Guam and the Northern Marianna Islands, Mongolia, China and Vietnam. He has also been a Subject Matter Expert in Rat lungworm disease projects in Hawaii and the West Indies.