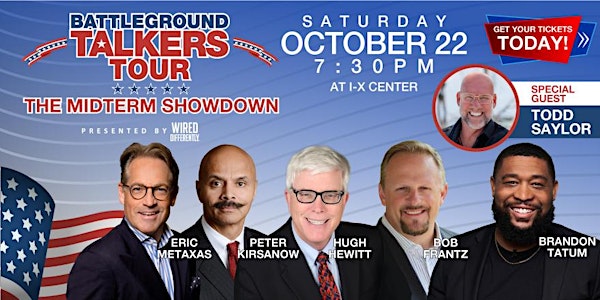 Battleground Talkers Tour - The Midterm
Battleground Talkers Tour - The Midterm Showdown
When and where
Location
International Exposition Center 1 I-X Center Drive Cleveland, OH 44135
About this event
This November's election IS THE MOST IMPORTANT IN THE HISTORY OF AMERICA.  We will either double-down on the Democrats' blueprint for SOCIALISM or we will begin to fight back with and for FREEDOM. Joe Biden is right: We are voting in a war for America's soul!  
Join AM 1420 The Answer to HELP FREEDOM WIN!
Because this election is so important and thanks to our sponsors, we want everyone to be there! So, every ticket is FREE. You just have to register.
Invite your family and friends to this pivotal event!
AM 1420 The Answer and Wired Differently invite you to The Battleground Talkers Tour - The Midterm Showdown. 
Salem hosts Bob Frantz, Hugh Hewitt, Brandon Tatum & Eric Metaxas along with Peter Kirsanow, Commissioner for the U.S. Commission on Civil Rights are coming to Cleveland and want to join you in a vigorous discussion about the issues that are so crucial to you and your friends and family. The Battleground Talkers Tour will be something you never forget and could make the difference in this coming election.
After you reserve your tickets, CLICK HERE to visit the Salem Events Store for the latest Battleground resources ahead of the midterm elections. Including 2000 Mules, No Safe Spaces, The War for America's Soul and more.