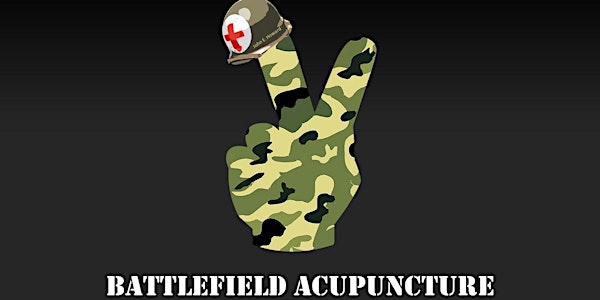 Battlefield Acupuncture
Basic Battlefield Acupuncture Seminar Advanced Battlefield Acupuncture Protocols and Clinical Pearls
When and where
Location
AOMA Graduate School of Integrative Medicine 4701 West Gate Boulevard E1 Austin, TX 78745
Refund Policy
Refunds up to 7 days before event
About this event
Basic Battlefield Acupuncture Seminar
Advanced Battlefield Acupuncture Protocols and Clinical Pearls
Dates: November 12th 9:00 AM - 5:30 PM
            November 13th 9:00 AM - 5:30 PM
Location: AOMA South Campus
Please arrive 15 minutes early for Registration. Event starts promptly at 9:00 AM.
*8 NCCAOM CEU'S available per day / 16 NCCAOM CEU's for the whole weekend! 
Category: AOM-ACU
*CEUs approved Florida, Texas, NCCAOM. California pending.
About the Course
Day 1: Basic Battlefield Acupuncture Seminar 
BATTLEFIELD ACUPUNCTURE (BA) is one of the strongest protocols for pain reduction, faster than most Western medical protocols and treatments. BA was created by Richard Niemtzow MD and the teaching material in this course was derived from meetings and clinical observations with Dr. Niemtzow and your instructor, John Howard, L.Ac., Dipl. Ac. You will learn the history of Acupuncture and Auriculotherapy in the United States leading up to the invention of the BA protocol. You learn when it's appropriate to use BA and the outcome to expect. The morning is devoted to didactic learning and the afternoon includes live demonstrations on volunteers with pain. More information about BA and this class are available at www.battlefieldacupuncture.net.
Day 2: Advanced Battlefield Acupuncture Protocols and Clinical Pearls
This class builds on the Basic Battlefield Acupuncture (BA) protocol. The teaching material was derived from over 10 years of clinical observation of complex and multi-symptom conditions for which there was limited to no improvement using the Basic BA protocol. You will add to the knowledge you gained from the Basic BA course to tackle more complex and painful conditions experienced by your patients. Use Pairing and Clustering to mitigate or eliminate pain. Discover the benefits of the Nogier System by incorporating Nogier's Phases into your treatments. Learn how to use a Piezo Pen. The morning is didactic learning and the afternoon includes live demonstrations. For more information, please go to our website www.battlefieldacupuncture.net.
About the Instructor
John Howard is a licensed acupuncturist who started his career in Western medicine. He trained & served with the U.S. Marine Corps, as a Combat Medic & a certified EMT. He was chosen to attend the Army's Delta Special Operations School of Medicine to become a Corpsman and the Uniformed Services University of Health Sciences where he trained in field surgical techniques. At George Washington Univ. Hospital he worked as an ER Trauma Technician.and as an Asst. Adjunct Professor of Emergency Medicine teaching medical students minor trauma and suturing techniques. John Howard then completed his degree in acupuncture from the Maryland Institute of Traditional Medicine in Bethesda, Maryland in 2004, and is nationally certified by NCCAOM.
After completing his degree, Prof Howard did a five-year fellowship with the US military under the direction of Dr. Richard Niemtzow, MD, PhD. It included working with Wounded Warriors only days removed from the battlefield. John has gone on to create protocols for PTSD used worldwide and a lactation protocol that has become a staple method used to increase lactation production in a nationally acclaimed hospital. John maintains a private practice in Germantown, Maryland specializing in pain management, musculoskeletal and neurological disorders, sports medicine and sports related injuries. John travels around the world to bring his teachings to acupuncturists nationally and internationally. He has also authored nine books and 25 articles on both Acupuncture & Auriculotherapy.
--------------------------------------------------------------------
Only those who are licensed and permitted to practice Acupuncture within the scope of their medical practice are permitted to participate and be certified in Battlefield Acupuncture. Upon registration, you will be asked to provide your physician license number and/or NCCAOM license number. Battlefield Acupuncture also has the authority to credential government employees, including military, VA and Indian Health Services.