Description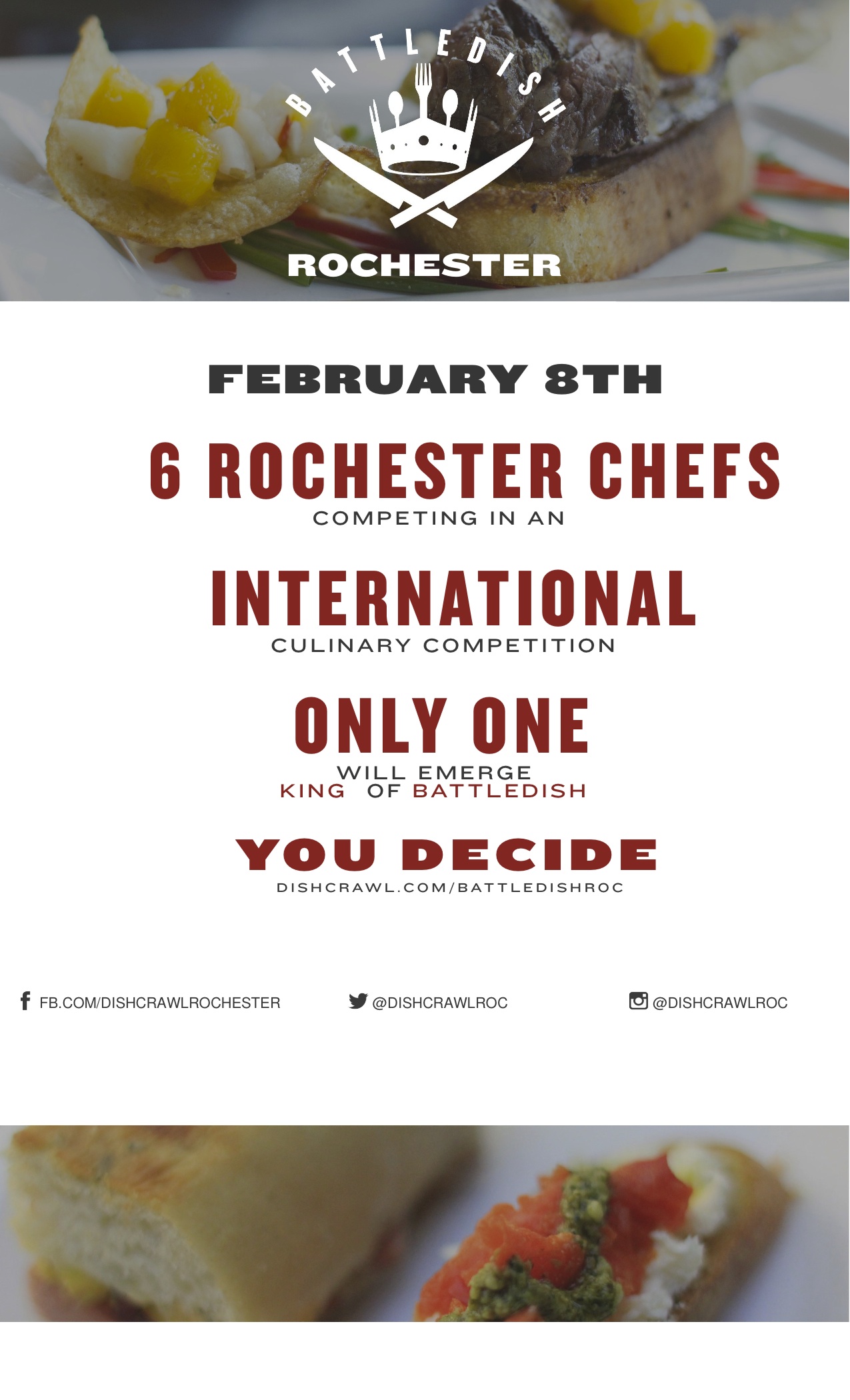 Rochester has been entered in an international Battledish: a competition between chefs around the world.
Six chefs have been chosen to compete in Battledish: Rochester this February in conjunction with the 48 other chefs competing in North America for King of Battledish.
Saturday, February 8th
, from
2pm-6pm
, the competition grounds of Rochester
are open to the public. Foodies are invited to vote with their tastebuds and try all six chef creations.
Chefs will be creating smaller versions of their dishes priced at $5 each. Drink pairings are also available at $5. Can you dish and drink with all six chefs in four hours?
Culinary titles:

Most Delicious

, Most Creative, Best Modern, Best Cocktail, Most Authentic.
Competitors and their dishes will be revealed to the public every week

here

in preparation for battle day.
---
What is Battledish?
Battledish is the world's biggest chef competition taking place in cities around the world. Local chefs compete by presenting their creations and having the public cast their vote on who will be crowned King. Check out the latest battlegrounds and competitions at battledish.com.
What is the Battledish event like?
Think of it as a walking adventure through Rochester restaurants where chefs are waiting with their creations. At check-in, you will receive a map and a menu of the Battledish. It is then up to you to decide who to vote for. Battlegrounds are open for four hours. Everything is within walking distance.
---
Frequently Asked Questions
Contact:
My name is Nicole, your Dishcrawl Ambassador for Rochester! You can e-mail me at nicoleb@dishcrawl.com.
Are the dishes vegetarian friendly? Check menu for details.
Cancellation Policy: No refunds. All Dishcrawl events are rain or shine.
Are tickets available day of?:
Yes, but they will be $20 at check in, and $15 online. Food & Drink tickets will be available the day of for $5.
Are kids welcome?: Yes, we love kids! Although, participating locations have the right to refuse service to anyone.
Do kids need a general admission ticket? Yes, every child above the age of 10 needs a general admission ticket and we recommend, depending on the age of your child 2 to 4 dishes per child.