BattleBots Tickets - 2015 Championship (TV Taping)

Thursday, May 21, 2015 at 11:00 AM

-

Saturday, May 23, 2015 at 5:00 PM (PDT)
Event Details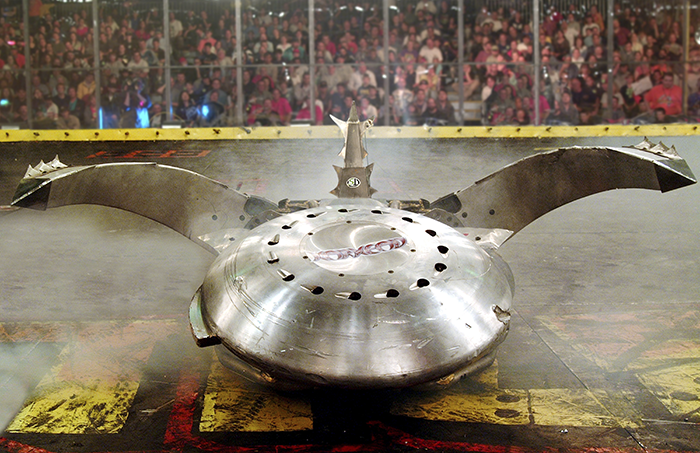 Be a Part of BattleBots Triumphant Return to TV!
The hit show BattleBots is back, and you can be part of the live audience. Not only will you witness the awesome spectacle of robot-on-robot, metal-munching-mayhem, but you might be seen on the TV show (airing this Summer on ABC)!
Bring your friends, bring your family, have a great time and be the first to experience the revamped, reimagined, redesigned BattleBots!
Five simple rules:

Be On Time: Please show up for your chosen session on-time, late comers may have their seats given to standing-room-only patrons. Also, please plan on staying for the duration of your session—We are counting on you to be part of our great TV audience for all the matches during the session! 
Be Cool: Please no spoilers, no photos, no videos. Keep what you see at the event private and don't spoil it for the TV viewers.
Be Stylish: You might be seen on TV so look good! Dress sharp, dress cool, dress in full-fan-mode—show the world how great Bay Area fans are—but please no logo wear (shirts, hats, etc.).
Be Parentally Guided: 

Kids under 16 must be accompanied by an adult.

Be Awesome: This is a TV taping for a show that will be seen around the world—so bring your energy and enthusiasm, make signs, dress up, go crazy!
TIP! Insiders know the first days of the tournament (Thursday & Friday) are the best. Come for the full days and you can see ALL the bots—and see them brand spanking new, before the battle scars set in.
When & Where

Mare Island Sports Center
785 Walnut Ave
Vallejo, CA 94592


Thursday, May 21, 2015 at 11:00 AM

-

Saturday, May 23, 2015 at 5:00 PM (PDT)
Add to my calendar
Organizer
BattleBots is the world leader in robot fighting sports.
For over 20 years BattleBots has brought the joy of delicious robot fighting to TV and live audiences around the world. Want to see 250 pound robots go at it with an array of destructive weaponry? Want to see sparks fly and robots die? Then look no further than BattleBots.
BattleBots is a show that not only features thrilling combat, but also showcases ingenuity, resourcefulness, creativity and tenacity. It's a show where you'll witness mass destruction, but without anyone getting hurt. BattleBots is all about inspiring people (especially kids) to learn more about engineering: How things work, how things break, and how to fix them; and being a catalyst to get more people involved with science, technology, engineering, arts and math.
Let the Bot Battle Begin…