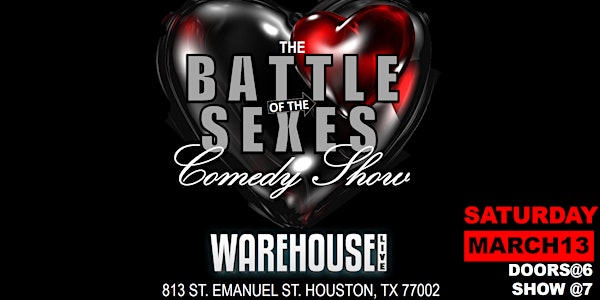 BATTLE OF THE SEXES COMEDY SHOW
Ages 18+
THEA VIDALE, RICH WILLIAMS, STACEY ANDERSON, ANDY HUGGINS, LEAH SAMPSON
Sat. March 13, 2021 - Battle of the Sexes Comedy Show - Warehouse Live
When and where
Location
The Ballroom at Warehouse Live 813 Saint Emanuel Street Houston, TX 77003
Performers
Headliners
VALENTINE'S DAY BATTLE OF THE SEXES COMEDY SHOW
VALENTINE'S DAY BATTLE OF THE SEXES COMEDY SHOW
VALENTINE'S DAY BATTLE OF THE SEXES COMEDY SHOW
VALENTINE'S DAY BATTLE OF THE SEXES COMEDY SHOW
More Performers
Thea Vidale
Rich Williams
Andy Huggins
Stacy Anderson
Grady Pruitt
Leah Sampson
Refund Policy
Contact the organizer to request a refund.
About this event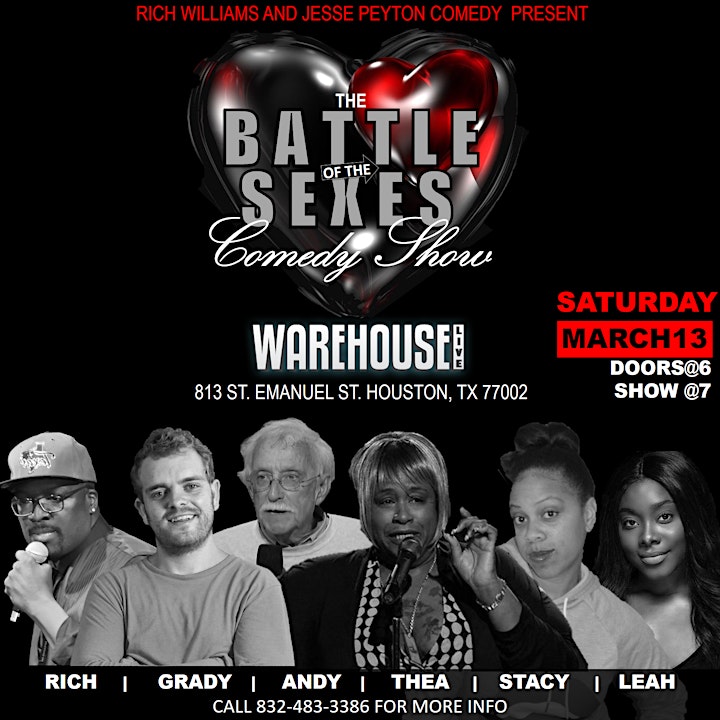 EVENT DESCRIPTION
Since 2012, "The Battle of the Sexes" has been one of the premier Valentine's Day events in Houston. This year we've partnered with an awesome venue: Warehouse Live!!!
For the last 8 years, Rich Williams and Jesse Peyton Comedy have brought you comics as seen on every major network and from shows such as NBC'S "America's Got Talent" and "Last Comic Standing," ABC'S "Fresh off the Boat," BET'S "Comic View," Fox's "The Real," Comedy Central's "Live at Gotham" "Standup Revolution" and "Kevin Hart Presents: Hart of the City".
Prepare to be entertained by:
THEA VIDALE
Thea was the centerpiece of her own CBS sitcom "Thea," and now tours the world with Carnival Cruiseline. Here she appears on Comedy Central's "Standup Revolution"
https://www.youtube.com/watch?v=BKU4Us8DSxI
ANDY HUGGINS
As one of the original "Texas Outlaws" Andy Huggins has entertained comedy fans for decades. Here he appears on the hit NBC Series "America's GotTalent"
https://www.youtube.com/watch?v=k6zy2mYkJVE&t=198s
LEAH SAMPSON
Leah is a Stand up Comedian, writer, and actress who was featured on the world famous Moontower Comedy Festival and has opened and toured with Julio Eglesias. Watch as she holds court in this clip from the Funniest Person In Austin Showcase.
https://vimeo.com/348488788/506cb261f5
GRADY PRUITT
Winner of the Funniest Comic In Texas contest (FCIT)2017, Grady has quickly established himself as a staple in the Houston comedy scene, and as a consistent performer at clubs, festivals, and showcases all across the country. Grady has opened up for Bobby Lee, Taylor Tomlinson, Luenell, Ryan Hamilton, Fortune Feimster, Sam Morril, and Dusty Slay, and has appeared on Bobby Lee's Tigerbelly podcast. Check out this clip of Grady delivering his award winning set at the FCIT at the Houston Improv.
STACY ANDERSON
Stacy's thought provoking and unapologetic style of comedy has taken her across the country and earned her shared stages with Mark Curry, Rodney Perry, and Hope Flood. Watch below as she delivers laughter at the Houston Improv
https://www.youtube.com/watch?v=EuNeKfeiDA4&t=217s
RICH WILLIAMS
Rich has opened for Norm McDonald and Rob Schneider from Saturday Nite Live, Arsenio Hall and Snoop Dogg. He was also featured on the Emmy Award winning TV talk show "The Real". He has headlined shows at comedy clubs, colleges, cruise ships, and casinos in 35 states. Here is Rich performing on the "The Real"
Seats and tables will be socially distanced for this event.
Temperature Checks will be conducted upon entry
Masks are required for entry
Tickets for this event are non-refundable HOWEVER, refunds will be given in the event of cancellation or postponement.