Battle of Blair Mountain, 1921 ... Significance for Working People Today
A new look at the 1921 battle between West Virginia mining families and corrupt coal companies that shaped the modern union movement
About this event
JOIN THE Battle of Homestead Foundation for an online program discussing the legacy of the 1921 *Battle of Blair Mountain* — the largest pitched battle on American soil since the Civil War.
** Thursday Aug. 19, 2021 from 7:30-9:00 pm **
_______________________________________________
The Battle of Blair Mountain erupted in Aug. 1921 across Logan County, West Virginia, and pitted 7,000 armed coal miners against 3,000 lawmen and strikebreakers backed by coal mine operators opposing the miners' attempt to unionize West Virginia coalfields.
Over100 people were killed with hundreds more wounded before the U.S. Army restored order. Though the mining unions suffered a severe setback, the battle raised national awareness of the appalling conditions miners faced in the dangerous West Virginia coalfields and resulted a decade later in a larger and stronger organized labor movement.
In conjunction with the battle's Official Centennial Commemoration from Sept. 3-6, 2021, the Battle of Homestead Foundation brings together a panel of historians and authors to examine what insights the epic 1921 conflict can provide for working people today faced by many of the same labor grievances and corporate abuses that sparked the original Battle of Blair Mountain.
-----------------------------
* Please note: upon registration participants are given a Zoom link for the event ... scroll down to the bottom of the email for information.
_____________________________
** WHILE THIS PROGRAM is admission-free, you are welcome to make a monetary donation to offset expenses involved in producing our 2021 Program Series.
The Battle of Homestead Foundation is a tax-exempt 501(c)(3) nonprofit.
_______________________________________________
** PRESENTERS **
• Panel moderator Phil Smith is a Point Park University graduate who serves as Director of Communications and Governmental Affairs for the United Mine Workers of America. Mr. Smith develops and implements strategic communications campaigns in support of labor union objectives for organizing, collective bargaining, work stoppages and issue advocacy; he was instrumental in achieving recent federal legislation preserving pension and health care benefits for thousands of retired miners, dependents and widows whose benefits were threatened due to coal industry bankruptcies.
• Chuck Keeney (history professor, Southern West Virginia Community and Technical College; Board Member, WV Mine Wars Museum). Prof. Keeney is the great-grandson of one of the key figures involved in the Battle of Blair Mountain, labor leader Frank Keeney. His book Road To Blair Mountain: Saving a Mine Wars Battlefield From King Coal is published by WV University Press.
• Catherine Moore (Board Member, WV Mine Wars Museum). Prof. Moore is an editor of the NPR program Inside Appalachia and a teacher for West Virginia Wesleyan College's Low Residency MFA in Creative Writing. She wrote the preface to the reprint of Anne Lawrence's On Dark and Bloody Ground: An Oral History of the West Virginia Mine Wars, published by WV University Press.
• Shaun Slifer (Artistic Director and Display Designer, WV Mine Wars Museum). An artist, author, self-taught historian, scrimshander and museum professional, Mr. Slifer's book So Much to Be Angry About: Appalachia Movement Press and DIY Publishing, 1969-1979 is published by WV University Press.
• Barbara Ellen Smith (Board Member, WV Mine Wars Museum). Dr. Smith was director of Women's and Gender Studies Program at Virginia Tech and studied the black lung movement as it was happening in the early 1970s. Her book Digging Our Own Graves: Coal Miners and the Struggle Over Black Lung Disease is published by Temple University Press.
_______________________________________________
The Battle of Homestead Foundation is an educational nonprofit promoting Western Pennsylvania's vibrant industrial and labor history starting with the 1892 Homestead Steel Strike and connecting with current labor issues involving economics, the environment, healthcare, racism and other social concerns.
The Battle of Blair Mountain Centennial commemorates the significance of the 1921 battle and the rich history of the southern West Virginia coalfields and is supported by a broad coalition of event partners including West Virginia Mine Wars Museum, United Mine Workers of America, University of Virginia's Wise College, Marshall University School of Journalism and Mass Communications, Big Laurel Learning Center, Monogalia Arts Center and more.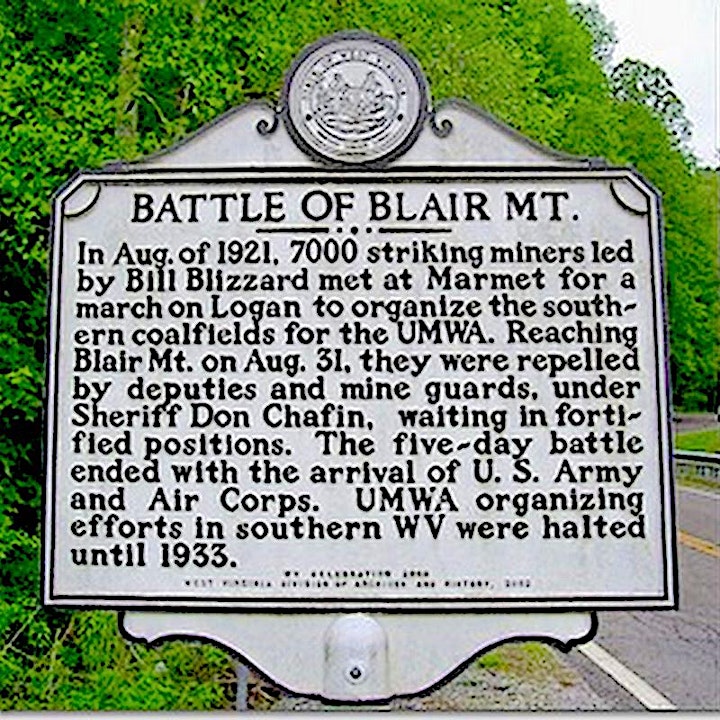 Organizer of Battle of Blair Mountain, 1921 ... Significance for Working People Today
The Battle of Homestead Foundation is a non-profit, charitable organization of citizens, workers, educators, artists and historians. Its purpose is to preserve, interpret, and promote a people's history focused on the significance of the dramatic labor conflict at Homestead, Pennsylvania in 1892.  
The Battle of Homestead Foundation is exempt from Federal Income Tax under Internal Revenue Code Section 501(c)(3). All contributions are deductible from federal taxes under section 170 of the IRS code.