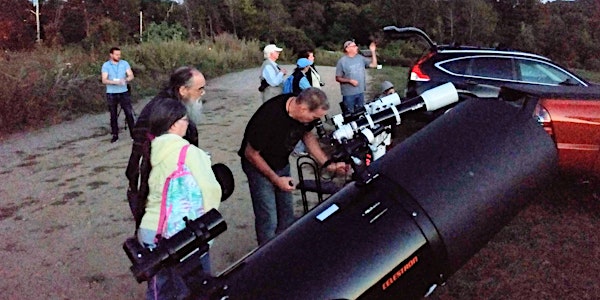 Battis Farm Star Party
NSAAC will be holding a public star party the FIRST CLEAR NIGHT (only) Tues July 12, Weds Jul 13, or Thurs Jul 14.
When and where
Location
Battis Farm Parking Lot 76 South Hampton Road Amesbury, MA 01913
About this event
Weather update, Weds1 PM: Canceled for Wednesday night. Forecasts for Thursday is improving but as noted below we will hold out until the afternoon tomorrow to make a final decision.
---------------------------------------------------------------
This is our first star party since Covid-19. We will set up several telescopes for public viewing of the moon, double stars, nebula, star clusters, and other deep space objects.
This event will take place on one night only; the night will be based on the weather and given the high variability of local weather will not be finalized until 1PM the day of the event.
Notifications will be emailed out using the address that you signed up with.
Due to Covid protocols there are a limited number of spots for each night, so please only sign up for the nights that you can make it.
As children are not vaccinated yet and volunteers operating the telescopes and attendees will be in close proximity to each other when at the telescopes, masks will be required for everyone when at the telescopes.
When waiting in line please follow the CDC guidelines for distancing and mask wearing as appropriate for you and family member's vaccination status.
Thank you for your understanding.
We expect to be ready to start observing a little before 8:30, though twilight will prevent viewing many objects until after 9PM. Mosquitoes and ticks may be present so please take proper precautions.
Please park in the parking lot and walk up the path along the community garden area to the right to reach where the telescopes will be set up. Use of flashlights is discouraged as it ruins night vision. Flashlights should not be used within 50 feet of the telescope area.
Additional details will be emailed closer to the event date.
------------
Interested in assisting with the event but not a NSAAC member? We would love to have you bring your gear and join us. Please send any questions to starparty @ nsaac.org