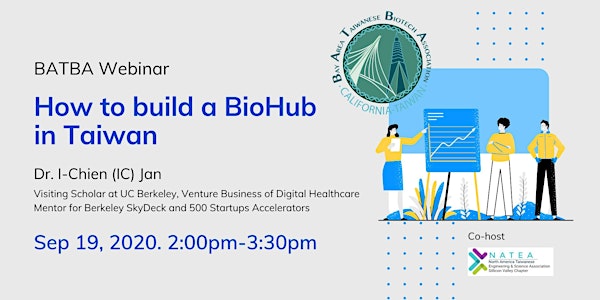 [BATBA Sep Webinar] How to build a BioHub in Taiwan
How to build a BioHub in Taiwan
About this event
[BATBA Sep Webinar] How to build a BioHub in Taiwan
We are honored to have Dr. I-Chien (IC) Jan join us in BATBA's September Webinar. He will be talking about his inspiring career experience in biomedical venture investment and sharing insights on current trends in the bio sector. This event is co-hosted with North America Taiwanese Engineering & Science Association (NATEA: https://natea.org)
Title: How to build a BioHub in Taiwan 台灣生醫新創投資的機會與挑戰
 Background and Experience in Startups and Venture Interments.
 Startup Ecosystem and the Evolution of VC
 Current Trends in Global Biomedical Industry
 Taiwan's Opportunities, Challenges, and Competitive Advantages in Biomedical sector
 How to Assist Taiwan from Abroad?
Time: 9/19/2020. 2:00-3:30pm.
* Please register in advance. Event link will be sent to your registered email before the event.
Bio:
Dr. I-Chien (IC) Jan is a Visiting Scholar at UC Berkeley with a focus on Venture Business of Digital Healthcare and MedTech Startups in the US, while serving as a mentor for Berkeley SkyDeck and 500 Startups Accelerators.
Prior to visiting UC Berkeley, Dr. Jan ran BioHub Taiwan to strengthen the biomedical startup ecosystem in Taiwan. In this capacity, he represented the government at various international conferences and founded the first "Biomedical Startup Challenge" in partnership with AstraZeneca in Taiwan.
Before joining BioHub, Dr. Jan was co-founder and partner of AppWorks Ventures in 2010-2016. He turned AppWorks into Asia's leading startup accelerator and most active early-stage VC, which now admits 30 startups per batch across Asia and is supported by a strong alumni network of 376 active startups and 1,113 founders. Together, they generate 5B USD in revenue and are valued at 4.7B USD. AppWorks also manages 170M USD in its portfolio, makes 10 deals a year, and has led to 4 IPOs.
Besides venture business, Dr. Jan has been an active mentor for entrepreneurs and an influential advocate for startup-related policies. He has a MBA from National Chengchi University and a PhD in Biomedical Engineering from National Taiwan University.