Description
75TH ANNIVERSARY COMMEMORATION OF
THE BATAAN DEATH MARCH
SATURDAY, APRIL 8, 2017
50 MORAGA AVE, PRESIDIO
SAN FRANCISCO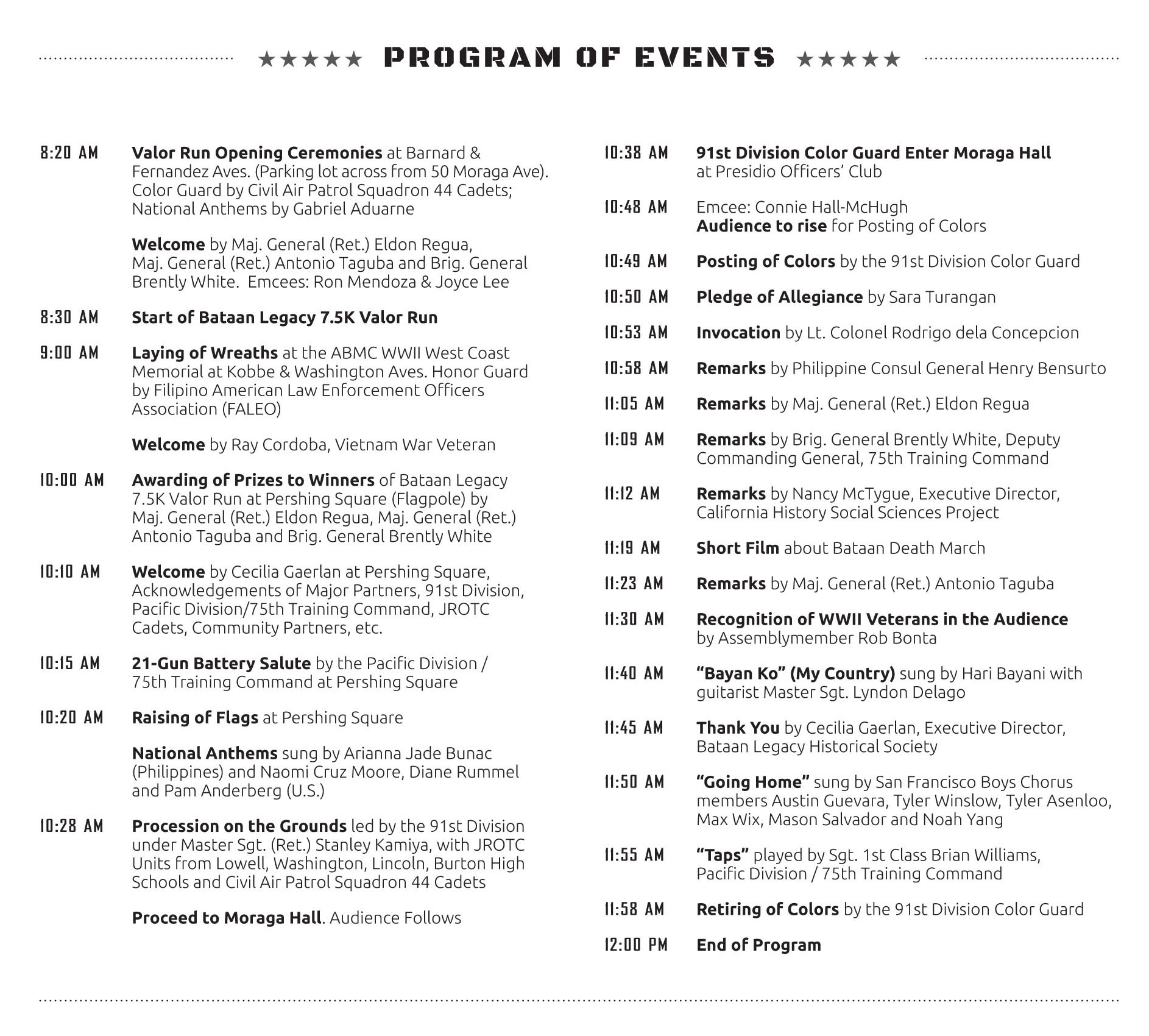 February 7, 2017, San Francisco, CA – Bataan Legacy Historical Society in partnership with the Presidio Trust and the National Park Service will commemorate the 75th Anniversary of the Bataan Death March on Saturday, April 8, 2017 at 10:00AM, at the Presidio Officers Club at 50 Moraga Ave., San Francisco, CA. A Bataan Legacy 7.5 K Valor Run inside the Presidio will precede the program at 8:30AM, starting and ending in front of the Presidio Officers Club. Memorial wreaths will be placed at the WWII Pacific Memorial at 9AM. Proceeds from the run will go to Bataan Legacy Historical Society and the Congressional Gold Medal for the WWII Filipino Veterans.
The Bataan Death March is a seminal event in WWII history that took place in the Philippines starting on April 9, 1942. 75,000 Filipino and American troops of the U.S. Army Forces in the Far East (USAFFE), mostly suffering from major disease and starvation, were forced to surrender to the Imperial Japanese Army. They marched approximately 60 miles to their prison camp at Camp O'Donnell under extreme tropical conditions with no provisions for food, water, shelter or medicine. Those who could no longer go on were beaten, bayoneted, shot and some were even beheaded by their Japanese captors. Approximately 10,000 Filipino and 650 American soldiers died during the march. They fought in the Bataan Peninsula for 99 days without any reinforcement or air support but they were able to disrupt the 50-day timetable of the Imperial Japanese Army before their surrender. This delay prevented Japan from reaching Australia.
Bataan Legacy Historical Society worked with the California Department of Education to include the Bataan Death March and WWII in the Philippines in the history curriculum framework for California high schools. On July 14, 2016, the State Board of Education approved its inclusion in the U.S. History curriculum framework for Grade 11. On December 14, 2016 President Obama signed into law the Congressional Gold Medal Act for the WWII Filipino Veterans to honor them for their services. These two milestones are significant and long overdue. Just five months after the war ended, the Filipino soldiers of USAFFE were stripped of their benefits by the Rescission Acts of 1946 which deemed their service as inactive. These Acts were never reversed.
To register for the Bataan Legacy Valor Run, please go to www.filamracing.com. To register for the Commemorative Program at the Presidio Officers' Club, please go to http://bit.ly/BDMCommemoration.
Please visit www.bataanlegacy.org. www.presidio.gov and www.nps.gov. For more information, contact info@bataanlegacy.org (Tel. 510-520-8540) for the program/event or info@filamracing.com (Tel. 973-713-8053) for the Valor Run. #BataanLegacy; #ValorRun; #FilAmRacing