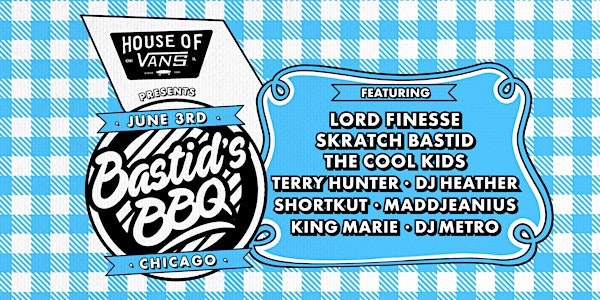 Bastid's BBQ
ALL AGES
Presented By House of Vans
Bastid's BBQ Live at House of Vans
Date and time
Saturday, June 3 · 2 - 10pm CDT.
Location
House of Vans Chicago 113 N. Elizabeth St. Chicago, IL 60607
About this event
8 hours

ALL AGES

Mobile eTicket
Join us at House of Vans for the first Bastid's BBQ in Chicago!
Featuring local and special guest DJs from around the States, we're stoked to share a summer weekend with the good music, good food, good vibes, and good people. Fuel up with food complimented by Bastid's famous BBQ sauce.
This all-ages event is free with RSVP on Saturday June 3rd from 2:00-10:00pm.
Rules & Important Information-
- Doors at 2:00pm
- All Ages.
- RSVP Required ~ Limit 2 tickets per person. All Guests must be present at time of check in.
- Entry is NOT guaranteed ~ First Come, First Served until we hit capacity.
- No Ins & Outs
- Drinks available for 21 + WITH VALID ID
- Indoor/Outdoor event, prepare accordingly
- There are no cash machines onsite so bring cash or credit cards to purchase food, merch and to tip your bartender
- ZERO TOLERANCE for drugs or underage drinking.
- By RSVP'ing you are agreeing to join the Vans and House of Vans mailing lists.
Yes / Oui / Si :
- Yes comfy clothes
- Yes bringing cash to purchase food, merch and to tip your bartender
- Yes fully-charged phone
- Yes cigarettes (outdoors, only) & lighter
- Yes disposable or point-n-shoot camera
- Yes sunglasses
- Yes hats
- Yes medium bags
- Yes good vibes
- Yes smiles
Hell Yeah:
- Hell yeah good times
- Hell yeah rad new memories
Available Onsite:
- Restrooms
- Fun
No / Nope / Nada:
- No Pro recording gear: Photo, video, audio (detachable lenses, tripods, commercial rigs, zoom lenses, boom mics, cables)
- No weapons or fireworks
- No chained or spiked accessories
- No skateboards / bikes / skates / scooters
- No outside food or beverages (including alcohol & candy)
- No food or liquid containers
- No selfie-sticks
- No large purses / bags or backpacks over 12"x12"
- No drugs or paraphernalia
- No laser pointers
- No glow sticks
- No stickers / flyers or handbills
- No spray paint / markers or pens
- No pets
- No in's and out's
- No handheld action video or camera devices (ex Go Pro)
- No flags
- No tents / chairs or blankets
- No strollers
- No whiners
- No bad mojo
- No narcissists
WAIVER AND RELEASE AND NAME/IMAGE/LIKENESS RELEASE FOR ATTENDEES OR PARTICIPANTS IN ACTIVITIES AT THE HOUSE OF VANS EVENT
In consideration of Vans, a division of VF Outdoor, Inc. (the "Company"), permitting me to attend and/or participate in the House of Vans Event ("Event"), by attending the Event, I hereby agree as follows:
PHYSICAL CONDITION AND SAFETY RULES
I represent that I am physically fit to attend the Event and/or other related activities in connection therewith (collectively, the "Activities"), and have not been advised otherwise by a medical practitioner. I agree to comply with all applicable safety rules for the Activities, and not to act recklessly or carelessly during the Activities in a manner that can jeopardize my safety or the safety of other participants in the Activities.
GENERAL RELEASE AND INDEMNIFICATION
I hereby acknowledge that my participation in the Activities is or may be inherently dangerous, and that my participation in the Activities may, in certain instances, involve risk to me of serious injury or even loss of life, and also involves the risk of severe economic and property loss and damage. I understand that all of the foregoing risks may result from the actions, negligence and/or failure to act of myself and others (including, but not limited to, other participants in the Activities) and the challenges of the Activities or equipment used (whether I use my own equipment or equipment provided by the Company). I also understand that there may be risks involved which are not known to me or to the "Releasees" (defined below) and may not be foreseen or reasonably foreseeable by myself or the Releasees at this time or at the time of the Activities in which I may participate. I represent and warrant that I am adequately prepared to participate in the Activities and that I will use proper equipment to participate in the Activities. I further acknowledge that I have responsibility for my own health, welfare and safety during my participation in the Activities, and I assume all risks with full knowledge thereof, and I hereby irrevocably, for myself, my executors, administrators, heirs, next of kin, successors, and assigns:
a. I hereby waive, release and discharge any and all claims that I now have or may, in the future, have against the Company and its parents, and its and their respective parents, subsidiaries, affiliates, successors, heirs, assigns, officers, directors, employees, independent contractors, agents or any one or more of them or their executors, administrators, heirs, next of kin, affiliates, licensees, successors, or assigns and other related parties (collectively, the "Releasees"), including, without limitation, any and all claims for damage or personal injury, whether or not caused by the negligence of any of them, arising out of my participation in the Activities, including claims resulting from the use of my equipment used during the Activities or equipment provided to me by the Company for the Activities and related activities, together with any costs, including, without limitation, attorneys' fees, that may be incurred as a result of such a claim, whether valid or not.
b. I hereby agree to indemnify, hold harmless and reimburse for future losses the Releasees and each of them, against any and all claims, demands or causes of action that I or any one or more of my or their executors, administrators, heirs, next of kin, successors, or assigns may assert or which are in any way connected with my participation in the Activities, and against any costs, including attorneys' fees, with respect thereto. Such indemnification shall extend to any claim that might be asserted by others against me that also names the Releasees.
This Waiver and Release ('Release") has been executed voluntarily and knowingly by me with the express intention of affecting the legal consequences of a General Release in accordance with state law.
MEDICAL TREATMENT
In connection with any injury I may sustain or illness or other medical conditions I may experience during my participation in the Activities, I hereby authorize and consent to any emergency first aid, medication, medical treatment or surgery deemed necessary by any medical personnel.
NAME, IMAGE, AND LIKENESS RELEASE
Further, in consideration for being permitted to participate in the Activities and/or attend the Event, I hereby irrevocably grant to Company a perpetual, worldwide, unlimited, fully paid-up right and license: (i) for use of any photograph(s), images, recordings, likeness of me, etc., and any related information or data, made or taken by Company at the Event ("Images") in promotional materials for the Event, exploitation of the Event, and other general advertising/promotional uses for the Vans brand and ancillary related uses ("Intended Use"), and I furthermore acknowledge and agree that Company may make any and all uses thereof as it may deem in its sole discretion in connection with the advertising and promotion of Vans and its brand image in any and all media channels whatsoever, including but not limited to the Intended Use; and (ii) use of my name and likeness in connection with the Images for the Intended Use. I agree that I have no right to any payment or accounting from Company in connection with the foregoing and that I will make no claims for compensation against Company, nor by virtue hereof do I acquire any right or interest in or to any of Company or any of its property including intellectual properties.
MISCELLANEOUS
This Release shall be binding upon, and shall inure to the benefit of, my heirs, executors, administrators, successors and assigns. This Release and the rights granted hereby may be freely assigned in whole or in part, by the Company but may not be assigned by me without the Company's prior written consent (at its sole discretion). I hereby certify and represent that I have read the foregoing, fully understand the meaning and effect thereof and am agreeing to the foregoing by attending the Event voluntarily. I understand that by attending the Event and entering into this Release, I have given up substantial rights. This Release shall be governed by the laws of the State of California applicable to agreements executed and to be fully performed therein (without regard to the conflict of laws provisions thereof). If I file a lawsuit against the Company or any of the Releasees, I agree to do so solely in the state of California, in Los Angeles County. I acknowledge that this Release constitutes the entire understanding between me, on the one hand, and the Company, on the other hand, regarding the subject matter hereof and supersedes all prior or contemporaneous understandings and that any modifications or amendments hereto must be in writing signed by the parties hereto. I agree that if any portion of this Release is found to be void or unenforceable, the remaining portions shall remain in full force and effect. I represent and warrant that I am at least 18 years of age and have the full legal capacity and legal authority to enter into this Release by attending the Event or participating in the Activities.
COVID-19 SAFETY POLICY
All attendees must comply with the House of Vans Safety Policy
We ask that you not attend if any of the following is true for you or anyone in your party:
Within 14 days before attending a HOV event you have tested positive, or been exposed to someone who has tested positive for, COVID-19;
Within 48 hours prior to attending a HOV event, you have experienced symptoms of COVID-19 (e.g., a fever of 100.4F or higher, cough, shortness of breath or difficulty breathing, chills, repeated shaking muscle pain/achiness, headache, sore throat, loss of taste or smell, nasal congestion, runny nose, vomiting, diarrhea, fatigue or any other symptoms associated with COVID-19 identified by the Centers for Disease Control and Prevention);
Within 14 days prior to attending a HOV event, you have travelled to any international territory identified by federal or applicable state or local governments as being subject to travel or quarantine advisories due to COVID-19.
Department of Public Health Guidance on COVID-19 at the event:
• Avoid physical contact with people outside of your party
• Wash your hands frequently with soap and water, or with hand sanitizer
• Do not attend a HOV event if you have symptoms of COVID-19 (fever, chills, cough, shortness of breath, fatigue, muscle or body aches, headache, new loss of taste or smell, sore throat, congestion or runny nose, nausea or vomiting, diarrhea), even if you have been vaccinated
• Do not attend a HOV event if you have tested positive for COVID-19 in the last 14 days. People who have tested positive for COVID-19 cannot attend the event
Department of Public Health Guidance on COVID-19 when you get home:
• Stay home and get tested if you develop any symptoms of COVID-19, even if you are fully vaccinated