Description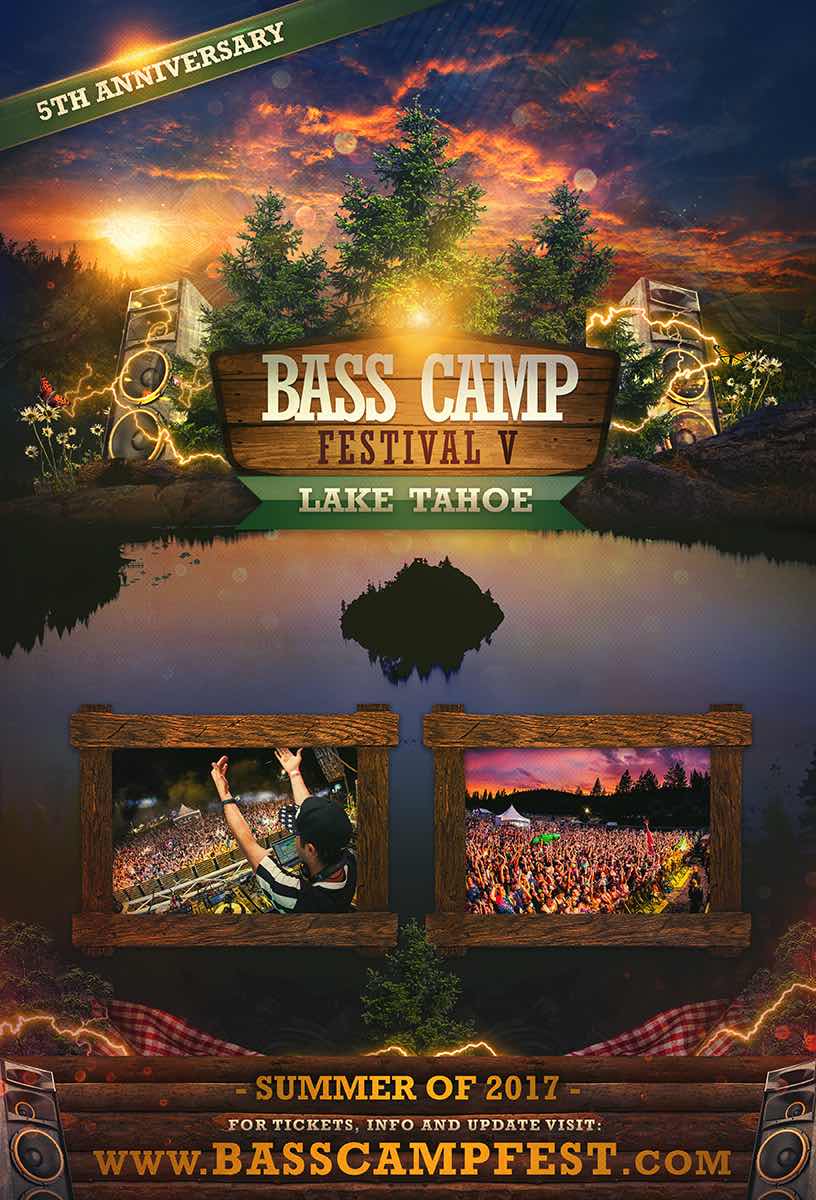 Bass Camp Festival V - It's our 5th Anniversary in Lake Tahoe! To celebrate this milestone, we are programming a full week of activities in South Lake Tahoe starting on Monday, July 17, and continuing all week until the festival is over on Sunday, July 23.

Your festival pass will get you into special Bass Camp parties programmed around the South Shore. From daytime beach parties, silent discos on the beach, nighttime DJ parties at clubs and cool venues for both all-ages and 21+ programmed at venues up and down the South Shore. Your festival pass will also give you special Bass Camp-Only discounts for area recreation activities, as well as meet-up's all week long. All these activities lead us up to the biggest Bass Camp Music Festival ever. 4-stages for 2017, and 2 days of festival headliners on Saturday/Sunday.

Past headliners for Bass Camp include Nero, Excision, Krewella Live, Zeds Dead, Kill The Noise, Datsik, Borgeous, Hermitude, Infected Mushroom, Adventure Club, Seven Lions, The M Machine, Kill Paris, Candyland, Arty, Figure, Protohype, Savoy Live, and many others over the years We are working on our biggest line-up yet for our 5th Year Anniversary Celebration Festival.

Super Early Bird Holiday Pre-Sale start now! These Tier 1 Super Early Bird prices will only be good through December 31, 2016 at midnight. Bass Camp Festival tickets make a great Holiday Gift idea.

Super Early Bird All-Week Festival Passes are just $79.00 (+tax/fees) for the entire week of programming including the 2-day festival Sat/Sun.

Tier 1 $79.00 (All-Ages) / $99.00 for VIP 21+ (500 cap)
Tier 2 $109.00 / $129.00 for VIP 21+
Tier 3 $129.00 / $149.00 for VIP 21+
Day of $149.00 /$169.00 for VIP 21+
Single Day tickets not available at this time.
For more information email us at bass@basscampfest.com
We can't wait to see all your happy smiley faces for Bass Camp Festival V - Summer 2017.
FAQ
For the safety of our guests, the following rules will be strictly enforced. Persons attempting to enter, or found in the venue, with prohibited items/contraband will be subject to ejection from the premises – tickets/passes will be forfeited. No lockers are available in this venue and prohibited items will not be stored at entrances; they must be discarded or secured elsewhere. All items left unattended outside the gates will be disposed of.
All bags are subject to search upon entry and are subject to additional searches within the venue. Approved bags must be carried when approaching the queue lines prior to entry into the venue. Prohibited bags include, coolers, briefcases, luggage, or any bag exceeding 16" x 16" x 18". All minors under the age of 13, must be accompanied by an adult. The event does NOT allow re-entry.
BASS CAMP FESTIVAL IV DO'S AND DON'T'S
DO BRING YOUR SMILES AND HAPPY FACES
DO BRING SUNSCREEN
DO CHARGE UP YOUR CELLPHONES BECAUSE WE ALL KNOW SNAPCHAT EATS US YOUR BATTERY
DO HYDRATE (BRING EMPTY CAMELBAKS BECAUSE WE HAVE FLOWING DRINKING WATER)
DO BRING SOME MONEY BECAUSE WE HAVE AWESOME MERCH, F&B TENTS, AND VENDOR VILLAGE
DO BRING ATM CARD, BECAUSE WE HAVE ATMS
DO BRING PARTNER IN CRIME (BUDDY UP)
DO CHILL OUT (RELAX ON THE GRASS, BRING A BLANKET)
And now the serious stuff:
ALL MINORS MUST BE ACCOMPANIED BY AN ADULT (13 and under)
NO IN & OUTS ALLOWED
RAIN OR SHINE EVENT
NO LARGE FRAMED BACKPACKS / ONLY REGULAR-SIZED UNFRAMED (ALL BACKPACKS AND PURSES WILL BE SEARCHED UPON ENTRY)
NO FOLDING CHAIRS OF ANY KIND ALLOWED IN THE VENUE
BLANKETS ARE OK IN DESIGNATED AREAS
NO AUDIO RECORDING EQUIPMENT
NO BICYCLES INSIDE VENUE
NO GLASS CONTAINERS OF ANY KIND
NO INSTRUMENTS AND LASER POINTERS
NO LAWN FURNATURE
NO CAMPING / TENTS
NO FIRES/FIREWORKS & EXPLOSIVES
NO ILLEGAL SUBSTANCES
NO ILLEGAL VENDING IS PERMITTED – NO UNAUTHORIZED/UNLICENSED VENDORS ALLOWED
NO OUTSIDE FOOD & BEVERAGE / COOLERS
NO PETS (Except animals that assist people with disabilities)
NO WEAPONS OF ANY KIND
NO PICNIC BASKETS
NO PROFESSIONAL STILL CAMERA EQUIPMENT
NO SKATEBOARDS, SCOOTERS, OR PERSONAL MOTORIZED VEHICLES
NO VIDEO EQUIPMENT
NO FLYERS OR MARKETING MATERIALS
All sales are final. No refunds or exchanges. Rain or Shine Event.