Bass Cabaret: Post-Playa Party

Saturday, September 29, 2012 at 9:00 PM (PDT)
Event Details
Bass Cabaret: The Burlesque and Bass Music Show | Saturday 9/29

PRESALE TICKETS: $8 http://basscabaret.eventbrite.com/
Rachman & Amy are proud to present Bass Cabaret: Post-Playa Party, the follow up to the much-acclaimed Bass Cabaret held in May. Dust off your playa clothes and put on your dapper best for captivating live performances, seductive bass lines, and warm welcoming smiles. 
----- Details, Details -----
WHERE: Milk Bar, 1840 Haight Street, San Francisco, CA
WHEN: Saturday, September 29th, doors open @ 9:00pm
WHAT: Bass, Burlesque, Party Favors, Popcorn, More…
PRESALE: $8 (purchase above)
COVER: $10 at the door, 21+
----- VIP Bottle Service -----
Come to the Cabaret for your birthday or special night out. Inquire within or e-mail amy@basscabaret.com
--- Costumes Encouraged ---
Door prizes for best costumes!
Themes: 20's and 30's prohibition era / sideshow / circus / bohemian / Burner?
----- Videos, Photos -----
OUR TRAILER: 
http://youtu.be/kv75nI6oMMk
LIVE PERFORMANCES: 
http://youtu.be/sJC20Zh_xKU
 | 
http://youtu.be/lAumXj5qfCc
PHOTOS: 
https://facebook.com/BassCabaret
----- Keeping Bass Sexy -----
FEATURING: Smooth bass beats from red-hot up and coming bay area producers MiHKAL and Dubvirus. Breathtaking burlesque performances by the sensational Mz. K, the playful Eva D'Luscious and the seductive Sasha Va Boom. Expect to see live painting, Klowns, and other such tomfoolery!
----- Our Sexy Performers -----

----- Mz. K (Burlesque Performer) -----
Mz. K has been performing all over the US, Canada and the Caribbean for over 20 years. She has been in the national touring companies of A Chorus Line, Jesus Christ Superstar and Cabaret. Since 2009 she has been emerging in the San Francisco Bay Area circuit and is here to stay. Mz. K can be seen doing her sassy, sexy solo act throughout the Bay Area in various cabaret and burlesque shows. You can also catch her knocking sox off with her group, F'risquè, making heads turn at the incredible Hubba Hubba Revue, causing mischief with The Klown Korps, and pretty much anywhere the world famous Vau De Vire Society makes an appearance.
http://kirstenegerding.com/mz-k/
------ Eva D'Luscious (Burlesque Performer) -----
A little bit sugar, a lotta bit spice Eva D's performances celebrate the strength, power, and sexiness of women who love themselves. She enjoys folding her varied dance studies in Samba, Middle Eastern, African, Flamenco, Jazz, Classical Ballet and Tap into her Burlesque performances. Eva D'Luscious performs around the San Francisco Bay Area solo and with her troupe, Verses of Seduction, and co-produces Cabaret de Caliente, a monthly dance and circus arts variety show inspired by historic Vaudeville and Burlesque.
http://www.evadluscious.com/
------ Sweet Sasha Va Boom (Burlesque Performer) -----
http://facebook.com/SashaVaBoom
----- Our Stud DJs -----

----- MiHKAL -----
Perfecting the art of audio alchemy, Oakland based dj/producer Michael Anderson Lapp aka MiHKAL is quite possibly one of the westcoast's best kept secrets. Notorious for his emotionally charged, melodically driven, bass heavy mixes, remixes & live performances, he provides dancers & listeners a sonic vehicle of transformation from which their own creative expressions can emerge. Equipped with an ear for euphonic pleasure & the ability to seamlessly weave, poly-tempo, multi-genre sound tapestries on the fly, MiHKAL can provide the soundtrack of the moment. The intention he puts behind every show shines through, providing a personable unique experience to every live performance.
Since his debut in 2008, he has been gaining wide recognition in the EDM community & has been seen performing alongside the likes of: MiM0SA, PANTyRAiD, Heyoka, Random Rab, Gladkill, ChrisB, ill-Esha, Sugarpill, Stephan Jacobs,Virtual Boy, Minnesota, NastyNasty, SexyTime, R/D, EPROM, Joker & MartyParty…With no signs of slowing down in 2012, catch him elevating dancefloors from SF to Burning Man...Pushing buttons & audio boundaries with sexy soundscapes, high energy performances & unconditional bass love.
http://facebook.com/MusiciHaveKnownAndLoved
http://soundcloud.com/mihkal
----- Dubvirus -----
A fast rising name on the West Coast electronic scene, Dubvirus has been increasingly turning heads and moving bodies with his own meticulously crafted blend of soaring melodies and floor shaking robot-crunk basslines. His productions are highlighted by evocative and diverse melodic arrangements that move people both physically and emotionally. In performance, he routinely enthralls audiences with a seamless blend of varying genres and rhythms, crafting a compelling and mesmerizing sonic experience that unites listeners and keeps them wanting more. 
In June 2012, Dubvirus started 'Resonate,' a monthly dance event in San Francisco focused on highlighting new talent in bass music. He has been producing for over a decade, and has received training in Music Production and Songwriting from Berklee School of Music. Dubvirus maintains and operates 'Dubvirus Audio,' which offers audio services including film scoring, mastering, mixing, and education.
http://facebook.com/dubvirusaudio
http://soundcloud.com/dubvirusaudio
http://dubvirus.com/
----- Scott Brio -----
http://www.facebook.com/scottbrio
http://scottbrio.com/
----- Rachman -----
Hailing from NJ, Rachman moved to the West Coast and fell in love with the music scene. He is resident DJ at Breathe, and co-created the web series "How to Be a DJ/Producer" with the goal of supporting up and coming electronic producers. Rachman and Amy co-produce Bass Cabaret: The Burlesque and Bass Music Show.
http://facebook.com/helloimrachman
http://soundcloud.com/mexicangreyhound
What are you waiting for? 
RSVP Now! - > 
http://basscabaret.eventbrite.com/
When & Where

The Milk Bar
1840 Haight St
San Francisco, CA 94117


Saturday, September 29, 2012 at 9:00 PM (PDT)
Add to my calendar
Organizer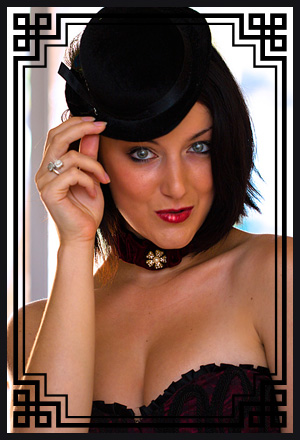 "Party Girl" Pearl has landed in the SF Bay Area to deliver you the ultimate nightlife experience. She is a burlesque artist and designer who has been throwing theme parties for as long as she can remember. She loves blending the world of Electronic Dance Music with the more traditional circus arts and variety shows for a truly memorable event that will have you and your friends talking for weeks -- maybe years -- to come.
Pearl has been attending Burning Man for several years, has driven across the United States four times, and is always up for an adventure -– like skiing on the Italian Alps, or taking an impromptu trip to Montreal, Canada in the dead of winter.
---
We consistently spoil our guests with a distinct blend of electronic dance music and performance art, incredible set designs, interactive activites, costume contests, and giveaways. You'll find a special attention to detail and a welcoming atmosphere -- we get to know many of our guests personally, so the event feels less like a night spent with strangers, and more like a party among friends.

Once you attend Bass Cabaret, your standards for partying will be forever raised.

We want to redefine what's possible in partying.

Come out and introduce yourself at our next event and let us know if we are doing our jobs ;-)