Bass Cabaret feat. Irie Cartel DJs

Tuesday, August 14, 2012 at 9:00 PM (PDT)
Ticket Information
This event is invite-only
You need an invitation to register for this event.
Contact the host
to find out more.
Event Details
Rachman & Amy are proud to present Bass Cabaret: Dubstep? Burlesque? Klowns? Yes!

FEATURING: Music by Irie Cartel (Ritual Dubstep) and Live Dance Performances

-----Who said bass couldn't be sexy? -----
WHERE: Mighty, 119 Utah St.
WHEN: Saturday, May 26th, 9:00pm - 3:00am 
WHAT: Dubstep, Burlesque, Klowns, Pole Acrobatics, and More…
COVER: $10 before 10pm (incl. presale) - $15 after
http://basscabaret.eventbrite.com/
-----Costumes encouraged-----
Think 20's and 30's prohibition era - > 
http://bit.ly/HNLj7y
-----Performances Start at 10:00pm-----
Our sensational, seductive performers will scorch the stage as your ears melt from the tasteful, bass-heavy tunes provided by California's tightest dubstep crew, 'Irie Cartel' (hosts of Ritual Dubstep Thursdays). 
Klown Korps will provide ongoing, exciting and naughty entertainment with their sensation station. 
Sound fun?
Then join us at Mighty, Saturday May 26th, for an evening that will stimulate all your senses… auditory, visual, and tactile alike ;)
21+ 
Performers
-Kara Nova (Pole Acrobat)--------------------
From the depths of the circus underground, performance artist Kara Nova specializes in pole acrobatics. She is recognized for her gravity-defiant stunts and extreme bendy-ness. An SF local, she performs regularly in the Bay with Hubba Hubba Revue, Vau de Vire Society, the Klown Korps, and @ Supperclub. Sometimes she travels, too. When she's not sparkling on stage, Kara spends much time training with the aspirations of becoming an elite ninja. 
http://karanovasf.com/
http://www.youtube.com/watch?feature=player_embedded&v=qrrHEKzjA20
-New Eccentrics (Mythic, Inter-active, Spontaneous)--------------------
The New Eccentrics are a performance and design collective operating since 2007. They are vaudevillians dedicated to creating theatre for a new century: Mythic, Inter-active, Spontaneous and Hilarious! 
They are currently in production for @acrosports presents Urban Myth. This original show with multi-generational talent is fun for the whole family featuring Urban arts and traditional Circus Arts.
https://www.facebook.com/events/133122206822704/
-Eva D'Luscious (Burlesque) --------------------
A little bit sugar, a lotta bit spice Eva D's performances celebrate the strength, power, and sexiness of women who love themselves. She enjoys folding her varied dance studies in Samba, Middle Eastern, African, Flamenco, Jazz, Classical Ballet and Tap into her Burlesque performances. Eva D'Luscious performs around the San Francisco Bay Area solo and with her troupe, Verses of Seduction, and co-produces Cabaret de Caliente, a monthly dance and circus arts variety show inspired by historic 
http://www.evadluscious.com/
- Jodi Waseca (Fusion Belly Dancer) --------------------
Jodi Waseca is an international teacher and performer of contemporary belly dance, fire performance, and vaudevillian
shenanigans. Not your stereotypical bellydancer, as you can find her crewing with the Lifesize Mouestrap as a dancing mouse that also builds stuff, shakin it in all sorts of capacities with Beats Antique, making you cry out with joy at Hubba Hubba Revue...
http://www.jodiwaseca.com/
Irie Cartel 
- MR KITT ( Irie Cartel/Ritual Dubstep/ SF) ---------------------------
Mr.Kitt has been Rocking crowds the past few years. Born into a British family from Gloucestershire,the first generation American has been influenced by his Britishcousins and friends who introduced him to early British Electro,2-Step, Garage, Grime & Dubstep. While spending most of his youthcanvassing the west coast as a predominant graffiti artist, Mr.Kittwas drawn to the dark, ominous sounds of bass, inspiring him to putdown the spray paint and pick up the tables after an encounter withthe law.
http://www.soundcloud.com/mr-kitt
http://www.facebook.com/Mr.Hauler
-NEBAKANEZA (Irie Cartel/Ritual Dubstep/ SF)--------------------
Nebakaneza is nuts! I think he is certifiably insane, but he seems to find his therapy by slamming Dubstep through the speakers. Don't be surprised if he interacts with the crowd and throws random things at you in the name of fun and mayhem. He has an eerie yet sexy style that covers many aspects of Dubstep from the face melting wobbles, to the strip your clothes off sultry sounds. He is a DJ that likes to use his mixer and turntables as instruments, so you will see him playing with the music like a DJ should. He looks scary, but is a friendly soul. Don't be afraid to run up to him during a set and show him some love. He may just give you a bear hug and show you love back.
http://soundcloud.com/nebakaneza
http://www.facebook.com/NEBAKANEZA
- JOHNNY 5 (Irie Cartel/Ritual Dubstep/ Oakland) --------------------------
An Oakland, CA resident, by way of Chicago, Johnny5 cut his teeth as an MC and hip-hop producer in both cities, sharing stages with the likes of independent legends Typical Cats as well as major acts including Raekwon and Devin the Dude. With an arsenal of forthcoming original tunes, a vast collection of rare and exclusive tracks, and uncanny ability to read a crowd's mood, Johnny5 continues to spread his unique blend of filthy bass music styles to dance floors and festivals around the West Coast and worldwide! He recently he started Irie Cartel recordings with many new releases to come for 2012 representing the dirtier dub sounds to come out of SF and the California Bay Area.
http://www.soundcloud.com/Johnny5dubstep
http://www.facebook.com/JohnnyFiveDubstep
http://www.facebook.com/IrieCartel
http://www.soundcloud.com/iriecartelrecordings/
- Lameezy 900 (Undead DJs / Mexican Greyhound / Brooklyn) ---------------------------
Hailing from NYC, Lameezy 900 is a recent Bay Area transplant. You can expect some East Coast classics thrown in the mix, in the form of his acclaimed remixes and edits.
During his former career as a hip-hop producer, Lameezy worked with the likes of Flavor Flav, Ron Artest, and a multitude of other C-list celebrities. After his first year at Burning Man in 2010, he quickly recognized the electronic scene as his new crack house.
Lameezy 900 will be playing Moombahton, Ghetto Funk, and Glitch.
http://www.facebook.com/UnDeadDJs
http://soundcloud.com/UnDeadAgenda
http://soundcloud.com/BrooklynBeets
Organizer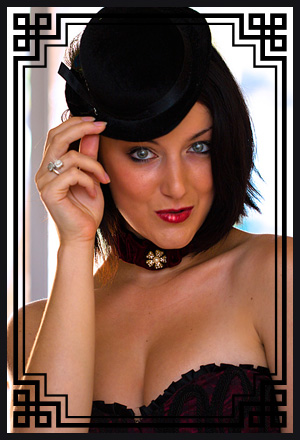 "Party Girl" Pearl has landed in the SF Bay Area to deliver you the ultimate nightlife experience. She is a burlesque artist and designer who has been throwing theme parties for as long as she can remember. She loves blending the world of Electronic Dance Music with the more traditional circus arts and variety shows for a truly memorable event that will have you and your friends talking for weeks -- maybe years -- to come.
Pearl has been attending Burning Man for several years, has driven across the United States four times, and is always up for an adventure -– like skiing on the Italian Alps, or taking an impromptu trip to Montreal, Canada in the dead of winter.
---
We consistently spoil our guests with a distinct blend of electronic dance music and performance art, incredible set designs, interactive activites, costume contests, and giveaways. You'll find a special attention to detail and a welcoming atmosphere -- we get to know many of our guests personally, so the event feels less like a night spent with strangers, and more like a party among friends.

Once you attend Bass Cabaret, your standards for partying will be forever raised.

We want to redefine what's possible in partying.

Come out and introduce yourself at our next event and let us know if we are doing our jobs ;-)