BASS CABARET: Bonnie & Clyde at 1015 FOLSOM

Friday, January 30, 2015 at 10:00 PM

-

Saturday, January 31, 2015 at 3:00 AM (PST)
Event Details
Bass Cabaret & 1015 Folsom present
BASS CABARET: Bonnie & Clyde

LAURA LOW
JILLIAN ANN
BALANCE // SUB-DOCTA
KNOWA-LUSION // RICHARD XAVIER

Friday January 30th / 10pm - 3am / 21+
Bonnie & Clyde captured the hearts of a nation with their anti-authoritarian antics and a passionate love affair that was ultimately riddled with bullets.
What captivates us so deeply about their tragic and triumphant legend?
Perhaps because we, too,  seek the joy of defying convention and of rising up jubilantly to embrace our own destinies — no matter the cost. That, friends, is true passion.
This January 30th, Bass Cabaret invites you to conjure up the rollicking 1930's in a sexy, sultry and absolutely prohibited celebration of love, passion and the outlaw ethos. Join us in full dress attire for what is sure to be one of the best nights 1015 has ever seen.
3rd Annual Bonnie & Clyde Theme Party
Variety Show & Dance Party Experience
Imagine yourself walking into a 
Sexy 1930s Wild Western Saloon
 where everyone is dancing to underground bass music and money is being thrown everywhere.  There are cops and robbers, but you don't mind being frisked and quickly make friends with the jailbirds.   You soon find yourself in the 
Swingin' 1920s Speakeasy
 where Gatsby lookalikes are only the beginning of the decadence you see.  Everything is dripping in gold, and live performers grace the stage in front of you with feathers, silks, and lots of glam.  You make your way to the bar in the back and ask the bartender in a low voice for a Sidecar, but put it down quickly when you spot the "laws."  Unfortunately they've already noticed you, and before you can duck behind the DJ booth they drag you on stage for the costume contest… and all of that before 
midnight
!
It's all possible at Bonnie & Clyde, the 3rd annual Prohibition-era costume party produced by Bass Cabaret.  Perfect as a date night (from first dates to 7th-year sweethearts) or a group outing, this immersive theme party will provide an atmosphere for you to connect with others both on and off the dance floor while experiencing the radiance of the best bass music that makes you want to make love to the speakers as well as your partner in crime.
Your Prohibition-Era Entertainers:
★ Hunny Bunny (contortion)
★ Lula Applebruise (burlesque, lyra)
★ Eva Rose (fan dance burlesque)
★ Nina Sawant & partner (synchronized silks)
★ Leah Marie (pole acrobatics)
★ Reshi & Liddy Freeman (swing / acrobatics)
★ Katrina Kroetch & partner (swing)
★ Dalyte and Aisha of the Tipsy Pixies (stilts)
★ Sara Dawn (aerial silks)
★ Audra Horridge, Gitsie Glitter and Pearl's Party Girls (go-go / sirens)

Master of Ceremonies: Jim Sweeney of Hubba Hubba Revue. Roving characters including Ariyana La Fey.  Set design by Christian, Brie and Artie.
Would you be shocked if I changed into something more comfortable?
- Jean Harlow in Hell's Angels, 1930
$100 CASH PRIZE for best Bonnie & Clyde couple (can be any gender). Come dressed to impress in your dapper best — 1920s Gatsby or 1930s Bonnie & Clyde — and enter to compete for the title!!
While a costume is not technically required, we do think it adds to the fun for everyone.  Character suggestions include: a flapper or dapper sheik / 20's or 30's prohibition era darling / scandalous lingerie-clad hottie / cowgirl or cowboy running from the "laws" / jazz age zoot suit-wearing gangster / jailbird / smoking hot mobster / gold-toned raver / bohemian Burner. Your outfit may be formal, semi-formal, or sophisticated casual.  Check out 
photos from our previous events
 and our Pinterest board for inspiration.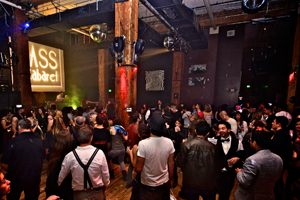 About Bass Cabaret
Bass Cabaret is a seductive burlesque and variety show set to booty-shaking bass music, bringing the electronic music and the performing arts scenes together in a beautiful collision of the best talent and people from the Bay area and beyond. This unique costume party and show features theatrical and interactive elements weaved into a dance party, and each one features a distinct theme from an era past — or perhaps one imagined. More than just a party, Bass Cabaret supports the ideals of Burning Man, rave culture, sex positivity, and women's empowerment.
So, what are you waiting for? 

---

Tickets: After purchasing a ticket through Eventbrite, you will receive an email with your tickets attached as a PDF. Please PRINT out your tickets and bring them with you on the night of the event. By purchasing a ticket you agree to receive periodic email communication from 1015 Folsom.

All events are 21+ | Please bring valid identification | NO REFUNDS
 
When & Where

1015 Folsom
1015 Folsom St
San Francisco, CA 94103


Friday, January 30, 2015 at 10:00 PM

-

Saturday, January 31, 2015 at 3:00 AM (PST)
Add to my calendar