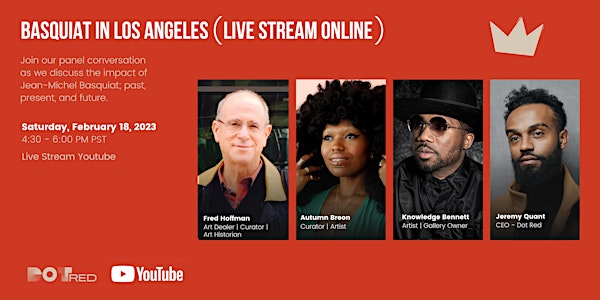 Basquiat In Los Angeles - Online
Dot Red presents Basquiat In Los Angeles. Join us as we discuss the impact of Jean-Michel Basquiat in the past, present and future
Date and time
Saturday, February 18 · 4:30 - 6pm PST
About this event
Join us in our Online panel discussion titled "Basquiat In Los Angeles" this February18th, from 4:30p-6:00p PST in a YouTube Live Stream.
We are thrilled to present this event and provide a platform for our incredible panelists during Black History Month and an exciting week of L.A. Art Show, Frieze and Felix Art Fair. Basquiat In Los Angeles is about the artist's time spent in the city, the artworks he produced while there and the footprint he left on the city's art scene. Attendees will learn about the influence that the legendary Jean-Michel Basquiat had on a city like Los Angeles, that has become one of the major epicenters of Art in the U.S.
We will have Curator and Art Historian Fred Hoffman as part of our panel, who had a close friendship and work relationship. He will provide us with a historical perspective of Basquiat's time in Los Angeles and the artist's major accomplishments in the city. Alongside him, two well-recognized artists, Autumn Breon and Knowledge Bennet sharing their unique experiences of Basquiat's ground-breaking career and work, that influenced decisions that they've made in their own careers with L.A. 's changing art climate. Dot Red's CEO, Jeremy Quant will be moderating the panel.
Having some of his most recognized works produced while living in L.A., it is important to reflect upon the impact that the artist had, and the footprint he left on the city's contemporary art history. Was Basquiat's passing through L.A. an event that significantly influenced the city's art scene? How has it affected other artists, curators and art enthusiasts in their own artistic trajectory?
Dot Red is a Virtual and Hybrid Art events company, advocating for art education and supporting diverse artists and galleries. We curate Visual Art conversations and exhibitions, pioneering fresh relationships between artists, galleries, and diverse collectors while revolutionizing the business of art through virtual and live conversations and storytelling.