Basketball Camp Combine (online special)

Thursday, July 24, 2014 at 12:00 PM (PDT)
Event Details
    -----------------------------------------------------------------------------------------------------------------------------------------                                                                 Basketball Camp Combine                                                            -----------------------------------------------------------------------------------------------------------------
If a whole week of your favorite sport sounds like the best summer ever
you need to come to The Basketball Camp Combine!
practice-makes-perfect
Combine Basketball Camp 2014
Basketball camp combine: The combine camp is basketball training taught by professionals; teaching developmental basketball skills and drills via practice work-stations; while the coaches are mentoring the athletes performance. Once the camp sessions are over the coaches are invited to the draft day where the athlete has the chance to be picked up from the camp and to be placed on a team.
BBA (hard work pays off)
Led by professional coaches, campers can focus each week on one sport and learn its skills and fundamentals in a fun-filled environment. Boys and girls entering are grouped by age and enjoy games and activities at just the right level of challenge. Bronx Basketball Camp is for all boys and girls who want to improve their skill set in the game of basketball. The camp will focus on the fundamentals of the game while providing positive feedback to all campers. The camp will also include a fun-filled environment where kids can enjoy the game of basketball while learning various ways to work on their game throughout the year. Players will be placed into age groups and then may be moved according to playing experience, size and skill level. Each group will have a coach from the BBA staff.
Dates: July 7th – August 29th early/ late drop-off is available (added fees of 38.00 per hour) extra day fee 100.00
Times: 10:00am – 2:00pm ., Monday – Thursday
Session one:    07-07-2014 to 07-10-2014
Session two:    07-14-2014 to 07-17-2014
Session three:  07-21-2014 to 07-24-2014
Session four:    07-28-2014 to 08-31-2014
Session five:     08-4-2014 to 08-7-2014
Session six:     08-11-2014 to 08-14-2014
Session seven: 08-18-2014 to 08-21-2014
Session eight:  08-25-2014 to 08-28-2014
Scholarship and exposure league opportunities available (please call for details)
Cost: $165 per session 
Please Note:
• Registration is online 
• Please choose carefully as registration is not refundable (BBA credit only).
• All programs are subject to sufficient enrollment and limited space.
The BBA Combine is the standard for elite middle school talent camps. This is an invite only camp and we take players on a first respond basis. We may invite 150 players but will only take the first 100 to register and pay. On average we have 6-7 All American committee voters watching these kids before they ever play a single high school game. The best of the best are trained and tested here in New York.


• 1hr meal break around 12:30pm (must bring lunch) 

• Education Sessions by Knowledgeable Guest Speakers

• Team and Individual Evaluation

• 4 Stations with Two (2) Coaches Per Station

• Staff of Former Professional and College Players

• Competitive League Entry and Exposure Games

• Evaluation Services + College Scholarship rewards opportunities
-----------------------------------------------------------------------------------------------------------------------------------------                                                                      Tournament                                                                ----------------------------------------------------------------------------------------------------------------------------------------
*****BBA special seasonal programs and packages below *****
          Exposure League Tournament Entry (online special now 75.00) the games will be held at                                       158th street & Brook Avenue (Flynn Playground) Bronx, NY 10451                                         held Saturday or Sunday at the above location (as the tournament moves forward we will have extra games on wednesdays mid-afternoon and after 5pm hours for parents to view)
-----------------------------------------------------------------------------------------------------------------------
-----------------------------------------------------------------------------------------------
                                                                membership rewards                                                       ---------------------------------------------------------------------------------------------------
1 year membership $100.00 (up to 20-40%) off our seasonal league entry and special events
                         -----------------------------------------------------------------------------------------------                      half-time event
-------------------------------------------------------------------------------------------------
register for our annual Half-time event games at Barclays Center for kids 8-12 years old   (half-time event will be announced november 2014)
100.00 per child up to 12 kids
 --------------------------------------------------------------------------------------------------------
--------------------------------------------------------------------------------------------------
 ask about our college scholarship opportunities
When & Where

Flynn Playground
Brook Ave
Bronx, NY 10451


Thursday, July 24, 2014 at 12:00 PM (PDT)
Add to my calendar
Organizer
Bronx Basketball Association
Call for details 347.608.2494
Mr. Banks, Nat Mr.Banksnat@gmail.com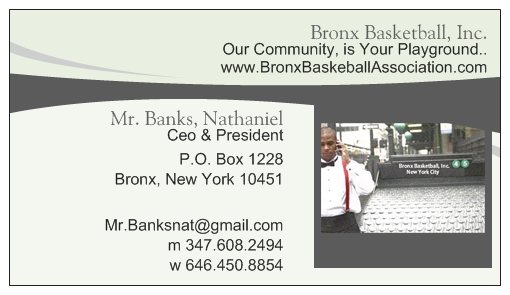 Basketball Camp Combine (online special)