BASIL & BECKY EDUCATIONAL FOUNDATION (BBEEF) 2ND ANNUAL AWARDS LUNCHEON
JOIN US FOR THIS HISTORIC ONCE-IN-A-LIFETIME EVENT
About this event
THE BASIL AND BECKY EDUCATIONAL FOUNDATION makes history and culture exciting and relevant to present and future generations who deserve to know on whose shoulders they stand. We recognize that African American history and culture are part of a larger, interconnected experience in the diaspora. We "fill in the gaps" of history and "relocate" these experiences from the "margins to the main pages" of global human consciousness. Visit our website here.
Join AFRICAN AMERICAN WOMEN OF WORLD WAR II: Army Nurse Corps -- Rosie the Riveters --  Women's Army Corps -- at our 2nd Annual Awards Luncheon.
Featured Speaker:
Rev. Dr. Lorina Marshall-Blake, President, Independence Blue Cross Foundation.
Honorees:
Vivian Bailey, 102, Women's Army Corps (WAC)
Nancy Leftenant Colon, 99, Army Nurse Corps
Alma Sartor, 93, Philadelphia Navy Yard, "Rosie the Riveter"
Florence Thompson, 93, Sun Shipbuilding, "Rosie the Riveter"
Invited Speakers include:
Former First Lady Michele Obama: Video Greeting
Senator Robert P. Casey, Jr (D-PA) - Sponsor Rosie the Riveter Congressional Gold Medal Act (S 892)
Col. Edna W. Cummings (USA Ret.)
Rep. Mary Scanlon: (D-PA 5th District)
Encore Documentary Screening: Invisible Warriors: African American Women in World War II.
FOR VENDOR INFO, PLEASE CONTACT GREGORY COOKE AT 215-925-2439 or bbeef25@gmail.com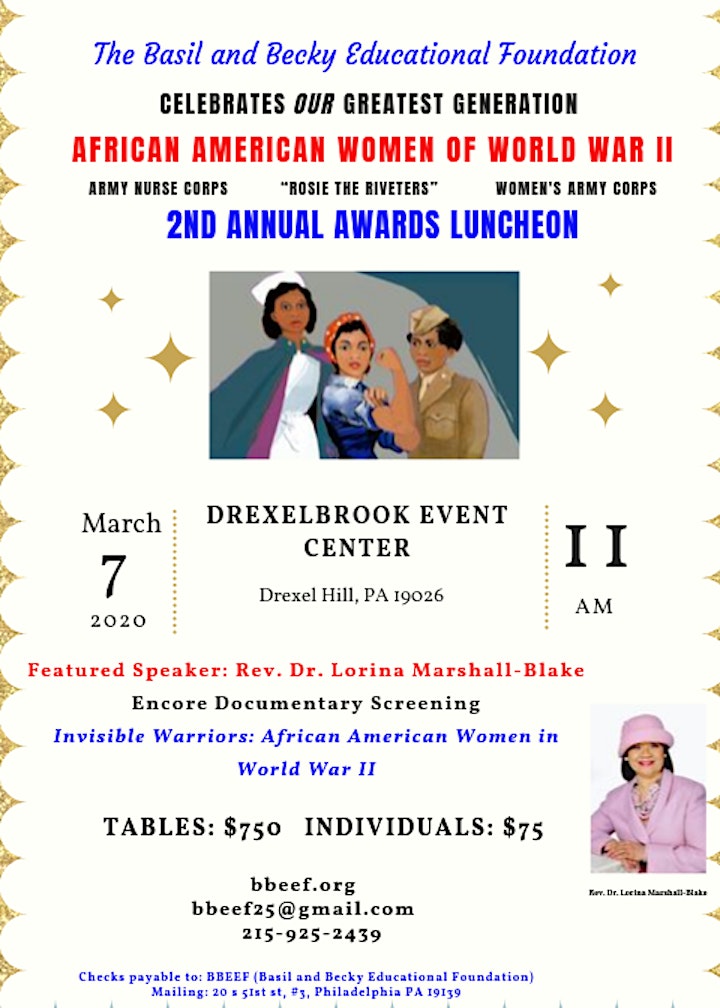 Organizer of BASIL & BECKY EDUCATIONAL FOUNDATION (BBEEF) 2ND ANNUAL AWARDS LUNCHEON