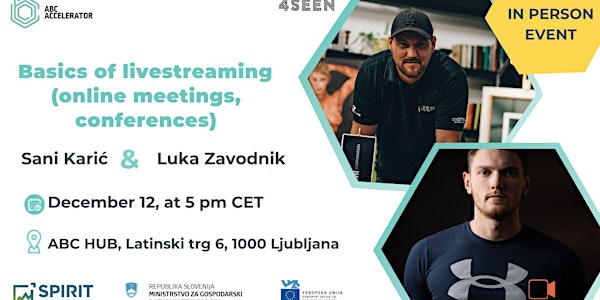 Basics of livestreaming (Online meetings, conferences)
Basics of livestreaming (online meetings, conferences)
When and where
Location
ABC HUB LJUBLJANA Latinski trg 6 1000 Ljubljana Slovenia
About this event
How to start livestreaming? Equipment and software knowledge.
How to create an outstanding Zoom/Teams presentation? Lighting, sound, graphics.
Livestreaming became one of the most important things in all businesses. Zoom/teams meetings became standard in business communication and to stand out from the crowd, there are simple yet effective accessories that help you achieve a professional look.
Livestreaming is also very important in presenting companies at different shows and conferences. To be able to livestream events of your company, you should know how to set up basic production with things you already have or with minimum investment.
WHY SHOULD YOU ATTEND?
You want someone to show you exactly how it's done.
You want a course tailored to your equipment and needs.
You want to learn in the quickest way possible.
You want to livestream and do not want to watch tons of videos on Youtube.
You want a valuable skill that you can benefit from long into the future.
ABOUT SANI KARIĆ:
FOUNDER OF 4SEEN VIDEO PRODUCTION,
LECTURER,
PRODUCER,
BROADCAST ADVISOR
ABOUT LUKA ZAVODNIK:
FOUNDER OF STRIMAJ.COM, A LIVESTREAM PRODUCTION COMPANY
VIDEOGRAPHER AND PHOTOGRAPHER
BROADCAST DIRECTOR
BROADCAST ENGINEER
MAIN OUTCOMES:
Livestreaming became a very important part of the business world nowadays. And yes, ZOOM/Teams is also livestreaming.
You will:
Learn how to make your Zoom call look professional and graphic.
Learn how to set up a livestream, (from connecting the camera to a PC, to streaming on Youtube).
Learn How to use free software that is also used by professionals (OBS Studio)
WHO IS IT FOR?
Organizations & businesses who want to start livestreaming or want to develop skills to make production more efficient and look professional.
JOIN US ON DECEMBER, 12 AT 5 PM!
The workshop will be held in person in ABC HUB, Latinski trg 6
We have 30 spots for these workshops.The application process applies. Join us today by applying via Eventbrite and let's do this ✌️
❗ This workshop will be held in English and is FREE of charge! Hurry, the number of tickets is limited. It will be hosted in person in ABC HUB.
ABOUT ABC ACCELERATOR
ABC Accelerator is an award-winning acceleration program for startups and scaleups designed to grow your business and increase your valuation, combined with a 25k€ convertible loan and an option for 100k-250k€ investment.
THIS EVENT IS SUPPORTED BY:

The event is co-financed by the Republic of Slovenia and the European Union from the European Regional Development Fund. The operation is being carried out under the "Operational Program for the Implementation of the European Cohesion Policy 2014-2020", priority axis: "3 Dynamic and competitive entrepreneurship for green economic growth".www.eu-skladi.si