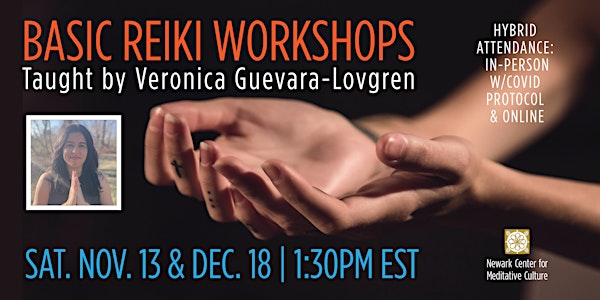 Multiple dates
BASIC REIKI WORKSHOPS: In-Person & Online
These workshops are an opportunity to intentionally gather, share, and ask questions on Reiki and to receive a Reiki healing experience.
By Newark Center for Meditative Culture
When and where
Date and time
November 13, 2021 · 1:30pm - December 18, 2021 · 2:30pm EST
Location
Newark Center for Meditative Culture 2 Park Place Newark, NJ 07102
Refund Policy
Contact the organizer to request a refund.
About this event
IN-PERSON ATTENDANCE IS SOLD OUT!
Hybrid Attendance: Choose In-Person (limited distanced seating) or Online
Adults: $10 suggested Youths under 18: Free, but must be registered and accompanied by adult. Babies/toddlers: Must be held by an adult and do not need to be registered. (We ask that you go to the adjoining room if they fuss and watch by Zoom with your device/head set until they quiet down.)
Guest Teacher Veronica Guevara-Lovgren
Workshop 1: Intro to Reiki and Healing Experience | Sat. Nov. 13th | 1:30 to 2:30pm EST | Participants will learn what Reiki is, its benefits, and receive a Reiki healing experience. Reiki is an energetic healing technique that promotes overall well-being and peace.  
Workshop 2: History of Reiki and Healing Experience | Sat. Dec. 18th | 1:30 to 2:30pm EST | Participants will learn the history of Reiki, current research on Reiki's efficacy, and receive a Reiki healing experience. Learn about those who developed the system of Reiki we practice today, and about the research being done to support Reiki's effectiveness as an integrative therapy that supports mind-body-spirit wellness. 
While some students might be seated for the experience, most prefer to lie down. Note that there will be no direct contact or closeness during the experience in order to maintain our social distancing. Dress comfortably and in layers for sitting and a little mindful movement. If you wish, bring/prepare a yoga mat, blanket, and water. Feel free to have paper and pen available to document your experience. If attending in-person, yoga mats and blankets will be provided.
These are stand-alone workshops so you can choose to attend just one or both.
Covid Protocols For IN-PERSON attendance, Covid-19 Vaccination Card or proof of a current negative Covid-19 Test is required to enter each workshop. Masks are required and sanitizing of hands at entry. Limit 10 students seated a range of 4 to 6 feet apart. An Air Purifier will be turned on before and during class. | For ONLINE attendance: There are no restrictions.
Facility Concerns: The Center is on the second floor unfortunately with no elevator or wheelchair access.
••••••••••••••••
Teacher Bio-note
Veronica Guevara-Lovgren is a Jivamukti yoga instructor and Level II Reiki practitioner. She has also received training in Restorative Yoga and Yoga Nidra through Ohana Rising Yoga School. Although Veronica always had an interest in yoga and Reiki, she did not always have the means to access the practice. This led Veronica to create Tres Ositos Yoga as a way to share healing modalities with those interested at no cost or by donation to fundraise for local nonprofits and organizations supporting human and non-human communities. Veronica is also the Assistant Dean of Arts and Humanities at Ocean County College.
••••••••••••••••
A donation-based program of Newark Center for Meditative Culture, a New Jersey 501c3 non-profit organization. Net proceeds for these workshops will go to support our free programming.
About the organizer
NCMC is a diverse urban meditation community serving the Greater Newark Area NJ