Description
Event Time:
Basic MIG Welding is a one-session class: students are only required to sign up for one session (select a date from the drop down menu in the ticket information box above), but are encouraged to take the class more than once if they seek additional supervised practice.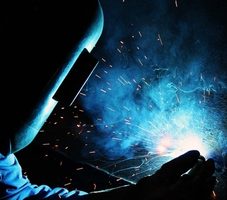 Description:
MIG Welding (Gas Metal Arc Welding) is one of the easiest processes of joining two pieces of metal together. Basic MIG Welding is a class for the very beginner to the intermediate that's a little rusty on it. In this class you will learn proper set up of the machine, safety in welding and welding techniques/welding joints. At the end of this class you will understand how to produce a sound MIG weld on mild steel and also how to operate some of welding support equipment (grinders and chop saw).
Class Goals:
For students new to welding or looking to refresh rusty skills, you'll leave this one-night class with the information you need to operate a MIG welder at Artisan's Asylum and create a sound weld.
Prerequisites:
No experience required. Students must be at least 18 years old.
Materials Provided:
Assorted Metals will be provided for practice.
What to Bring:
Students should dress appropriately for welding shop work, in long pants/shirts of 100% natural materials (jeans and flannel shirts are good choices), close toed shoes (boots preferably). Students can bring their own welding helmets, jackets, gloves, and safety glasses if they have them (available at Home Depot, Amazon.com, Harbor Freight, Cyberweld, Lincoln Electric, Northern Tool, etc.).
Instructor Biography:
Brendan McGuirl has been a flour miller, landscaper, stone fabricator, mechanic, welder, graduate student, construction project manager, and demolition derby champion. He presently splits his time between managing multi-million dollar construction projects, restoring antique cars, and making world-class pie crust.