Description
Mig Welding Basics
Wednesdays October 4, 11, 18, & 25

6:00 to 9:00 pm

$250 - Members
$280 - Non-Members
$10 - Materials fee
Metal Inert Gas(MIG) welding is the process of using electricity and argon gas to weld two pieces of metal together. It is the simplest and easiest form of welding, making it accessible for the average person to learn.
This workshop that takes place over the course of four 3-hour sessions will teach you how to use and understand the components of the MIG welding machine. You will learn how to weld steel and aluminum, how to cut metal on the horizontal and vertical bandsaws, and get an overview of the metal fabrication shop and the variety of metalworking tools in it. You will work on a project over the course of the 4 week session.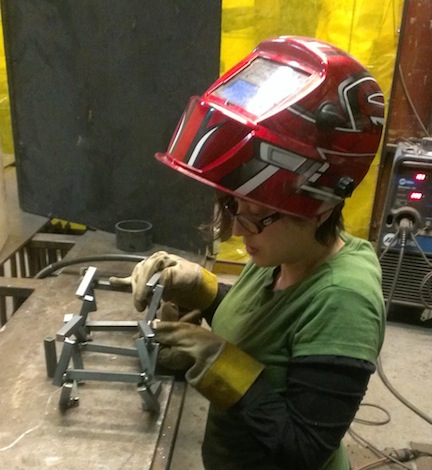 PREREQUISITES:
This is open to anyone 18 and up. No welding experience necessary. Please wear hair tied back, closed toe boots, jeans, and long-sleeved shirts.
MATERIALS:
Your materials fee pays for steel & gas. We provide safety protection including welding masks, goggles, leather jackets and gloves.
REFUNDS/CANCELLATIONS:
Class size limited to 6 students. Minimum 4 students. We reserve the right to cancel the class if we do not have the minimum amount of students. If we cancel, we will refund you in full and notify you.
You may cancel and get a full refund up to three days before the class. After that, refunds are contingent on us being able to fill your seat. Under no circumstances do we offer refunds to individuals who cancel on the same day. This ruins the party for everyone.
If you are not a member and would like to be, check out the membership page at makerspace.nyc to see your membership options. You may sign up here for a 1 yr Basic Membership/Member ticket combo but other levels of membership require signing up in person at the makerspace. Basic membership entitles you to a 25% discount on most classes and free passes to special events.