BASIC ENGLISH COMMUNCIATIONS (SBL/HRDF Claimable)
Actions and Detail Panel
BASIC ENGLISH COMMUNCIATIONS (SBL/HRDF Claimable)
Thu, Dec 15, 2016, 9:00 AM – Fri, Dec 16, 2016, 5:00 PM MYT
Description
This course helps build your confidence in using English in various communication situations, both for formal and informal occasions. The ability to speak English effortlessly in a variety of situations requires good pronunciations, a wide range of vocabulary, grammatical accuracy ad also knowledge of what to say to whom and when. In short, proficiency in speaking includes knowledge not only of the language but also social and cultural norms, and the ability to respond appropriately in a variety of situations.
COURSE OBJECTIVES
Develop your basic English language skills.
Improve your English grammar.
Apply your language and communication skills in a business context.
Develop the ability to speak English effectively and with confidence
Express fluently using appropriate grammar, vocabulary and pronunciation
Organise ideas logically and to present them appropriately in various communication situations
Enhance your written communication skills
COURSE OUTLINES
Module 1: Communication Skills Matters
Presentation Skill - Using your voice professionally accompanied by proper gestures

Listening Skill – effectively listening for understanding & communicating

Writing Skills – communicate effectively through proper writing
Module 2: Different Vocabularies/Choice of Words in a Sentence Construction
Nouns

Pronouns

Verbs

Adjectives

Adverbs

Prepositions

Conjunctions

Interjections

Punctuation

Filler Words

Commonly Confused Words and Phrases
Module 3: Conversing Correctly
Conversing in Different Situations

Telephone Handling

Greeting Others

Discussions /Meetings

Methods to improve your English conversation
Module 4: Listening
Types of Listening

Barriers to Listening

Misconceptions about Listening
Module 5: Writing Properly
Writing under Specific Circumstances

Writing simple emails

Writing Memos/Messages

Writing reports
Module 6: Be a Better Communicator! 
English Matters

Practice Makes Perfect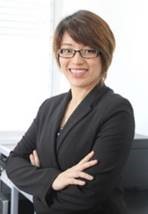 Trainer's Profile
ONG JO LENE
ICSA, HRDF CERTIFIED TRAINER (TTT/15367)
Jo Lene is an experienced and certified trainer with excellent communication, facilitation and team-building skills. She is able to design and facilitate a variety of training programs for multiple purposes. She is very comfortable working with groups of all sizes.
Jo Lene have had 17 years of working experiences across several multi-national companies in different areas/fields of expertise namely corporate secretarial, procurement, sourcing & imports & exports compliance within the country. Throughout her work career, she had progressed and expanded her role of expertise across different positions such as Company Secretarial Assistant, Buyer, Procurement Specialist, Regional Commodity Manager & Global Trade Compliance Specialist. In her latest role as a Global Trade Compliance Specialist, Jo Lene is responsible to enforce Intel's worldwide policy on Export Licensing & Custom compliance with Intel stakeholders & logistic business partners on site, leveraging on her strong government advocacy with the Government namely, Ministry of International Trade & Industry (MITI), Royal Malaysia Customs (RMC) and Malaysia Investment & Development Authority (MIDA). This had helped further her interpersonal communication skills on the professional front.
Jo Lene also have great passion in training and investing time in people's development. During her tenure with Intel, Jo Lene had coached a handful of new hires in Intel under the Intel Buddy program which had built her people development skills. She volunteered her work hours to conduct in-house soft skills trainings such as Presentation Skills, Effective Interpersonal Communication Skills and Train-the-Trainer for Facilitation for Results. Her breath of experiences in the corporate world had enabled Jo Lene to engage better with her training audience and also provide effective coaching or advice to her trainees.
Jo Lene graduated with a Professional Degree in Chartered Secretaries and Administrators (ICSA) after completion of her Diploma in Commerce (Business Management). She is also an active member of Toastmasters International and had earned herself a reputation within the club through her aspiration to be a Distinguished Toastmaster (DTM).
She recently was also certified by Human Resource Development Fund (HRDF) to be a public trainer and she will be very instrumental and valued added to the learning & development front.
Please RSVP :
Carriera Academy Sdn Bhd (Training & Recruitment)
Jo Yee
017 - 267 3653
joyee@carriera.com.my


Steph
012 - 687 8539
steph@carriera.com.my
No. 35-1, Jalan Ramin 1, Taman Botanic, 41200 Klang, Selangor, Malaysia.