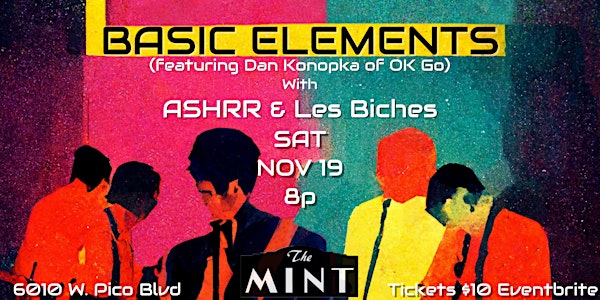 BASIC ELEMENTS with ASHRR & LES BICHES Live at The Mint
A night of new wave music with BASIC ELEMENTS (featuring Dan Konopka of OKGo) + the space-disco grooves of ASHRR & live debut of LES BICHES
When and where
Location
The Mint 6010 West Pico Boulevard Los Angeles, CA 90035
Refund Policy
Contact the organizer to request a refund.
Eventbrite's fee is nonrefundable.
About this event
Produced by Ed Buller (Suede, Pulp, Psychedelic Furs) BASIC ELEMENTS is a new wave band out of Phoenix that resurrected itself in Los Angeles after a 30 year hiatus. The group originally made a name for itself in Arizona's unheralded '80s post-punk scene playing alongside local legends like Gin Blossoms, Gentlemen Afterdark, Caterwaul and opening up for touring acts like Gene Loves Jezebel and Bolshoi... all while maintaining an average age of just 17-years old. After decades apart pursuing individual careers as a sculptor, TV producer, video game attorney and real estate agent, the band recently reunited to play the songs they wrote in the '80s and the result is pure, uncut 1985. They are celebrating the release of their latest single, "Shakin'" and its accompanying video by VMA winning director, Chris Applebaum (Rihanna, Fountains of Wayne, Britney Spears, et al). The band is joined tonight by OK Go dummer, Dan Konopka, and they will also debut their first new songs in over 30 years.
ASHRR's after-hours party soundtrack is a meditative Californian concoction of silky space disco transmissions destined to be danced to from dusk 'til dawn. Whether commemorating the end of an era or celebrating new beginnings, ASHRR's beautifully surreal world is one of transition where waves of darkness and light intertwine for a danceable dreamlike state. Deep vocal harmonies illuminate a reflective euphoria and 70's grooves pay homage to nocturnal gatherings of bygone eras, cocktails at sundown, or the wild times of late-night loft parties in slow motion. Their songs are doused in the gauzy washed out chill of what it might be like for a hyper-real fantasy to become reality and evoke the mellow feeling of holding on to an almost-perfect moment with a significant other and never wanting to let go. With the meaning of ASHRR in a constant state of flux, this band proves everything happens for a reason. As the natural orbit of these changelings catches a Pacific breeze and they hurtle ever closer towards a destination unknown, only one thing is certain; ASHRR's unstoppable rise is written in the stars.
LES BICHES (pronounced "lay-beesh") is an LA-based collective with an impressive pedigree. Comprised of Twinstars' Keith Joyner and Chris Candelaria, along with Dusty Starr and Kevin Pinnt, the band coalesced in the wake of attempted reunions of Revolux and Chihuahua, two 1990s-era LA bands. While the challenge of reanimating those long-disbanded groups proved insurmountable, there emerged a desire among some of the members to consolidate forces and carry the momentum forward. Les Biches' music is more wistful than brooding, traversing a variety of genres and tempos, but amidst all the stylistic evolutions, there remains an implied through line: the idea of music as its own sacred space - and that may be the purest form of transcendence there is. In addition to the groups noted above, members of Les Biches have also played in The The, Caterwaul and Seven Simons. Tonight is their live debut and they will premiere some new songs off their forthcoming release.