The University of Massachusetts EMS/DM Division is proud to offer Basic Disaster Life Support (BDLS)
About this Event
The BDLS Course is a competency-based, awareness-level course that introduces concepts and principles to prepare health professionals for the management of injuries and illnesses caused by disasters and public health emergencies. The course builds upon, applies, and reinforces information presented in the Core Disaster Life Support® (CDLS®) Course. This includes application of core principles and concepts in emergency management and public health as introduced in the CDLS Course through the PRE-DISASTER Paradigm and DISASTER Paradigm. The primary focus of the BDLS Course is incorporation of an "all-hazards" approach to mass casualty management and population-based care across a broad range of disasters. Measures to ensure and enhance health Workforce readiness are emphasized throughout the course. This includes a consistent and scalable approach to workforce protection and casualty management, as Well as mass casualty triage and fatality management. The BDLS Course is designed to engage participants through interactive scenarios and group discussion. The overarching aim of the BDLS Course is to teach a common lexicon, vocabulary, and knowledge base for the clinical and public health management of all ages and populations affected by disasters and public health emergencies, through a standardized curriculum that is practical and relevant for all health professionals. Knowledge gained in the course can then be reinforced and expanded through application in the Advanced Disaster Life Support" (ADLS®) Course.
Course Information:
What disaster courses are being offered this year by UMass EMS/Disaster Medicine? We are offering 4 disaster medicine courses in 2019. We will be offering BDLS (January 2019); BDLS (March 2019); ADLS (May 2019); Predeployment course (July 2019)
Where is the course being held? The day-long course will be held at University of Massachusetts Medical campus.
Who can take these courses? Anyone who is interested in disasters. We have hospital administrators take these courses!
Prerequisites: There is no prerequisite for BDLS courses. You must have taken BDLS to take ADLS and the Predeployment courses.
Textbooks: We are not offering any textbooks this year. You will receive an e-book version of the textbook with your registration. Textbooks can be purchased directly from the NDLSF website.
BDLS course costs = $100. However, we have partnered with Charles River Analytics to do research during the course and if completed, you receive a $100 gift card. Read below for more information.
What do I do if I am interested in taking the course? Follow the links in Eventbrite to sign-up and pay for the course. There are 2 tickets: 1 is for you to pay and register for the course and the other is sign-up for the research study. If you think you are interested in the study, please sign-up now and you can always change your mind later, without any issue. You will then receive an email with information about how to register with NDLSF. You need to register with NDLSF to get the BDLS card, certificate and e-book.
Pre-course work: Once you have registered, you can download the e-book and take the pre-test. You'll need to take the pre-test to get CME credits.
On-site registration: Unfortunately, we cannot offer any on-site registration
CME/CEU/OEMS credits offered: Yes. There is 7.5 hours of CME for MDs, PA, RN and pre-hospital providers
Course cancellation: If you need to cancel for any reason, you will need to contact us within 48 hours of the course to get a full refund.
For any questions: contact andrew.milsten@umassmemorial.org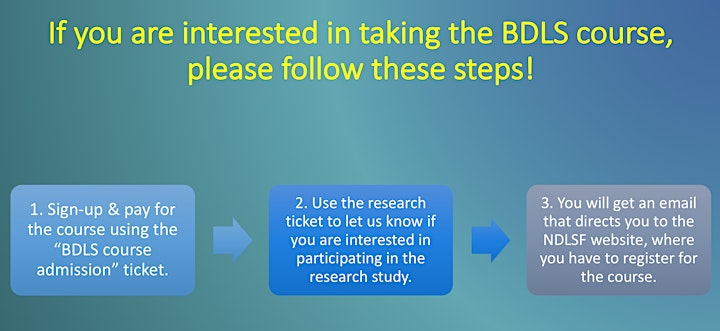 Course cost and study information
BDLS course costs = $100. However, we have partnered with Charles River Analytics to do research during the course and if completed, you receive a $100 gift card. Read below for more information.
If you complete a course and the associated research protocol you will receive a $100 gift card per day of classes as compensation. So, BDLS = $100 gift card. ADLS and Pre-deployment = $200.
UMass Disaster Medicine is offering a variety of disaster preparedness courses in the coming months and we would like you to participate.
We are offering Basic Disaster Life Support, Advanced Disaster Life Support, and a newly created Pre-deployment Preparation course.
Each course builds on knowledge from the previous courses and together are intended to prepare a disaster responder for deployment to an austere environment.
In addition to the course offering, we are working with a partner, Charles River Analytics, to perform research on "cognitive loading" and concentration during these courses.
Your participation in this study is completely voluntary and your decision to participate or not will not reflect on your ability to complete any UMass Disaster Medicine course, nor will it any way influence your evaluations, professional, or educational progress outside of these courses.
Information Fact Sheet about the study we are conductingTitle: Monitoring, Extracting, and Decoding Indicators of Cognitive workload (MEDICTM)IRB Docket Number: H00015218Investigator: John Broach, MDSponsors: Charles River Analytics, U.S. Department of Defense
A. We are inviting you to participate in a research study.
B.Taking part in this research is voluntary and completely up to you. You are free to say no or to leave the research at any time. There will be no penalties or changes in the educational experience that is delivered to you based on your decision to participate. If you are a UMMHC employee or a UMass Medical School student, participation in this study will in no way influence your evaluations, professional or educational progress.
C. The purpose of this study is to see if an external monitor is capable of monitoring your level of concentration by assessing the amount of oxygen in the blood.
D. If you agree to participate, you will be asked to wear such a sensor and it will record data about your heart rate, movement, and blood oxygen levels while you are attending the disaster course that you have signed up for. You will also be asked to wear a set of sensors contained in an arm band. These sensors include a galvanic skin response measurement device, an accelerometer, and a pulse oximeter. The purpose of these devices is to measure your level of physical activity and your movement. The sensors will be applied after a brief demonstration by the study staff. It will be obvious to others that you are participating in the study as you will be wearing devices on your head and arm. You will also be asked to fill out a brief questionnaire before and after the course. Other than the brief introduction to the equipment, wearing the sensor, and the questionnaires, your experience in this class will not be different than if you choose not to participate. We expect that the combined time to complete the questionnaires will be less than 20 minutes.
E. There is risk that you may feel uncomfortable answering survey questions or interacting with staff. You may also feel some discomfort from wearing the head mounted sensor and the arm band sensor. If this occurs, you can either choose not to participate in any part of the study that makes you uncomfortable or you can withdraw from the study entirely. There is a risk that someone could get access to the information about you and misuse it. To help protect your personal information, we will store your name separately from your research data and code your research data with a subject ID. We will keep paper documents under lock and key. We will keep electronic information on secure computer networks. These computer networks have many levels of protection.
We will take several steps to reduce risks:
1. Study staff will be available to address any concerns participants may have before enrolling in or while participating in this research.
2. All participants must provide informed consent before enrolling in this study.
3. Study staff will remind participants that their participation is voluntary and they may withdraw from this research at any time without any penalty.
4. The MEDIC sensors are opt-in technologies. Participants who have concerns about the technology may turn off or remove the biosensor(s) at any time.
5. Sensor data is de-identified to protect participant privacy.
6. Adverse events will be reported to the IRB according to the requirements for prompt reporting and continuing reviews.
7. Encourage routine hand hygiene for subject participates.
8. Clean all devices with alcohol pads between monitoring sessions.
F. There is no limit on the length of time we will store your data. We will destroy the list that links your identity to your data as soon as all questionnaire data is linked to your sensor data (this will be a period of less than 3 months).
G. It is possible that we might use the research data in other future research. We may also share data with researchers and companies that are not part of UMMS. In these cases, we will not share your name or other information that identifies you directly, and we will not come back to you to ask you for your consent.
H. We will not be able to destroy any research data that has is created.Data that we have already used will stay in the study database and cannot be removed in order to maintain the integrity of the research. However, you can ask us to destroy any information that identifies you so that no one can tell the data belonged to you. The research data (linked to you or with identifiers removed) may be used to make new products, tests, or findings. These may have value and may be developed and owned by the study staff, University of Massachusetts, and/or others, including for-profit companies. If this happens, there are no plans to share any financial gain with you.
I. Your participation may help us to gain knowledge about how sensors used in this study work in a training environment and how disaster training affects the way people focus their attention on various tasks. However, there is no direct benefit to you.
J. As a thank you for your participation, you will receive a $100 gift card for each course during which you participate. In addition, if you register for all three courses (BDLS, ADLS, and the UMass Pre-deployment course) and agree to participate in the study during all three, you may be eligible to attend for free.While Federal employees and members of the military are welcome to participate in this study, not is made of the fact that Federal Employees and Active Duty military are not excluded from participating in the study but due to federal regulations, may not receive any payment or non-monetary compensation for participation in a research study unless they are off duty or on leave during the time they are participating in the protocol. For this reason, active duty military and federal employees will not be eligible for the above benefits unless on leave or off duty during their participation.If you receive more than $600 in a calendar year from being in research studies at UMass Worcester, UMass Worcester may report this to the IRS and send you a 1099 form for tax purposes.
K. It will be several years before the results of the research are available. If you would like us to try to reach you at that time, please let us know. We will ask for your contact information.
L. We will try to limit access to your personal information to people who have a need to review this information. We cannot promise complete privacy. The University of Massachusetts Medical School, including the Institutional Review Board (IRB) and research and compliance offices, may see your information. Our collaborators at Charles River Analytics (the study sponsor), The Department of Defense (a funding agency) and the Food and Drug Administration (as overseer of medical devices), as well as the US Army Medical Research and Materiel Command will also have access to the data over secure computer servers.
M. The University of Massachusetts Medical School does not provide funds for the treatment of research-related injury. If you are injured as a result of your participation in this study, treatment will be provided. You or your insurance carrier will be expected to pay the costs of this treatment. No additional financial compensation for injury or lost wages is available. You do not give up any of your legal rights by participating in this research.n) If you have any questions, concerns, or complaints, or think that the research has hurt you, you can talk to the Principal Investigator at john.broach@umassmemorial.org. This research has been reviewed and approved by an Institutional Review Board. You can reach them at (508) 856-4261 or irb@umassmed.edu if you would prefer to speak with someone not associated with the study or have questions about your rights as a research subject.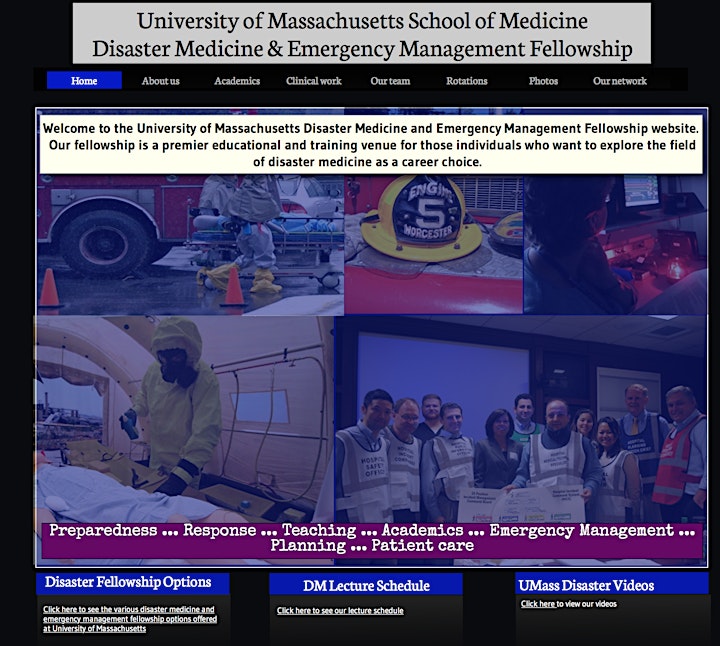 Please visit our website for more information about Disaster Medicine at UMass. We have a weekly lecture series that is open the public. Visit: www.umassdisastermedicinefellowship.com
You can also follow us on Facebook or Twitter for Disaster Medicine pearls, educational information and literature reviews.