Join Bashiri Asad & The Lady, as he presents The Babyface Suite. A intimate night of Babyface classics, featuring Saxappeal.
About this event
Smoke, Cask, and Barrel happily present Bashiri Asad & The Lady, as he performs The Babyface Suite, featuring Saxappeal. This will be an intimate night of the classic Babyface songs that we all love!
So grab a great cigar from the Cosmo Knights walk-in humidor, pair it with your favorite spirit, and let Bashiri and Saxappeal make your night one to remember.
THESE ARE SMOKING SHOWS!!! There is only LIMITED GROUP SEATING OF 4 available! No larger parties. No pass outs!
ONLY TOBACCO PRODUCTS WILL BE SMOKED! Failure to observe this will result in IMMEDIATE removal from the premises!
WHAT ARE WE DOING TO KEEP YOU SAFE
The Cosmo Knights main lounge room will be limited to maximum capacity of 65 guests.
We have installed towel dispensers, soap & hand sanitizing stations in our restrooms.
We have installed additional sanitizing stations throughout the lounge.
All staff are required to wear masks throughout their shift.
Reduced and flexible floor plan will be updated to allow social distancing.
Disinfecting of all surfaces before and after every show.
WHAT WE ASK OF YOU TO KEEP EVERYONE SAFE
•• An order further defines the face covering requirement to a full mandate at all times while inside of our venue. The only time in which you are able to remove your face covering is when you are sitting at a table, seated in your chairs or momentarily while eating or drinking.
PLEASE FOLLOW SIGNS WHEN ARRIVING
If you are feeling ill or have a fever. Please stay home!
When you get up to move around the venue, you must have your face covering on at all times.
LIABILITY WAIVER & DISCLAIMER
All ticket holders, guests and artists agree to enter at their own risk. This disclaimer is present throughout the ticket purchase process as well as posted in several locations inside the venue.
Your health and safety are our top priority. The Cosmo Knights Social Club will endeavor to comply with state and local orders while following CDC and Indiana Board of Health guidelines on social distancing, face coverings, and capacity. You acknowledge and agree that The Cosmo Knights Social Club shall not be responsible for any illness to persons of your household, family, social circle or yourself, and any corresponding damage, claim, or expense, of any kind, that you, your family members, your household or social circle may experience or incur in connection with contracting COVID-19 as a result of visiting The Cosmo Knights Social Club.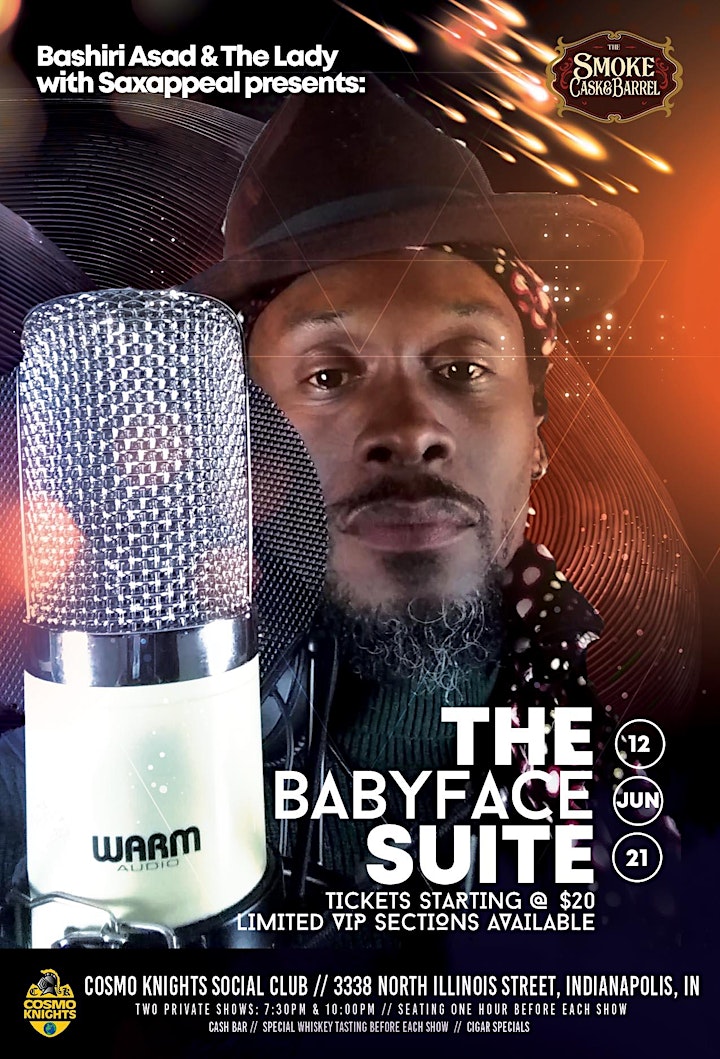 Organizer of Bashiri Asad & The Lady feat. Saxappeal: The Babyface Suite