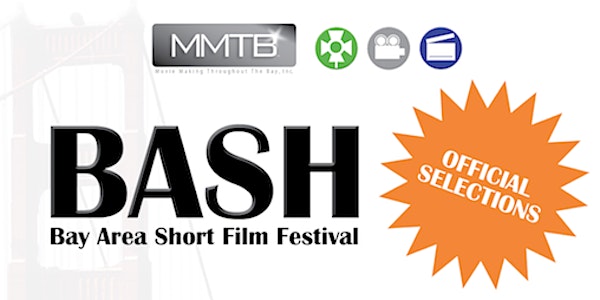 BASH- Bay Area Short Film Festival 2018
When and where
Location
Roxie Theater 3117 16th Street San Francisco, CA 94103
Description
JULY 8th!!!! BASH- Bay Area Short Films Festival is ON!!! 21 Short Films!!!

BASH - Bay Area Shorts Film Festival taking place at the ROXIE Historical Theater in San Francisco, CA- Each year, the Annual BASH Film Festival will continue its tradition of showcasing a diverse sampling of BAY AREA made shorts and mini features, award-winning directors along with amateurs breaking in the industry and blowing everyone away. From EPIC Comedies, Horrors to Serious Dramas, our selections are eclectic and all across the board!!!!

Audience choice winners will continue to screen a few more times throughout the year at our various festivals throughout the Bay and receive a Trophy at a future screening!

-Theatre Doors OPEN AT 9:30 AM

-Films Start 9:45 AM and everything is over by 2:00 PM

Line Up - - 21 Short Films!!!

Title / Directed by..
106°F / Alexey Samsonov
A Hole Where My Hole Was /Brian Benson
AGAPE/ Kat Pongtornpipat
Bitten / Sarah K Reimers
D for DOCs / Joe Sikoryak
Dirty Thirty / Sean Wells
Down Lonely Avenue / Dexx Broughton
Finding Oasis / Shelly Russell
Five More Minutes / Kevin Wen-Kuan Huang
Kairos / Anthony Aguiar
Labeled / Mindie
Man's Best Friend / Natasha Blass, Alex Mallonee
Memento Mori / Stuart Creque
Sharks / Rick Petty
Siempre Más Alto / Natalie Greene
Step by Step / Thi Doan
The Ones Who Survived / Artak Parsian
The Surge / Dominic Stewart, John Hyatt
The Tolls / Liz Anderson
The Untold Story of Romeo & Juliet / John Tso
Wandering Eyes-Short / Makan Talayeh
------
$12 for Entrance Fee to Screening
--------------
ABOUT THE LOCATION-
http://www.roxie.com/about/
MISSION
The Roxie Theater, a San Francisco landmark in the Mission District, brings people together to meet and connect through distinctive cinematic experiences. Guided by the passionate belief that engaging with a movie doesn't end with the credits, we invite filmmakers, curators, entertainers and educators to interact with our audiences. We provide inspiration and opportunity for the next generation, and serve as a forum for the independent film community reflecting the spirit of the diverse Bay Area population. We are a 501(c)(3) nonprofit organization.
LOCATION
3117 16th Street, between Valencia and Guerrero. We are accessible from the 22, 14, 49 and 33 bus lines, two blocks west of the 16th Street BART stop, and three blocks east of the J-Church line.
--------
EVENT IS Brought to you by
MMTB- Movie Making Throughout the Bay.
More on MMTB- http://www.MovieMakingBay.com/

FOR ALL MMTB EVENTS LISTINGS GO TO -