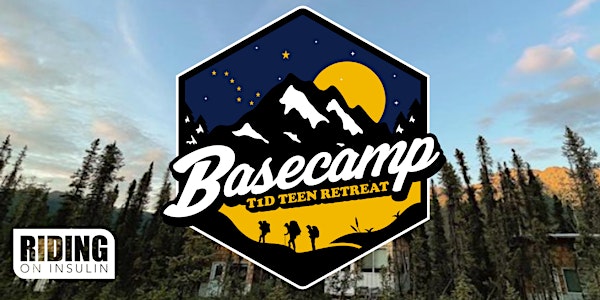 Basecamp - Alaska T1D Teen Retreat by Riding On Insulin
Wilderness adventure retreat for teenagers ages 15-18*, including crossing the Arctic Circle & mighty Yukon River, hiking & much more!
When and where
Location
Arctic Hive Wiseman Road Wiseman, AK 99701
Refund Policy
Refunds up to 30 days before event
About this event
63 miles above The Arctic Circle, from the comfort of Arctic Hive — an off-grid retreat center — we're hosting a once-in-a-lifetime opportunity for teens living with Type 1 diabetes: Six Days spent experiencing the vast wilderness of the Brooks Range with a small group of fellow T1Ds.
During our 7 days and 6 nights together, teens will be challenged (in the best way!) by outdoor adventures like hiking, cultural immersions in the village of Wiseman, Alaska and various daily activities.
Here at Arctic Hive, we have space for 8-11 campers between our gorgeous cabins, complete with mountain views in every direction, and plenty of windows to see the wild landscape! Each cabin will be home to 2-3 retreat attendees. All cabins are off-grid, heated with Swedish Nordic oil stoves that keep the space warm and cozy , with solar/battery powered lighting with inverter batteries for charging small devices.
Due to the remote wilderness where we're located, we will have supervision from Riding On Insulin Medical Director Carla Cox, PhD, RD, CDCES, who has more than 40 years experience with Type 1 diabetes and is an avid outdoors enthusiast.
The use of Arctic Hive as our basecamp will be 100% donated to Riding On Insulin so all fundraising dollars above the hard costs per participant will go directly to the organization.
WHAT'S INCLUDED:
Ground Transport from Fairbanks to Wiseman
Ground Transport back from Wiseman to Fairbanks
Lodging for 6 nights, including lodging in Fairbanks on the first night, and 5 nights stay at Arctic Hive.
Dynamic programming and adventure, including but not limited to the drive tour up and back including crossing the Arctic Circle and the mighty Yukon River, hikes, crafts, northern lights tour, mingling with Wiseman village folk, yoga, and more!
Three delicious meals a day, light refreshments and all the clean mountain water you could ever want, including coffee/tea/snacks throughout the trip. (Dietary needs can be accommodated!)
All the juice boxes and fruit snacks you can imagine!
All linens, duvet, a hand towel.
Baby wipes and dry shampoo + 1-2 showers during your stay*. Depending on the temperatures, outdoor showers with on-demand hot water will *likely* be available, but not on a daily basis.
WHAT'S NOT INCLUDED:
Flight cost from your location to Fairbanks, Alaska
Any travel costs and baggage fees prior to your arrival in Fairbanks.
Travel Insurance, should your trip be interrupted for reasons beyond your control... we HIGHLY recommend getting some insurance. ​
The cost associated with you negative COVID-19 test dated within 3 days of your arrival into Fairbanks (more info on this above, under COVID protocol)​
Any souvenirs bought along the way
Any gear you may need for this trip that you don't already have! We'll send you an extensive packing list, and we'll help make sure you're arriving prepared. There are mosquitos in Alaska in July, so we'll make sure you're prepared accordingly!
REGISTRATION HAS TWO PARTS
Deposit: $750
Everyone is required to pay a nonrefundable $750 deposit to save your teen's spot at the retreat. Because this is your registration fee that covers the hard costs of the event, it is not tax deductible.
Fundraising Requirement: $2,750
This retreat is a wilderness adventure for teens ages 15-18 (18-year-olds must still be in high school) in the T1D community — but at its core, it's a fundraiser to support subsidies for kids with T1D attending Riding On Insulin ski, snowboard and surf camps. You can pay this tax-deductible amount up front, or fundraise the amount on our easy-to-use online fundraising platform! Once you register, you'll receive an email from our team along with a link to create your fundraising page. Tax deductible donations can be taken electronically, or you can send checks to the Riding On Insulin mailbox to be added manually to your total.
All monies must be raised by June 1, 2023. Whatever difference is left at that time, we will charge your initial card used for your deposit to complete your registration fee.
OR
You have the option to pay $3,500 at registration and opt out of fundraising
If you fundraise $1,000 more (total of $4,500), your teen's flight into Fairbanks will be included.
Common Basecamp FAQs
What if my teen is already 18?
We ARE allowing high school or graduating seniors age 18. The teen must have just graduated and can not be older than 18 or are 18 and still in high school. We apologize for confusion.
What kind of gear is needed?
We'll be sending out the official gear list to all registered participants in February. In the meantime we have told attendees to focus on these main pieces of gear:
Sturdy hiking boot with good ankle support
Supportive backpack, ideally with chest and hip straps if possible
Wool layers + both lightweight jacket and pants for possible rain
If searching for used gear, we recommend checking Play It Again Sports or other used gear stores as well as REI garage sales. Also, many local universities have rental gear through their outdoor or recreational departments.
Cabin Arrangement/sleeping quarters:
Campers are placed in cabins based upon their specified gender. There will not be any coed cabins. If you have specific questions about this, please don't hesitate to reach out.
What kind of activities will we be doing?
Alaska is known as the Last Frontier. But the Arctic is the actual Last Frontier for all of mankind. The wilderness is unlike anything else on the planet, especially with what people know in places like Colorado, Montana, PNW, etc. Each day we will go through a decision planning format based on weather and happenings to the arctic ecology. Exploration will be based on numerous factors from not only weather but also on how people's blood sugars are fluctuating. The land changes daily due to melting permafrost and access through tundra.
Will we be able to dogsled?
Unfortunately no. While there is always a chance of snow in the arctic regardless of the month we expect there to be no snow at Arctic Hive as it is the end of summer. However, you will be spending a great deal of time around the working sled dogs that live here. Some will join us on hikes as well. Arctic Hive currently has 11 working dogs - possibly more by the time camp occurs if any have new puppies.
What about blood sugar management and diabetes care?
It's almost guaranteed that our blood sugars will be thrown for a loop doing a variety of strenuous (but fun!) activities – especially with the midnight sun. Carla Cox is our Medical Director for the trip and will be here for the entirety of the trip for every activity.
What about fishing?
Arctic ecology doesn't provide great fishing on our part of the Koyukuk River. There is more nutrition in the river much further down stream, so we don't have any fishing planned.
What about rock climbing?
Most of the rock for rock climbing is extremely hazardous due to permafrost and crumbling failing rock. This is more of an expedition camp of exploring the Brooks Range with arctic ecology and traditional ecological knowledge (TEK) playing into this incredibly vast and relentless wilderness.
What is Arctic Hive?
Mollie (ROI's Director of Operations), and Sean (ROI's Founder/Director) live high above the Arctic Circle in northern Alaska, in one of the most pristine and beautiful remote mountain ranges in the world: the Brooks Range. Arctic Hive sits between Gates of the Arctic National Park and Arctic National Wildlife Refuge, a mile outside of the subsistence village of Wiseman (population: 12). Everything is completely off-grid and self-sufficient. There is no road into Arctic Hive from the village of Wiseman, so we hike in all our gear and provisions (approximately one mile). The nearest grocery store is 275 miles to the south or roughly 7 hours away down in the city of Fairbanks.
Starting with raw land and no road access, Sean and Mollie hauled and hiked in lumber, nails, and screws, and over the years managed to hand-craft a stunning facility that includes four guest cabins, a lodge with glass ceiling for northern light viewing, a geodesic educational dome and yoga studio, plus their actual home where they live full time! They've hosted the US Military Special Forces' Green Berets for arctic training, Outside Magazine, US News and World Report, and a plethora of adventurous people from around the world for various retreats ranging from dog mushing expeditions with Iditarod racers, to yoga retreats and trainings, to family getaways.
How does the fundraising work?
Basecamp is a unique expedition camp for older teens that doubles as an annual fundraiser for Riding On Insulin. After a $750 deposit, each camper will have time to fundraise $2,750 each. Many nonprofits have galas, walks, and golf outings to help support their program budgets. Because we've always been a traveling camp, hosting programs in nearly 30 states since 2010, we haven't had a "home base" or "basecamp" in which to offer our own version of these types of events.
Basecamp will be our annual "gala" — but instead of fancy dresses and tuxedos, we will be hiking pristine wilderness, trading stories around campfires under the midnight sun, exploring the Brook Range and much more. Because the venue is donated 100%, fundraising dollars will pay for the minimal costs of the program (transportation, food and fuel) and the majority goes right back into our 1-day ski, snowboard and surf camps. In this way, Riding On Insulin can depend less on fluctuating funding in the future, and focus more on what we do best: Empowering those impacted with T1D.