Description
DATE: Friday, March 23rd and Saturday, March 24th, 2018
TIME: 8 a.m. - 4 p.m.
After two very successful 2017 Broadband events, we are kicking off the BASE 2018 series by holding an all new public workshop adjacent to the Broadband Forum annual meeting in Athens, Greece.
Our 2017 events focused on exciting innovation in the Broadband Access infrastructure. Our first 2018 summit adds an extra dimension that will dramatically impact what Broadband means to the hundreds of millions of subscribers. What's extra? We are covering virtualized Broadband, cloud services, the managed home, 5G wireless/wireline convergence, and the latest in high speed access technology. These will enable providers to deliver a new generation of differentiated services..
The goal is to provide attendees with a whole new perspective on what is being created for Broadband providers and users alike, delivered by the leaders in the industry, many of whom are active participants in the Forum's work. The workshop sessions are shown below.
Location: Athenaeum InterContinental Athens
Date: Friday March 23rd & Saturday March 24th, 2018
Title: Crafting the new Broadband for a 5G world
Following is an outline of the workshop: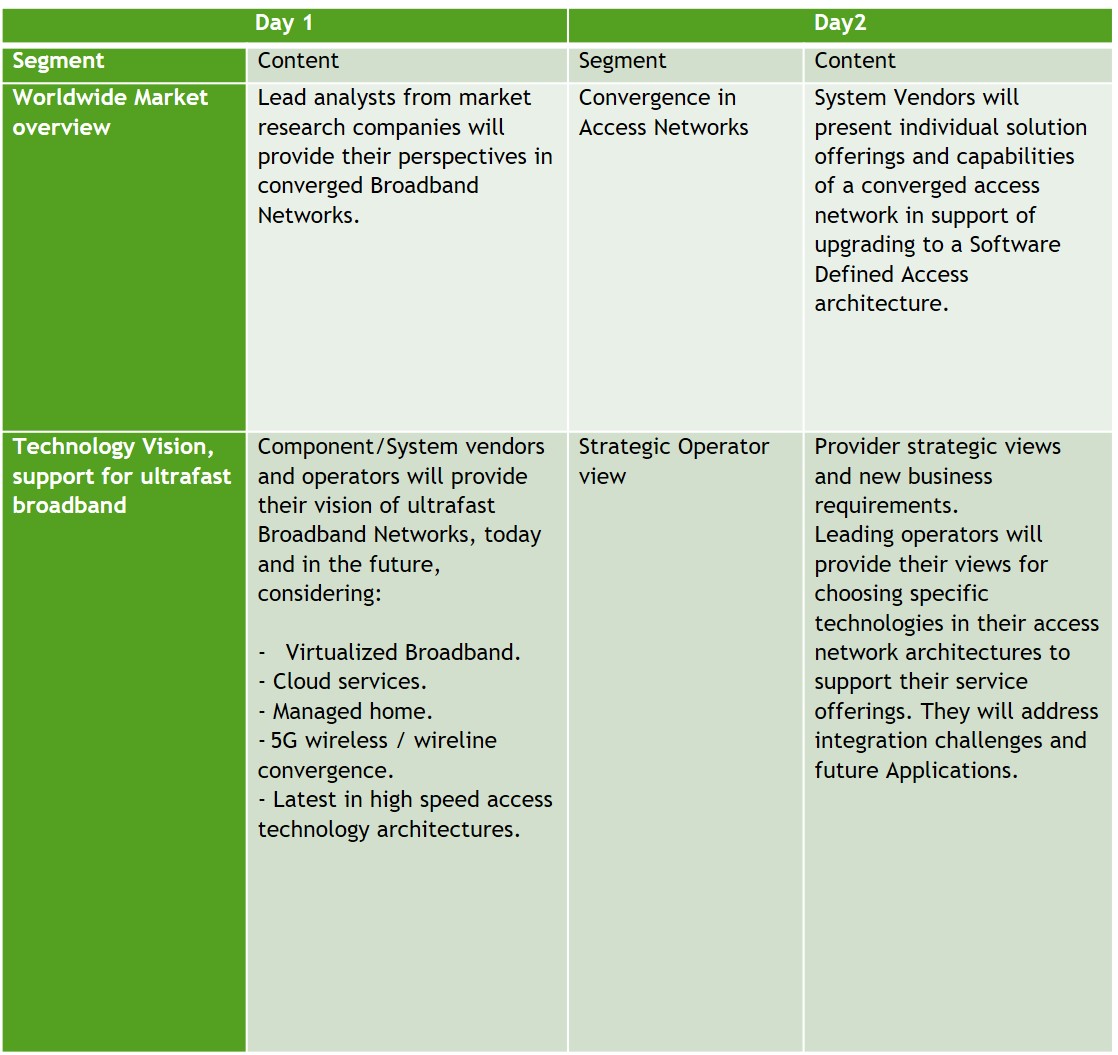 The workshops are BBF events and should follow an educational format, avoiding specific 'product' information, prices, market position, etc. Proposals should highlight use cases, technology solutions, technology trends, best practices and contributions in standards development.
Click here to view presentations from BASE 2017 Workshops at the Broadband World Forum in Berlin and Connexions in Las Vegas.
Best regards,
Bernd Hesse - Chair, Broadband Access Summit Events (BASE)
Bernd Hesse
Sen.Director Technology Development
BBF NG-PON2 Council Chairman
BBF BASE Chairman
M 650-787-1708
FAQs
How can I contact the organizer with any questions?
Please contact Rhonda Heier at the Broadband Forum at rheier@broadband-forum.org
Do I have to bring my printed ticket to the event?
No
Can I update my registration information?
Yes, please contact Rhonda Heier at the Broadband Forum at rheier@broadband-forum.org