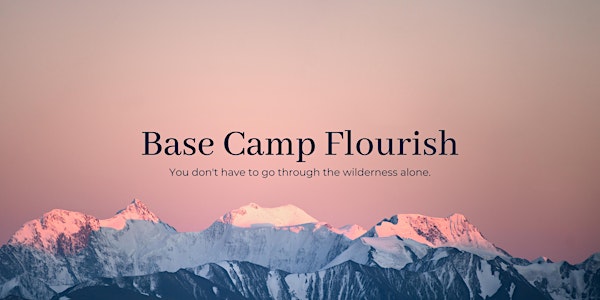 Base Camp Flourish
At Base Camp Flourish, you will get equipped to become the woman God created you to be so that you can flourish in a life lived on purpose.
About this event
We can't be the women God created us to be by staying where we are. We must enter the wilderness – an expanse of yet unknown possibility – and learn to navigate life in a new way, free from perfectionism and fear.
In the wilderness, you learn to embrace not only what's possible for you, but what God has truly intended for you. You also take stock of what you're currently carrying around and determine what no longer serves you. Lastly, you start developing new tools to move you forward toward the life you long for.
When you come out on the other side, you have the confidence and clarity it takes to live life on purpose.
I'm here to remind you that you have everything it takes to be everything you are.
Welcome to wilderness living, ladies. I'll be your guide! Let's sojourn together, rediscovering yourself and building the courage to GO BE YOU.
Join the tribe gathering VIRTUALLY at Base Camp Flourish at 12pm Central on the last Friday of every month via Zoom. It's absolutely FREE. We will tackle a different topic each month.
Who is this group for?​ Base Camp Flourish was created for the woman who:
Wants to dream big but perfectionism and fear are holding her in place
Is exhausted by holding onto life so tightly and knows deep down she can't keep living the same way
Longs to show up in her life with intention and a sense of purpose
Values her faith and wants to make God a bigger part of her life
Wants to connect with other women in a judgment-free setting
About Brittany:
Brittany Seabury is a certified professional coach, speaker, and facilitator. As the founder of Flourish Coaching, she is passionate about helping women connect with who they are and where God is taking them. Brittany coaches high-performing women of faith, helping them get free from fear so that they can live the life God created them for. You can follow her on Instagram and LinkedIn. For more information, you may visit her website or email her at brittany@flourishwithbrittany.com.